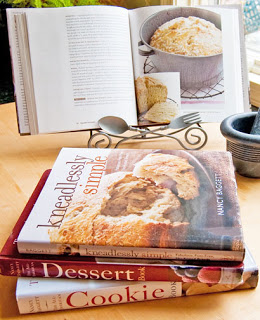 Let me climb up on a soapbox and say that if you're looking for a holiday gift for a foodie, you should think about giving a cookbook. Yes, I suggest this partly because I'm a cookbook author myself; several of my books are shown right here. And yes, I'm well aware that free recipes are available all over the Internet.
But please remember that very often the really well-tested and delectable recipes circulating out there on the web are adaptations borrowed from books that diligent authors or chefs spent a lot of time and money creating. (Of course, some bloggers do create original recipes and slave over their testing, and their readers should be appreciative.) Plus, having in hand a whole cookbook packed with interesting recipes, helpful and entertaining recipe intros, the author's personal tips, tutorials and commentary and, often, lovely photos, is a totally different, much more satisfying experience than using bare-bones recipe printouts.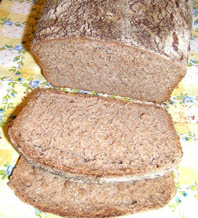 Most of my colleagues with reputations for totally trustworthy recipes say they have to test numerous times to ensure that the final dish is perfect and that their instructions are written clearly enough that even novice cooks can succeed. (To help ensure this, I often send out my recipes to home testers and have them make and rate each dish; the details are here.) At a minimum, the recipes I create for cookbooks, newspapers, magazines and for this blog get tested three times, and usually more. The 100% whole wheat-honey bread (shown at left) from my Kneadlessly Simple cookbook took more than 12 tries–I lost count after that! It took me eight tests to create the super reliable "nearly foolproof" fudge recipe posted here at Kitchenlane earlier this month. And about 20 tries to create the "knockoff" gingerbread boys recipe here.
Probably the most over-the-top recipe testing story ever involves Julia Child's effort to create a doable and authentic French bread for her seminal Mastering the Art of French Cooking. Her editor, Judith Jones, says that Julia's husband Paul (who was a good cook) tried over 50 recipe variations without success. Finally, as my tribute to Julia details, they packed up, went to France, and visited the country's most famous baker to learn the secrets to success. I know many other less well-known food writers and cookbook authors who are equally as diligent about bringing their readers unique, carefully tested, utterly delectable recipes. This is time-consuming and expensive, and to be frank about it, they only get paid for their efforts when buyers support them and buy their books.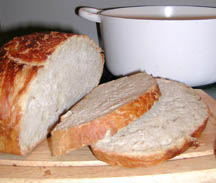 Let me be even bolder here and suggest that if somebody on your gift list is interested in baking or eating good homemade yeast bread, you might consider giving them a copy of my latest cookbook, Kneadlessly Simple. The hardcover edition has been very popular and has received many favorable reviews, and now is even more reasonably priced in a brand new, easy to order, very economical softcover edition. Since the recipes require no kneading (and often no hand-shaping) and also greatly minimize kitchen muss and fuss, the book is geared for both newbie home bakers and those folks just too busy to hang around the house tending rising dough all day. Find more general info on the method and the crusty, white pot bread (shown at left above) here. (The recipes feature the convenient option to hold the dough in the refrigerator at several stages until you're around and ready to work with it.) A post here explains more about what pots work best for the pot breads.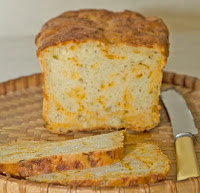 All the bread snapshots in this post were taken in my kitchen as the recipes were being tested. (Thoroughly!) As you can see, the collection includes a wide variety of recipes–from the festive iced sweet loaf belowand the cheese bread shown at right and posted here. A whole gallery of breads in the book, from cinnamon buns, to seeded and saffron bread are presented here.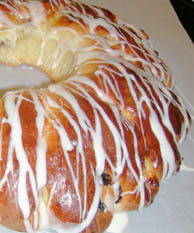 Even if my bread book or perhaps my cookie or dessert books don't seem like the perfect choice for you to give, do think about titles by other authors that might enthrall a foodie friend or relative and that will also help keep the cookbook industry and its hard-working authors and editors in business. For a starter list of possible gift cookbooks check out the Chow post here. My colleagues and I thank you and wish you a wonderful holiday.