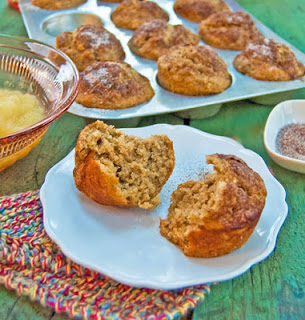 I'm constantly (happily) creating recipes, pics and stories for Kitchenlane. Not surprising, they often reflect what we're eating at my house. Like this applesauce muffin recipe, for example–which I've been experimenting with (and eating for lunch with a nourishing soup) for the past week. The muffin fits in with our current goal to eat more healthfully.
I recently read in the Harvard Health Letter
that though people tend to think of muffins as much more healthful
than, say, doughnuts, the gigantic, sumptuous-looking ones typically
found in coffee shops and bakeries are often fattier and more
calorie-laden than the average glazed doughnut. Even the low-fat muffins
aimed at health-conscious customers often aren't really nutritious, the
article points out, because to compensate for the reduced fat they
increase the salt and sugar. The article notes that an even greater
failing of these so-called healthy treats is that they usually don't
incorporate any whole grains and contain little fiber. Experts now feel
that these issues are much more important than merely avoiding fat,
especially if it's low-saturated, heart-healthy fat such as olive oil,
corn oil or canola oil.
Since
I've been taking steps to eat better, I decided to create a
nutrition-wise muffin that was particularly good for snacking. This recipe
incorporates whole grains in the form of whole wheat flour and oats,
plus more fiber from applesauce and raisins. It calls for a fairly
modest amount of a "good," fat; provides some high-quality protein from
fat-free yogurt and an egg; and cuts back a bit on the usual amount of
sugar and salt found in muffins. Note that the honey isn't added because
it's particularly nutritious (it's not), but because it boosts flavor
and helps keep the muffins moist.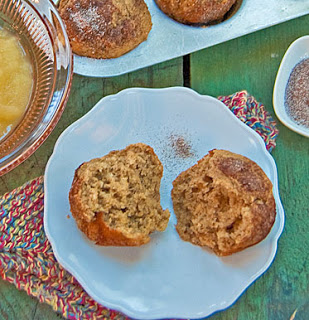 In
case you're wondering why I didn't add more whole grains and reduce the
sugar and fat as drastically as some recipes circulating around, it's
because I want the results to be tasty, too. I learned while writing a
number of heart-healthy cookbooks that if recipes are stuffed with too
much fiber and stripped of too much of their normal sugar and salt, they
will come out looking and tasting like hockey pucks. And at my house,
nobody will eat hockey pucks no matter how wholesome they are!
Good 'n Healthy Spiced Applesauce-Raisin Muffins
These are good for breakfast, with a bowl of soup for lunch, or as a snack with a glass of milk or a cup of tea.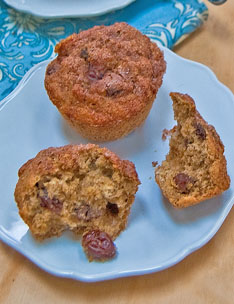 Tip: Whole wheat pastry flour yields tenderer muffins than regular whole wheat flour and, fortunately, is becoming easier to obtain. I found bags of the Hodgson brand, which worked great, stocked on my local supermarket shelves. Whole Foods and smaller health food stores are other good places to look.
1/3 cup granulated sugar
1 tablespoon ground cinnamon
1 cup whole wheat pastry flour (if unavailable, substitute regular whole wheat flour)
3/4 cup unbleached all-purpose white flour
2 1/2 teaspoons baking powder
1/2 teaspoon ground allspice
1/2 teaspoon baking soda
Generous 1/2 teaspoon salt
1 cup unsweetened applesauce
1 6-ounce carton plain nonfat or low-fat yogurt
1/4 cup corn oil, canola oil or other flavorless, low-saturated fat vegetable oil
1/3 cup clover honey or other mild honey
1 large egg, or 3 tablespoons liquid egg substitute
2 teaspoons vanilla
1 cup dark, seedless raisins or golden raisins (or a combination)
3/4 cup quick-cooking rolled oats (not instant oats)
Preheat oven to 400 degrees F. Grease 15 or 16 standard-sized muffin tin cups or coat with non-stick spray.
In a large bowl, thoroughly stir together the sugar and cinnamon. Measure out 1 1/2 tablespoons of the mixture and set aside for garnish. Thoroughly stir the whole wheat and white flours, baking powder, allspice, baking soda, and salt into the large bowl with the remaining sugar. In a medium bowl, thoroughly whisk together the applesauce, yogurt, oil, honey, eggs, and vanilla until evenly blended. Add the raisins and oats let stand 5 to 10 minutes so they can thoroughly hydrate. Stir the applesauce-raisin mixture into flour mixture, mixing gently just until the dry ingredients are evenly moistened and incorporated; don't over-mix or the batter may toughen.
Using a 1/4-cup measure or large spoon, immediately divide the batter among 15 or 16 muffin cups; the cups should be fairly full. Sprinkle the muffin tops with the reserved sugar-spice mixture, dividing it equally among them.
Bake in the middle third of the oven for 15 to 18 minutes or until the muffins are tinged with brown on top and springy to the touch; a toothpick inserted into the thickest part of a center muffin should come out clean. Cool on wire rack 3 or 4 minutes; gently run a knife around cups and remove muffins from their cups. Let stand until cooled. These can be kept airtight for up to 3 days or frozen, airtight for longer storage. Let return to room temperature before serving.
Makes 15 or 16 standard-sized muffins
.
Another muffin you may like–Cranberry-Pear with Crystallized Ginger. In that recipe the pears and cranberries provide the fiber.