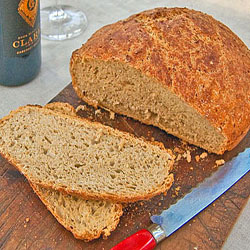 I was wrong—well partly wrong! And I'm happy to say so, because it involves sharing some pleasant news.
Until recently, I always told folks that the best pots for baking the  new "kneadless"  rustic boules were  various metal containers in the 3- to 3 ½-quart range.  Even though I'd successfully used a vintage white Corningware baker and one hand-crafted stoneware casserole while testing my recipes, I specifically avoided recommending ceramic containers.  I was leery about the risks of preheating any empty ceramic pot to 450 degrees  F, then dumping  in a cool or room temperature yeast dough.  It seemed like this step was just inviting the container to crack or shatter from thermal shock.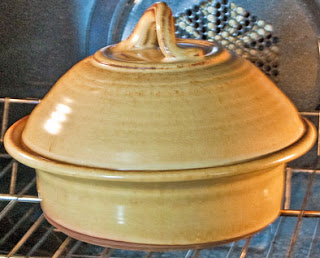 While my concerns were justified (some ceramic containers can't tolerate such treatment), others, like the beautiful stoneware piece shown here will handle it just fine.  In fact, as this pot's makers Tom and Betsy of
Clay Coyote
explained, it was custom-created just for baking rustic, crusty pot boules like the one here.
Says Betsy, "We were first introduced to no knead bread about three years ago by a good customer.  She was hunting for one of our casseroles to make the bread, but found that most of ours are curved on the inside, which makes it pretty tough to get the bread out in the end.  We loved the bread so much
we decided to make a baking dish just for it
." I was, of course, thrilled when Betsy added that she and Tom also carry
Kneadlessly Simple
in their gallery as a "featured book to go with the baking dish."  (Disclosure: I have no commercial relationship with Clay Coyote and played no role in their decision to sell my book, but they did send me the pot free of charge.)
As you can probably tell, the pot is not only handsome, but is well suited for baking "kneadless" pot boules. It's about 8-inches in diameter inside, straight-sided, and features a roomy domed lid, all ideal for effortlessly creating a perfectly round, high-rising loaf (and getting it out once it's done!).  The size and shape are exactly what I recommended in my book and blog post on choosing suitable bread pots
here
; some recipes circulating around the Web suggest a larger dish, but this lets the dough spread out too much and yields a flatter, less stylish- looking loaf.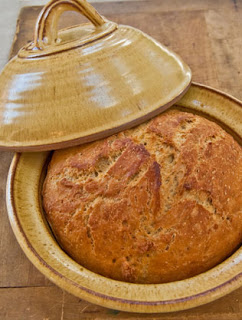 Clay Coyote Stoneware Pot & "Kneadkess" Boule
I was curious as to why the Clay Coyote pot can withstand high temperatures when some stoneware pieces can't, so asked Tom about this.  Basically, he says, the key is in using the right clay—it must be formulated for heat tolerance: "Stoneware expands from heat when some of the silica in the clay body is left in a crystalline state and these crystals expand when heated," he explains.  "One type of crystals in some clay is called cristabolite and it can suddenly expand  about 3 percent when it reaches 428 degrees F.  This sudden expansion can mean trouble—the pot may crack." To avoid such problems Tom says they use clays in which these crystals are actually dissolved, which eliminates the cristoabalite and the related expansion problems.
Still, he cautions, it's a good idea to heat the Clay Coyote stoneware pot gradually, at the same time the oven is heated. And, he says, place the hot bowl on a soft surface like a towel or hot pad when it's taken out of the oven. "If there ever is a cracking problem–rare but possible—we replace without question," he notes.  Since my recipes feature the unique step of simply turning the unshaped dough mass right into the preheated pot (other books require you to shape it into a loaf first), I also suggest that the dough be at warm room temperature when put in to reduce the thermal shock.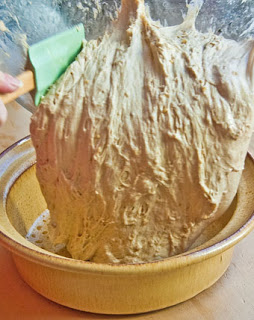 Aside from the obvious aesthetic appeal of baking homemade bread in a hand-crafted pot, I found it produces a loaf with a really beautiful golden color and pleasing crispy crust.  I was surprised to find that it is also a more efficient baker than most of the metal pots I've tried. While it's usually necessary to remove the lid after about 50 minutes and allow the loaf to brown and bake a few minutes more uncovered in a metal pot, when I lifted off the lid the loaf was already well- browned, fully baked, and ready to remove from the oven.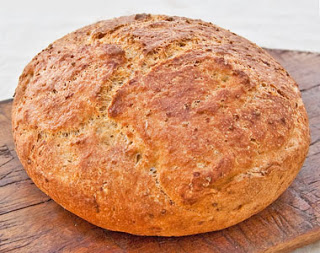 With that incredible smell wafting up I could hardly wait to cut some slices! (They are nice served right in the pot.) The pot is also convenient for storing the bread once both are cooled  or for reheating the boule again.
Whole Wheat & Bulgur Crusty Pot Boule
In honor of my new bread pot, I've created a new "kneadless" bread and am unveiling it here.  As you may know,  the
Kneadlessly Simple
method involves letting the dough simply stand, slowly ferment and bubble away for a number of hours. The fermentation action develops both full, complex yeast flavor and  a lot of gluten, so the dough actually kneads itself;  I've posted
more info on this "self-kneading" phenomenon here
.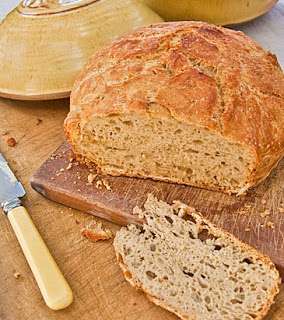 Since I've been interested in eating more whole grains lately, this loaf calls for half whole wheat and half unbleached white flour.  If you can find it, try white whole wheat flour, which is a new strain of whole wheat that is lighter in color and milder in flavor, yet offers the same nutritional advantages of regular whole wheat flour.  The King Arthur brand is sold nationally.  (If a plain white boule is more your speed, check out my
peasant-style white pot bread here.
)
To boost fiber, the recipe also calls for some bulgur wheat; it's often stocked in supermarkets with Middle Eastern ingredients.   Like cracked wheat, or chopped wheat berries, it is a whole grain product, but the kernels are already par-cooked so they can be added in without any pre-soaking, boiling, or other advance preparation.  (They will be barely noticeable in the finished bread.) Don't try to substitute cracked wheat, as the bits may not only remain too hard but absorb too much water, throwing off the correct consistency of the dough.  Even bulgur wheat will draw up some moisture as the dough stands, so it starts out slightly soft and then usually stiffens a bit during the long slow rise.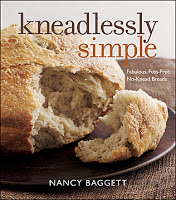 This is a wholesome, hearty, but not heavy boule that's both  flavorful and astonishingly  easy to make.  Besides being completely "kneadless," as the photos show the raised dough is simply scraped from a bowl into the preheated pot–which automatically does all the shaping for you.  This is a unique feature of many
Kneadlessly Simple
rustic pot breads  and dramatically reduces the usual kitchen muss and fuss associated with most bread making.
The bread is good warm, cut into large slabs and served along with a soup or stew, or cut in tidy slices and used for toast and sandwiches.
Tip:  Measure out the flour either by weighing it or by dipping down into the canister or sack with the appropriate dry measure and overfilling the cup slightly. Then with a metal spatula or straight knife blade sweep across the top, leveling the surface.  Don't stir or fluff up the flour first; don't try to compact it either.
1 1/2 cups (7.5 ounces) white bread flour, plus more as needed
1 1/2 cups (7.5 ounces) white whole wheat flour or regular whole wheat flour
3 tablespoons (1 ounce) dry uncooked bulgur wheat
Generous 1 1/4 teaspoons table salt
1/2 teaspoon instant, fast-rising or bread-machine yeast
1 1/2 cups ice water, plus more if needed
Corn oil, canola oil or other flavorless vegetable oil or oil spray for coating dough
First Rise: In a large bowl, thoroughly stir together the flours, bulgur, salt and yeast. Vigorously stir the water into the bowl, scraping down the sides and mixing until the ingredients are thoroughly blended. If the mixture is too dry to incorporate all the flour, stir in more water, a bit at a time, just enough to blend the ingredients and yield a slightly soft, but not wet dough . If necessary, stir in a little more water or more flour to yield a dough that slowly spreads out in the bowl.
Brush or spray the top with oil. Cover the bowl with plastic wrap. If desired, for best flavor or for convenience, you can refrigerate the dough for three to 10 hours. Then let rise at cool room temperature for 18 to 24 hours. If convenient, vigorously stir the dough once about halfway through the rise.
Second Rise: Using an oiled rubber spatula, gently lift and fold the dough in toward the center, all the way around, until mostly deflated; don't stir. Brush or spray the surface with oil. Re-cover the bowl with plastic wrap that has been coated with nonstick spray. Let rise using any of these methods: for a 1 1/2- to 2 1/2-hour regular rise, let stand at warm room temperature; for a 1- to 2-hour accelerated rise, let stand in a turned-off microwave along with 1 cup of boiling-hot water; or for an extended rise, refrigerate, covered, for 4 to 24 hours, then set out and let it come to room temperature. Continue the rise until the dough doubles from the deflated size; remove the plastic if the dough nears it.
Baking Preliminaries: 20 minutes before baking time, put a rack in the lower third of the oven. Set the pot and its lid on the rack to heat at the same time. Preheat to 450 degrees F. Heat until the oven reaches 450, then continue 5 minutes more to thoroughly  heat the pot or Dutch oven. Remove the pot, using heavy mitts and place on a dry tea towel .  If you aren't sure whether the dough will stick to the pot or not, spritz its interior with a little non-stick spray. Taking care not to deflate the dough (or burn yourself),  immediately loosen it from the bowl sides with an oiled rubber spatula and gently invert it into the pot. Don't worry if it's lopsided and ragged-looking; it will even out during baking. Generously spritz or brush the top with water. Immediately top with the lid. Shake the pot back and forth to center the dough.
Baking:  Lower the heat to 425 degrees F. Bake on a lower rack (but not bottom rack) for 55 minutes. Remove the lid. If the dough looks well browned and very crusty, it may be done. Test with a skewer or an instant-read  thermometer  in the thickest part; if it comes out clean or registers 209-212 degrees, set the pot on a wire rack and let the bread cool for 5 minutes.  If the dough top still looks pale and slightly soft and the temperature below the target range, reduce the heat to 400 degrees F. Bake, uncovered, for 10 to 20 minutes longer, or until the top is well browned and a skewer inserted in the thickest part comes out with just a few crumbs on the tip (or until center registers 209 to 212 degrees on an instant-read thermometer). If the thermometer is at all moist or full of crumbs, bake 5 minutes longer to ensure the center is baked through. Cool in the pan on a wire rack for 10 to 15 minutes. Remove the loaf to the rack and cool thoroughly.
Storing: Cool completely before storing. To maintain the crisp crust, store the loaf draped with a clean tea towel or in a heavy paper bag. Or store airtight in a plastic bag or wrapped in foil: The crust will soften, but can be crisped by reheating the loaf, uncovered, in a 400 degree oven for a few minutes. The bread will keep at room temperature for three days, and may be frozen, airtight, for up to two months.
Makes 1 large loaf (about 2 pounds), 12 to 14 slices.Interested in whether "kneadless" bread is a passing fancy or here to stay–survey results here reveal some interesting answers
If you lack a suitable bread pot, but are in the mood for "kneadless" bread, check out my cheddar and chiles loaf.