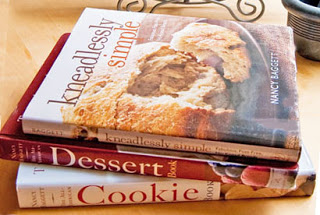 If you've ever yearned to write a cookbook, understanding what editors do and don't want is a great place to start. Such insights will help you get off on the right foot whether in a chance networking opportunity at a culinary conference or in a cover letter and proposal sent to the editor's office.
Here, two very well-known and successful editors, Lorena Jones, Publishing Director at Chronicle Books, and Justin Schwartz, Senior Editor at John Wiley & Sons, share their tips and tell you exactly what they're looking for. Lorena agreed to let me quote from her remarks and a very detailed and thoughtful handout she distributed during a food journalists' convention workshop some years ago. Justin is my editor at Wiley, and his comments are from a recent personal interview. Since I've worked with a number of cookbook editors on seventeen cookbooks over the years, I've added some of my own observations here and there.
>Be well prepared: Be sure you're able to describe your book idea articulately, vividly and very concisely. If you can't communicate the concept clearly, the editor won't be able to envision it or worse yet may assume that you aren't clear about it either. If you have a chance to pitch your idea in person, Justin Schwartz says you need to boil it down: "Keep it short. If you can't explain the concept in two sentences, preferably one, then it's probably too complicated to be saleable anyway."
My advice is to focus on the concrete, easy-to-grasp details, such as "50 meal-in-a-bowl soups that can be prepared in 30-minutes or less," and to avoid hyping with over-used adjectives like mouthwatering and delicious. The editor assumes that the recipes will be tasty; you need provide insight into how you'll accomplish that, such as "with lots of fresh herbs and really interesting spice combinations" or perhaps "by making clever use of certain convenience products like commercial pestos, salsas, and ready-to-use veggies."
Short and non-hypey doesn't mean cut and dried, though. As Lorena Jones points out, editors want to get a sense of your passion and unique vision for the book. They need to feel that you're, "excited enough to work on a very difficult assignment for months," and then willing to "actively promote it for another two or three years." Share how you got interested in the topic and developed your expertise. Give some insight into what you want to accomplish by writing your book.
>Promptly and smoothly weave into your conversation or cover letter who you are and why you're the best person to write this particular cookbook. For example, you might introduce yourself by saying, "I'm the chef of the award-winning Locavores' Delight restaurant. We've been getting such a huge customer response and demand for our recipes that I'd like to write a cookbook that teaches home cooks how they too can prepare great meals year round using only local foodstuffs." Or the following, which is in fact the way I first pitched my Kneadlessly Simple cookbook idea to Justin Schwartz: "I just completed a lot of research and devised a set of "kneadless" bread recipes for the Washington Post. Both the food section staff and I are getting so much enthusiastic feedback from the recipes, I think there's a place in the market for a whole book of no-knead breads." (There was!) Each of these pitches highlighted the author's personal experience and expertise, which both editors say is one of the essential ingredients publishers look for.
>
Mention right away if you have a "platform."
That is, do you have an established venue or mechanism for reaching potential buyers for your book? This could be a cooking show, a newspaper or magazine column, a website with a large loyal following, or even a well-known restaurant. Editors are judged partly on how well their books sell, and if they can factor in support from your existing followers or fans, they are much more likely to take on your project. In fact, Justin says, "If your platform is amazing, then you don't have anything to worry about – agents and editors will come find you." (For more on how literary agents fit in the picture, check out my post, "What Do Literary Agents Do?"
here
.)
>Be pleasant and enthusiastic, but never pushy. "It's best not to come on too strong," says Justin. "Editors, like most other people, are uncomfortable with high pressure sales pitches." He adds that you need to take your cue from the editor's reaction. "If it's positive, great, then keep supplying more information and offer a business card." (Justin says he's most impressed with a card containing a link to a well-maintained website.)
On the other hand, if the editor doesn't seem interested, be polite. Don't monopolize his or her time, and don't keep approaching (or calling or e-mailing) over and over, as this can be perceived as badgering. "The editor-author relationship is a long-term one, so it has to be positive. You want to be thought of as considerate, not overbearing," he says. Lorena echoes this sentiment, noting that when you do a book you and your editor are "on the same team" for a long time.
Listen carefully, take heed, and be receptive (never offended) if the editor has any negative reactions to your idea. If, for example, he or she comments that, "Yes, Italian cookbooks are still selling well, but I'm wondering how much fresh territory is still there to be explored," then be sure you make a strong case in your proposal that what you plan to do is new. Sometimes, responding effectively to such criticism can actually change a no to a yes, as I relate in "Food Writing Lessons I Learned the Hard Way." One great piece of advice from Lorena applies whenever you work with an editor: "Apply what you learn as you learn it to everything you write."
>Follow through on anything you promise the editor, exactly as promised and in the most polished form possible, Lorena advises. One reason editors tend to prefer working with previously published authors is that these folks have already proven they can deliver the goods. Editors need to feel confident that you can produce the 100 or 200 hundred (or whatever the number contracted for) tested original recipes and accompanying publishable-quality text in the time frame and form specified. Any early signs that you are unreliable or not up to what (trust me) will be a formidable task, will likely snuff out their enthusiasm for working with you.
As for how much you should deliver, Lorena suggests submitting a "meaty" proposal which includes an "irresistible" cover letter; statement of vision for the book; tested recipes (if appropriate); marketing information (including any competition facing your book); annotated table of contents; samples of each text element (such as chapter intros, recipe intros, sidebars, etc.); detailed bio information; and any special sales commitments or opportunities you bring to the project. In her view, "more is more—a substantive sample starts us off with clarity of direction." (Note that almost all cookbooks today are sold on the basis of a strong proposal, not as a result of a writer submitting a completed book-length manuscript. This gives the editor an opportunity to help shape the project as it's being completed.)
If all this sounds daunting, it is. A cookbook is a huge commitment, and a solid proposal is just the beginning of your work. But there is almost nothing more gratifying than when your project comes to fruition and you first hold
your
book in your hands. And, in fact, that same sense of pride and accomplishment comes with every book you write. Right now I'm looking forward to having my next cookbook,
Simply Sensational Cookies
, in my hands in a few months. I can hardly wait!
Other posts you may like: "Five Things NEVER to Say to a Food Editor."