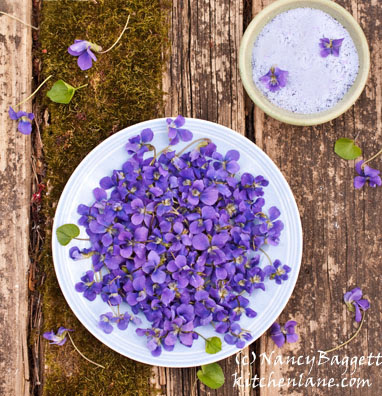 Spring has sprung! The garden and woods where I live are full of seasonal ephemerals, especially my favorites, the gloriously colorful and completely edible wild violets. To capture and hold their beauty beyond their short season, I harvest blooms from the purple carpets along the walking path behind my house and turn them into breathtaking garnishing sugar for vanilla-frosted cupcakes and cookies.  I also grind the petals with granulated sugar to create a pretty purple decorating sugar that is completely dye-free.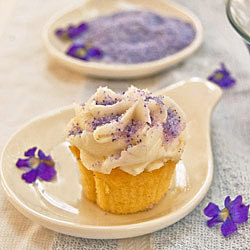 Depending on the particular shade of the violets, the sugar will have a lovely eye-catching purple or lavender color that can greatly enhance all kinds of baked goods and create a gorgeous pink lemonade, yet completely avoids the use of commercial synthetic food dyes. (For more on my use of natural botanical decorations, go here. Note that if the frosting has a lot of lemon or lime juice in it, their acid will cause to sugar to turn slightly pinkish. If garnishing cookies, sprinkle it on after baking, as the heat will cause the pretty color to fade.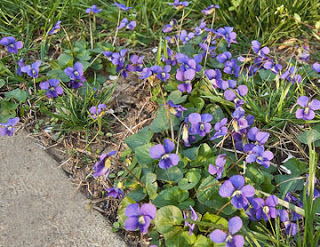 Creating a violet sprinkling sugar involves nothing more than plucking the petals from the flower heads and grinding them in a food processor with granulated sugar (and a pinch or two or lemon zest if desired). Since violets have only a hint of floral aroma and flavor, the citrus adds a pleasing dimension, though it is entirely optional. Substitute the violet sugar for purchased garnishing sugar whenever you like.

Au Naturel Violet Decorating Sugar
This makes a quick, naturally bright and colorful purple garnishing sugar. All you need are woodland violets, which just pop up in many shady areas in early spring. Tip: The sugar can be added when making lemonade to not only sweeten, but to turn turn it a pretty purple-pink. The change from violet to purple pink occurs because the color pigments in the blooms change in the presence of the acid in the lemon juice. In fact, if you sprinkle the sugar over lemon-frosted cupcakes, the sugar will turn slightly pink.
Serves:
⅓ cup violet decorating sugar
Ingredients
A large bunch of fresh purple violets, enough to yield 2 tablespoons petals
¼ cup granulated sugar, plus a little more if desired
Instructions
Gently but thoroughly wash the fresh violets in cool water, then pat dry on paper towels. Pluck the purple petals away form the green part of the flowers and measure out enough petals to yield 2 tablespoons.
Combine them in a food processor with ¼ cup sugar. Process for several minutes, stopping and scraping up the bottom and down the sides once or twice. If the mixture becomes wet, gradually add a little more sugar until it is less clumped. Continue processing until the violet petals are very finely ground and the sugar is bright purple.
Turn on the oven for 1 minute only, then turn it off again immediately. (You want only a faintly warm oven, as too much heat can cause the sugar color to fade.) Turn out the sugar mixture onto a baking parchment-lined baking dish; spread it out thinly over the sheet as this promotes the drying.
Place the sugar in the oven and let stand to dry for at least 1 hour and up to several hours, if convenient. If the sugar still doesn't seem completely dry, once again turn on the oven for 1 minute, then turn it off. Let the sugar dry for another hour or so.
Scrape the dried sugar into the processor again. Process until any clumps are removed and the sugar is fairly fine or powdery, if preferred. If you wish to remove any remaining rough flecks of the petals (or the lemon zest), strain the sugar through a very fine sieve; this step is optional.
Place the sugar in a bottle or jar and store in a cool, dark spot. It will keep for up to 9 months, though the color will gradually fade a good bit. Makes ⅓ cup violet decorating sugar. The recipe can be doubled if desired.
Notes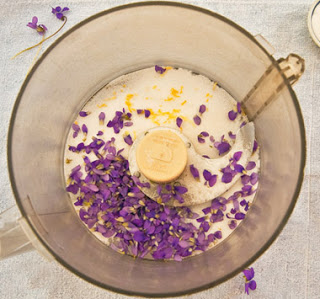 Be sure to use only unsprayed woodland violets like those pictured (or ones with a slightly different purple hue). African violets are not true violets and are not edible. It's best to pick the violets early in the blooming period, as their color and aroma are most intense then. Plan to use them promptly, although they will keep placed in water and kept in a cool spot for up to 12 hours if necessary.
Sunlight causes the beautiful color to fade so be sure to keep violet sugar in a cool dark spot. The color does dull down after about a year–just in time to make a new batch when violets are in season again!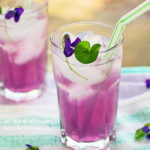 For violet pink lemonade
go her
e.
For my au natural raspberry and orange buttercream frostings decorated with violets go here.
For my candied violet recipe, go here.  For more spring garden pictures featuring violets go here.
For my violet and pansy lollipops, go here.