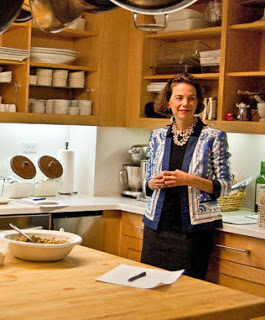 Yesterday during the International Association of Culinary Professionals convention in New York City, I had the fun of going with a little group to take a tour of the kitchens and editorial offices of two major American food magazines. The first, featured here, was Food & Wine. (The details on the second magazine, Saveur, are in a follow-up post.)
I was really excited to visit Food & Wine because although I'd written a couple of stories for the publication some years back, I'd never been there. It definitely exceeded my expectations–and I absolutely loved the test kitchen.
The first pic is of editor-in-chief Dana Cowin, who explained that all recipes published by the magazine are tested in that kitchen and that some are created there from scratch. Though Dana commented that the space isn't new and is well worn, I think you can tell that it's beautiful, comfortable, and roomy and that most food writers would be thrilled to work in it. (I do enjoy my fairly recently made-oven kitchen, but given a choice, I'd go with theirs!)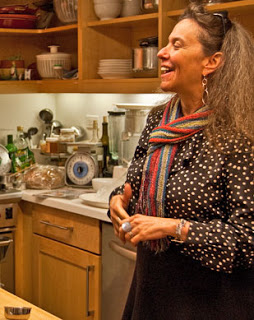 The pic at right shows Tina Ujlaki, the executive food editor, giving an overview of the usual testing process. The magazine's readers tend to already be fairly knowledgeable about cooking, she and Dana emphasized, so the recipes are designed to be not only tasty, but to offer a little something extra in terms of technique or flair. Yes, both Tina and Dana were as warm and cordial as they look; the whole staff acted as if they were utterly delighted to take time from their busy schedules to show us around! Which was very kind indeed.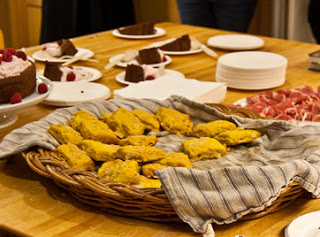 They also went to the trouble of feeding us while we were there! The test kitchen was in the process of creating some pumpkin scones (shown in the basket), and these were set out with some shaved prosciutto for lunch. I'm not easily impressed when it comes to baked goods, but rated those scones an A. (And also ate two of them!)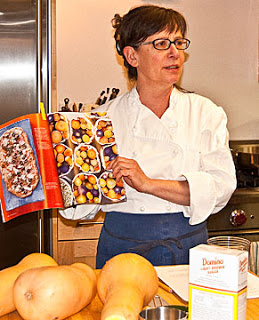 Test kitchen supervisor Marcia Kiesel was creating a butternut squash recipe when we arrived and said that she really enjoys working with vegetables. She then showed us a veggie story she'd done for a previous issue. The idea was, of course, to spotlight the visual as well as taste appeal of the produce used.
Our last stop was to take a peek into the wine and spirits room, which was crammed with hundreds of bottles from relatively ordinary to rare. (One person in our tour group was looking longingly at a favorite $100 plus bottle of cabernet!) Dana assured us that the area was in fact more organized that it looked–that the various offerings were carefully grouped by categories and regions. She added that very few items were ever overlooked or went unopened, not surprising since the magazine is about food and wine!