Last year about this time, Country Gardens magazine sent a photographer and their art director to my garden and kitchen to photograph me and my grandchildren making cookies inspired by the garden. (I posted about their visit here.)
I'm happy to tell you that the current issue of Country Gardens contains the story, several recipes, and some wonderful pics. I'm posting several of them just to pique your curiosity. The issue, Spring 2012, is now on newsstands; you can learn more about the magazine here
Yes, those are my grandchildren, Charlie and Lizzie, standing in my shade garden. They're holding a plate of painted daisy cookies that we had just made and decorated (see the pic just below and at the very bottom). (It looks as if we planned for my granddaughter's dress to match the cookies, but it was just a happy accident–really!) The magazine includes the recipes for the dough and frostings. I've also posted the completely "au naturel" icings and how to make daisy cookies for you here. The icings dry with a sheen and flow nicely, so my grandkids were able to do most of the decorating themselves. (I helped pipe the center rounds on the cookies.)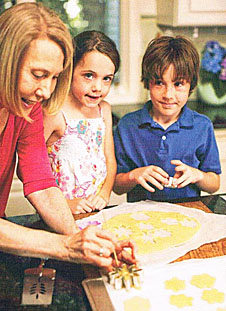 The technique I used (and highly recommend) for rolling out cookie dough is to place it between two sheets of baking parchment, then roll it out in an evenly-thick layer. This minimizes clean-up, but more important, eliminates the possibility of over-flouring the dough. The dough, still between the sheets of parchment, then goes onto to a baking sheet and is chilled in the refrigerator or freezer. Finally, the top sheet is peeled off and the chilled dough is cut out using cutters. When the dough starts to soften too much to cut the cookies neatly, it can be slid onto a baking sheet again and returned to the refrigerator until firm, another reason I love the method.
The pic at left shows some lavender-flavored frosting and lavender meltaway cookies I created for the magazine–striking looking don't you think? As you can see, I used edible flowers–in this case, lavender blooms and dianthus (also called pinks) petals–to decorate as well as flavor the dough and icing. This is just another example of what you can do with naturally beautiful decorations if you wish to avoid synthetic food colors. It's one of many "au naturel" ideas I'm serving up in my new book, Simply Sensational Cookies, which you can now pre-order on Amazon here.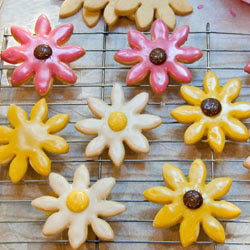 Both the lavender cookies, which are published in Country Gardens magazine and the painted daisy cookie recipe, also posted here on my site, would be prefect for serving for Mother's Day or another festive spring or summer occasion. I took some daisy cookies to a family birthday bash for my sister and niece last June, and everybody loved them!
For another pretty, summery cookie recipe, check out my raspberry buttercream-topped butter cookies here. You can also learn more about "au naturel" botanical food colors and how to decorate cookies with them here.