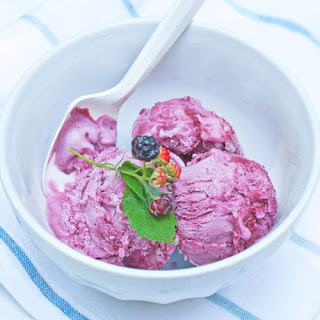 Attention homemade ice cream fans! The raspberry ripple ice cream you see here is not only eye-catching but is absolutely, positively, the best I've ever tasted. (And I've sampled lots of pretty good homemade ice creams while creating cookbooks and articles over the years.)
The flavor is fresh, clear, and captures the glorious fruitiness of succulent, zingy, peak-of-season berries better than any I ever tried or devised before. The texture is as smooth and creamy as the super-premium freezer case ice creams (and remains that way during storage), yet, surprisingly, this version contains no eggs and considerably less cream (and calories) than the usual commercial offerings.
And more good news—it requires no tricky techniques. Eliminating eggs makes it possible to skip the usual fussy, time-consuming process of preparing an egg custard base. Armed with only an ice cream maker and the following recipe, you'll be able to readily create this extraordinary summer pleasure reliably and readily.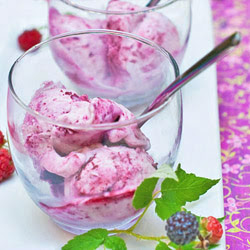 How is this possible? A couple of surprisingly simple culinary secrets account for what sounds too good to be true. The first and most important one is a breakthrough formula devised by an Ohio ice cream manufacturer and cookbook author named Jeni Britton Bauer, who spent fifteen years perfecting her craft. She discovered that by incorporating just a little cornstarch and corn syrup into her base recipes, she could completely eliminate the graininess and icy-hardness problems that often plague homemade ice creams. (I'll be writing more about Jeni and featuring her wonderful book,
Jeni's Splendid Ice Creams at Home
in a blog post soon.)
The reason these two ingredients work is chemically complicated, but simply put, they are "interfering agents" that discourage the formation and growth of crystals. Molecules in cooked cornstarch both bind up and get in the way of water molecules trying to form large ice crystals, and these are largely responsible for the unpleasant graininess in many homemade frozen desserts. Additionally, the glucose molecules in the corn syrup likewise help prevent dissolved sugar from turning back into large crystals that can cause ice cream and similar frozen desserts to feel gritty to the tongue.
The other secrets are in the choice and handling of the berries. Some ice cream recipes call for uncooked pureed raspberries (occasionally referred to as a coulis), and this might seem the best way to produce a fresh, vibrant flavor. But through lots of comparative testing I've discovered that in many recipes boiling the berries with a little sugar first is a key to intensifying and enhancing their fruity taste and setting their gorgeous color. And just like the ice cream base, the berry sauce rippled into it needs to include a little cornstarch and corn syrup to keep its texture from turning gritty and hard during freezing.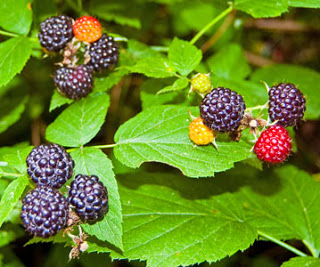 For superior flavor, it's also best to use a combination of the usual red raspberries (shown below) mixed with either black raspberries (shown right) or blackberries. Both black raspberries and blackberries have a bold, bracing character that noticeably brightens and deepens the less robust red raspberry taste and hue. When black raspberries are available, I like to use them half and half with the red ones. If only blackberries are on hand, the ratio of two-thirds red raspberries and one-third blackberries works nearly as well.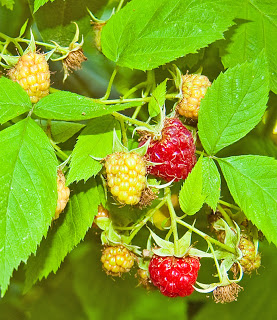 Best Ever Raspberry Ripple Ice Cream
Raspberry ripple has always been one of my favorite ice creams, but, frankly, until I came up with this recipe, I'd never made, or even tasted, a version that delivered quite the looks, taste, and texture desired. Here, at last, is what I've been striving for, thanks in part to the expertise of ice cream guru, Jeni Britton Bauer. I hope you enjoy it as much as I do.
I'm sure you could use this ice cream base recipe as a foundation for other totally different ice cream flavors, but I designed it to combine with the special, "freezeable" raspberry sauce. (The sauce can be used as is or for readying sundaes as well. Or if you're looking for a shortcut raspberry ripple ice cream, stir it into purchased premium vanilla ice cream.) Here, the two components are mixed together to create the to-die-for raspberry ice cream base, which is then further enhanced with more swirls of raspberry sauce. Oh my!
If you do experiment with adding other flavors to this ice cream base, I'd love to hear about your results.
Tip: McCormick's now makes a very pleasant raspberry extract. It's usually sold right along with the more traditional vanilla, almond and other extracts in the baking aisle, and I use it in many baked goods and desserts.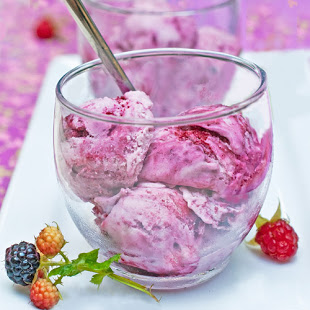 Ice Cream Base
1 cup granulated sugar
1 1/3 cup heavy (whipping) cream
2 cups whole milk, divided
3 tablespoons light corn syrup
Pinch of salt
1 1/2 tablespoons cornstarch
1 teaspoon raspberry extract (or substitute vanilla extract and 2 pinches of fresh lemon zest)
2 tablespoons cream cheese, softened
One batch Raspberry Ripple Sauce, prepared ahead and chilled
In a 4-quart non-reactive saucepan, stir together the sugar, cream, 1 3/4 cups milk, corn syrup, and salt. Bring to a boil over medium-high heat. Adjust heat so the mixture boils gently and cook, stirring occasionally, for 4 minutes. In a cup, stir the cornstarch into the remaining milk until smoothly incorporated. Stir the mixture into the saucepan and let return to a full boil, stirring. Continue cooking 2 minutes longer or until just thickened slightly, then immediately remove from the heat. Combine the cream cheese in a small, deep bowl with about 1/4 cup of the base mixture. Whisk until completely smooth and well blended. Thoroughly stir the mixture back into the ice cream base.
Stir the raspberry (or vanilla) extract and a generous 1/3 cup to 1/2 cup of the raspberry sauce into the ice cream base; reserve the remainder of the sauce for rippling. Pour the mixture through a sieve into a non-reactive storage container. Refrigerate until very cold, at least 4 hours and up to 24 hours, if desired.
Put the ice cream base in an ice cream maker and proceed according to the manufacturer's directions. When it has finished processing, spoon out about a third of the mixture into a well chilled 1-quart or larger freezer-safe storage container. Add 2 to 3 tablespoons raspberry sauce. Add another third of the ice cream and top with 2 to 3 tablespoons more raspberry sauce; repeat a third time. (Reserve any leftover sauce for simply spooning over vanilla ice cream.) With a table knife held vertically, swirl the mixtures together to create ripples of sauce throughout; for large ripples and streaks mix fairly lightly, for a more blended ice cream, mix more thoroughly. Immediately freeze, airtight, for up to 2 weeks.
Makes a generous 1 quart.
The first pic below shows the raspberry sauce used for sundaes instead of incorporated into ice cream.The second shows my raspberry cobbler posted here.