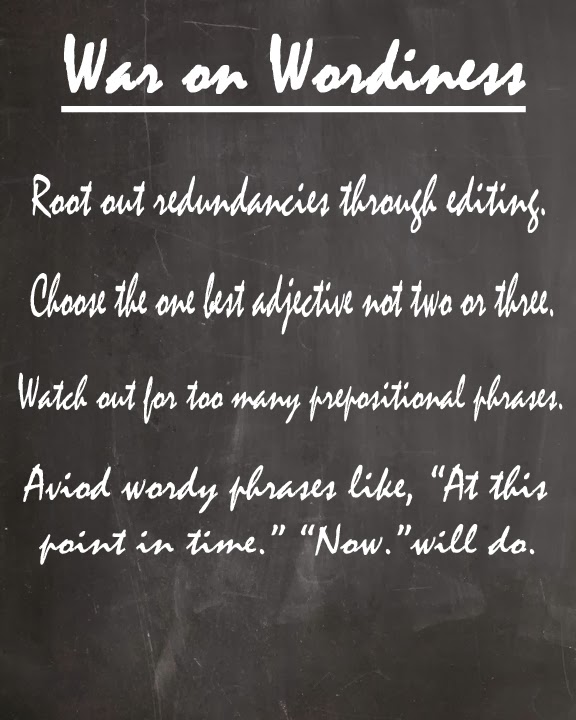 I'm just back from teaching two 30-minute "Writing Lab" how-to sessions at the BlogHer-2012 conference in New York City. About 5,000 bloggers (mostly women) who focus on topics ranging from parenting, women's health, and living green, to reviewing Bollywood movies (seriously!) were there to learn and connect with peers. As you can see from the pic (below) of some smiling blogger buddies I met at the Friday night cocktail party, peeps were friendly and having fun.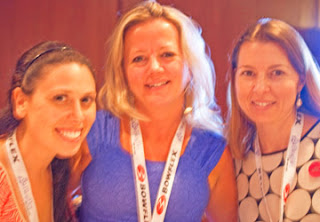 My assigned workshop topic was to show small groups of attendees easy ways to tighten their prose. This skill can benefit any writer hoping to attract a loyal following, because rambling, wordy prose has a high yawn factor. Most readers who jump in to sample a blog post or print article expect instant gratification. They won't slog through a mire of words to eke out the substance. Either grab them
instantly, or risk losing them, possibly forever!
Though most of my "students" were already fairly experienced writers (several were editors and former English teachers—yikes!), they seemed to find the tips and exercises very helpful. So, I've shared an excerpt from the handout and highlighted some points we covered below. If you think you could benefit from writing "tighter," read on. (BTW, I started out with an English and Journalism background, then went back and trained as a pastry chef.)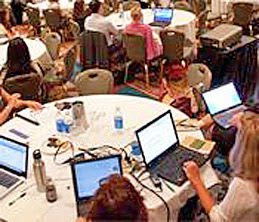 What's Wrong with Wordiness?
Novelist Elmore Leonard once both answered the question and suggested a brilliant, seemingly simple solution to wordiness in this rather famous quote: "I try to leave out the parts that people skip." The gotcha: Cutting the parts "readers skip" requires knowing what bores them and axing not only words, but, sometimes, scenes, plot elements, and even characters.
Fortunately, tightening prose is less tricky for nonfiction wordsmiths. William Zinsser, author of the justly lauded On Writing Well, advises us to, "strip every sentence to its cleanest components. Every word that serves no function, every long word that could be a short word, every adverb that carries the same meaning that's already in the verb, every passive construction that leaves the reader unsure of who is doing what—these are the thousand and one adulterants that weaken … a sentence." Perhaps I ought not say it, but Zinsser's comment is in fact a little wordy!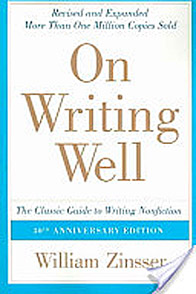 IMO, he's dead right that pared-down prose is not only easier to read, but more powerful. Just as a strong, concentrated soup stock or broth jolts the taste buds and floods the mouth with enticing flavor, boiled-down, carefully crafted prose jolts the synapses and grips the mind with a riveting succession of vivid, stimulating images and ideas.
Should you need convincing that compact prose is more compelling, here are two examples to compare. I asked attendees to try to boil down the first ridiculously long-winded 65-word passage to 30 or even 20 words. Everyone succeeded; most peeps came up with something similar to example 2. It's dramatically clearer and stronger, not to mention much more likely to effect the desired change!
Example 1–Wordy: It would be appreciated if you would bring to the attention of your bloggers my dislike of long, rambling sentences and verbose paragraphs in their posts at your earliest convenience. The use of so many words to provide so little information makes it difficult to grasp the facts being presented and, in addition, seems to require too much of my time, not to mention, dulls my interest.
Example 2–Compact: Please immediately tell your bloggers to write more concisely. Their wordiness obscures their messages, wastes my time, and bores me.
As Zinsser suggests, the most effective cure for wordiness is to go through your early drafts word by word and ruthlessly whack away. If you have trouble mustering the necessary objectivity (when I was a newbie writer, I fell in love with every pearl of prose I penned), it may help to let your text sit and get cold for a couple days. This is the checklist I devised to spotlight and correct some of my own word waster habits.
>Tell it with strong verbs, not extra descriptors. (Find & use the clearest, most compelling verb.) 
Wordy: He spoke loudly, then walked away in a huff.
Edited: He shouted, then huffed (or stomped) away.
For a handy list of my favorite culinary action verbs, go here.
 >Eliminate strings of prepositional phrases. (Don't be lulled by the pleasing cadence of the repetitions.)
Wordy: They sat in silence in a corner in the back of the library.
Edited: They sat silently in a back corner of the library.
>Root out redundancies. Saying it twice weakens rather than strengthens the message.
Wordy: With carefree nonchalance, he put on his aftershave. (Nonchalance implies carefree.)
Edited: Nonchalantly, he slapped on his aftershave.
Wordy: We were peeved and put out by her demands. (Either peeved or put out will do.)
> Minimize your use of  "to be" constructions (am, is, was, were, etc.). These not only waste words, but sap the natural power of action verbs. 
Wordy: I am hoping that the business will be a success.
Edited: I hope the business succeeds.
>Choose adjectives and adverbs carefully; use them sparingly. If you've used two or three, there's probably a better, fresher one to be found. Especially avoid general, nonspecific adjectives like wonderful, terrible, and delicious. Instead, choose descriptors that give insight into how something is wonderful or terrible or delicious.
Wordy: On a cold, crisp, snowy morning … Edited: On a crystalline morning ….
Wordy: What a delightful and wonderful program. Edited: What a thought-provoking (or entertaining, or informative) program.
 >Avoid the passive voice (no action being performed by subject), even when the doer of the deed is unknown or an inanimate object is the doer. 
Passive: The word from the PR staff is that the business will be a success.
Active: The PR staff claims the business will succeed.
Passive: The pot lid was being rattled as steam was released.
Active: Escaping steam rattled the pot lid.     Active: The pot lid rattled.
>Avoid convoluted (especially negative) constructions. Positive statements are usually both shorter and easier to grasp. Tip: Today it's considered perfectly acceptable to end a sentence with a preposition if the alternative is a convoluted construction.)
Wordy: It is very unusual to find someone who has never told a deliberate lie.
Edited: Few people have never lied. Edited: Most people lie occasionally.
>Replace standard, overused word-waster phrases with thriftier options. Be especially alert for ones common in everyday speech, such as free gift, unexpected surprise, small speck and the following:
Wordy: At this point in time     Thrifty: Now  Currently  Presently
Wordy: The fact of the matter    Thrifty: The fact
Wordy: For a period of ten days     Thrifty: For ten days
Here is a handy list of wordy phrases to avoid.
Some other posts you might find helpful or interesting:
7 Steps to Tastier Food Writing
Ms. Grammar Lady's Writing Rules
Five Things to Never Say to a Food Editor
What Two Top Cookbook Editors Say They Are Looking For