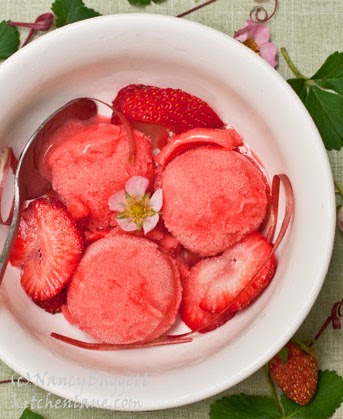 "Where do you get your recipes?" I've probably been asked this several hundred times over the years. Variations on this theme: "Do you test your recipes?" And, "Where do you get your ideas for recipes?"
As a rule, I create new recipes or revamp my older ones rather than borrowing and adapting from other authors or cookbooks. I have a huge data base of recipes developed for the various books and articles I've written over several decades, so it just makes sense to draw on them. I fiddled with them until I was happy and am certain they work, so why not!? (I also started out in an era when editors insisted on receiving original work and were partly buying the author's particular "way with food," so I just naturally like to proceed this way.)
Since I've already talked here about the importance of testing recipes and of delivering interesting recipes here, you can probably guess that the answer is a loud, "YES, I TEST!" Frankly, it seems like more trouble to make up the quantities and instructions than to just try things out and note down the steps! Plus, it peeves me mightily when I waste time and ingredients on a recipe that's supposed to be tweaked and in final form, and I figure that you feel this way, too. And, in the case of blog posts, the finished dish has to be prepared anyway in order to take pics.
As for where I get my ideas for recipes? Anywhere and everywhere. Often, an ingredient, like tomatoes, or apples, or bananas will be in season or need to be used. Which leads to a dish that provides an opportunity to enjoy the ingredient myself. Peach cake or raspberry  cobbler anyone?
Sometimes, food editors already have their hearts set on certain recipes or topics—like five, fast, nourishing soups, or easy chocolate sweets for a Valentine's sweetie. In which case, I suggest a list of basic recipe ideas, and they select the ones they'd like to see.
Often, a dish I've tasted in a restaurant or at an event inspires a recipe. A strawberry-rhubarb sorbet similar to the one here was my dessert enjoyed during lunch with a long-time friend in May. I've always loved this flavor combo, and was also taken with the color and silky texture, so came home and set to work. The starting point was a strawberry sorbet I'd once readied, but since rhubarb is very tart and had to be cooked, a whole new method and set of proportions had to be devised.
The bad news was that it took three tries. The good news was that I got to eat a lot of pretty good, then good, then first-rate (IMHO) sorbet!

Strawberry-Rhubarb Sorbet
I was surprised when I did an internet search on strawberry-rhubarb sorbet that so few versions seem to be around. Yes, a goodly number of sites are featuring the dish with this name, but, astonishingly, almost every single one is actually adapted from my friend David Lebovitz's recipe in his popular book,
The Perfect Scoop!
So, I'm proud to be able to make a contribution to the literature and offer you something truly different to try. This one is smooth, zesty, and refreshing, with just a touch more strawberry than rhubarb flavor coming through. Enjoy!
Ingredients
2 cups ½-inch square rhubarb pieces
1 cup water, plus more if needed
¾ cup granulated sugar
⅓ cup light corn syrup
3 cups coarsely chopped fresh strawberries
Instructions
Thoroughly stir together the rhubarb, water, sugar, and corn syrup in a medium-sized, nonreactive saucepan. Bring to a boil, stirring, then adjust the heat so the mixture boils gently. Cook until the rhubarb pieces are soft and falling apart; this can vary from 3 to 7 minutes. Remove from the heat; let cool to warm.
Combine the rhubarb and strawberries in a food processor. Process until the rhubarb and berries are completely pureed, but don't try to puree the seeds as they will make the mixture bitter. If the mixture is too thick to strain, stir in a little more water to make it more fluid. Press and stir it through a sieve (one fine enough to catch the seeds) into a nonreactive storage bowl. Scrape off and use any sieved pulp clinging to the bottom of the sieve.
Cover and refrigerate the strained mixture for at least 2 and up to 24 hours. Chill the ice cream freezer tub as required if the instructions call for this. Process the mixture in the ice cream maker according to the manufacturer's instructions. Place the sorbet in a pre-chilled storage container and freeze, airtight, until firmed up at least 2 hours. Keeps for up to a week.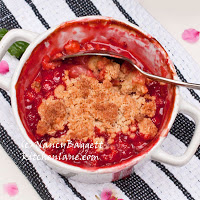 If the strawberry-rhubarb combo appeals, check out this fine cobbler at right here.
Other sorbets you may like, blackberry plum and minted lime: