Monday evening some friends, family, and colleagues gathered outside DC to launch my new book, Simply Sensational Cookies, and my cookbook author friend, Jeanne Sauvage's first cookbook, Gluten-Free Baking for the Holidays. I wrote the foreword to Jeanne's book because I was amazed that her g-f baked goods, including the pretty Buche de Noel (left) and mincemeat tartlets shown on the green plate at the very bottom, were good enough to pass as "regular" treats. (Which is an amazing accomplishment, believe me!)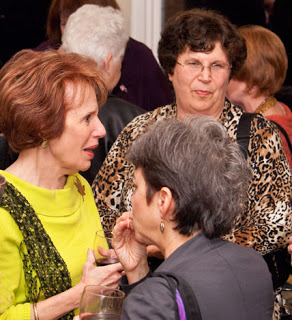 That's Jeanne and me in the top pic toasting to our books' success, with cookbook authors Monica Bhide (in red) and Domenica Marchetti (in blue) enjoying the moment along with us. (It appears that we were all on a sugar high, doesn't it!?) At left are some of my long-time writer colleagues, Toby Devens, Eileen Bucholtz, and Joanne Settel (foreground); I recently talked about my writers' group in a post here.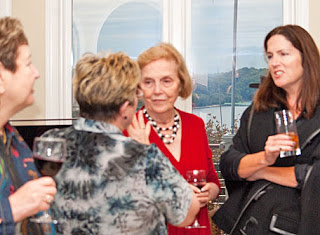 At right you can just catch a glimpse of the Severn River; the back of the house offers a panoramic view looking out towards the Chesapeake Bay. My daughter-in-law, Kip, is at the far right, and my thanks go to her and my son, Dave, for allowing us to use such a wonderful venue for the party. At the far left is Phyllis Fruct, then my sister, Sally Churgai, the Kip's mother, Jane Young.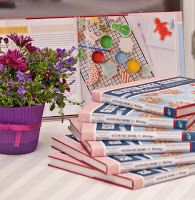 Here, left, you see Jeanne signing some books for friends and colleagues. At right are some of her books–yes, they contain eye-catching pics!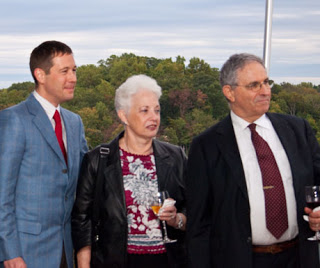 Several decks and a balcony overlook the Severn, and at left my son, Dave, my long-time friend and co-author, Ruth Glick, and her husband, Norm, are enjoying the fresh air. Norm mentored Dave for a computer science project during high school. Ruth posted a terrific article about me nd my new book here .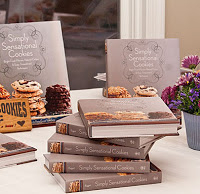 Below left are some of the vanilla-cream sandwich cookies filled with
fresh rose buttercream that I served (hence the rose decorations), plus
some copies of Simply Sensational Cookies on the signing table.
You can't tell from that pic, but, like Jeanne's book, mine includes
some absolutely beautiful photography. Mine was done by Diane Cu and Todd Porter.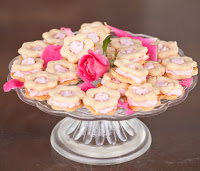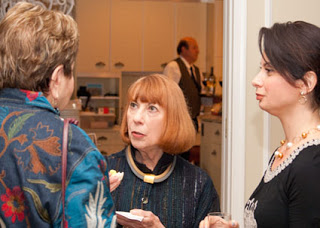 Several of my DC Les Dames colleagues, Phyllis Frucht, Gail Forman, and Amy Riolo are at right below. Amy has blogged about the party, here, and in fact has posted some nice views of the river looking out toward the Chesapeake Bay.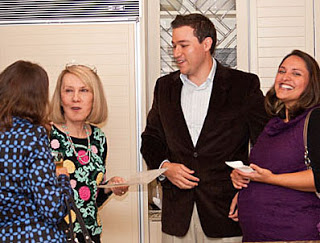 At left below is Gonzalo Rodriguez and his wife, Maggie–he's the videographer who worked with me on the book trailer that features my grandchildren and me baking cookies. While Jeanne and I readied all the cookbook samples, the dinner was prepared by Anna Saint John and her catering staff. Thanks to Anna I didn't have to worry about a thing!
We all had a great time. I suspect you can tell!