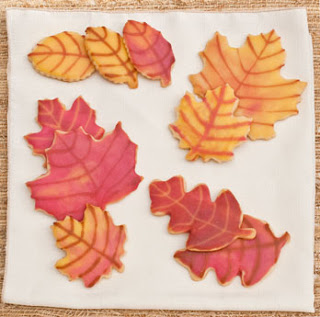 Whew! With hurricane Sandy now blowing on out of Maryland, my plans are back on track to teach several "au naturel" cookie decorating classes at the King Arthur Flour Baking Education Center in Vermont. They're scheduled for this Friday and Saturday.
The focus will be on completely dye-free decorating. Though it may seem a little hard to believe, EVERY single one of the sugar cookies pictured here was decorated using icings tinted with only natural colors from fruit juices. Not a single drop of dye was added. Besides boasting truly beautiful hues and being more flavorful and less risky health-wise than "regular" icings, my au naturel versions are also amazingly simple and quick to prepare. Here's a sugar cookie dough; here's some info on dye-free icings.
If you're interested, you can learn firsthand how to create not only these edible works of art, but some luscious buttercreams and cookies, including the to-die-for rose petal buttercream-filled vanilla-cream sandwich cookies shown at the very bottom. There are still some openings in the Friday, 4 to 6 pm class; the Saturday class is sold out. (King Aurthur is right off the 91 Interstate in Norwich, Vermont; call for info or registration 800.652.3334 .)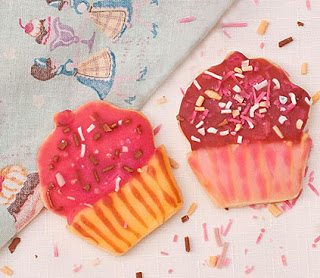 In addition to showing step-by-step how to roll and cut out dough turn out all of these seasonal
holiday shapes, I'll also be demonstrating how to make easy
dye-free sprinkles and garnishing sugars like those on the cupcake cookies at left. I'm always delighted to provide these when my grandkids decorate cookies, because I know they won't be eating any worrisome synthetic colorants and additives if (when!) they sneak a few snacks.
BTW, should you wonder–yes, indeed, the King Arthur class will feature samples of the goodies for attendees to try.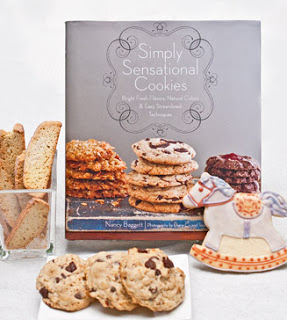 In case you aren't in that area and able to take the class, all the instructions and recipes for making naturally beautiful icings and cookies are in my new book, Simply Sensational Cookies. It's in bookstores and can be purchased at a discount on line. Additionally, I have provided some how tos, recipes, and other pics on Kitchenlane: for an icing recipe used in the pics above go here; for a buttercream recipe go here; for tips on making sprinkles, go here,
For a dough, plus more enticing pics of decorated sugar cookies for all seasons, go here.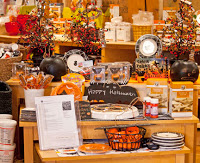 For more on
King Arthur, check out my story here. The huge retail shop, shown below, carries loads of tempting supplies for home bakers.