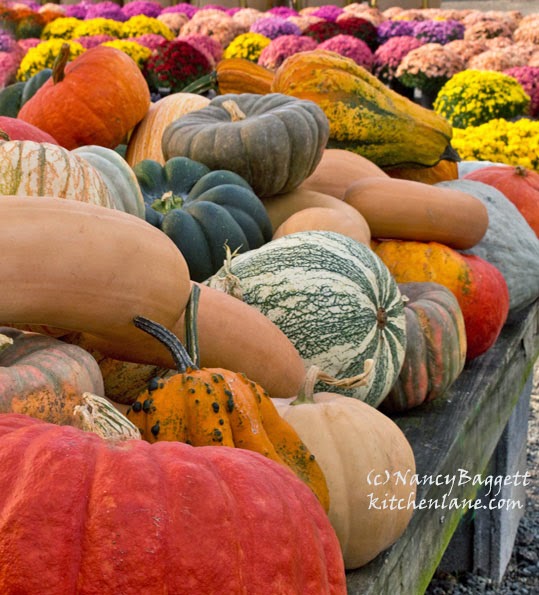 If you haven't been to a farmers' market or pick-your-own farm to buy Halloween pumpkins  and squashes recently, you may not be aware of what the most fashionable fruits (yes, pumpkins are fruits) are wearing these days. It's a far cry from that basic orange of the vast fields in the Charlie Brown "Great Pumpkin" movies of several decades ago. In some cases, the offerings are downright weird.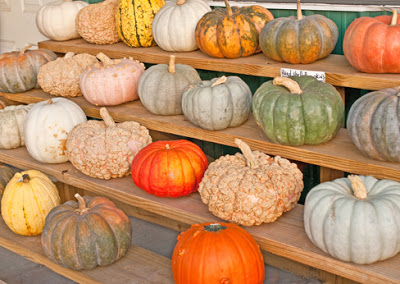 Almost every orb who's anybody in the patch is sporting trendy, subtle designer shades like those shown above–think bleached oyster,stonewashed sage,  peek-a-boo peach  (below) or striated  maize. Plain orange is considered just sooo unsubtle and ORDINARY these days!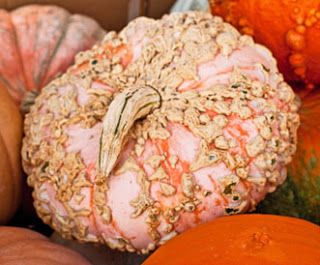 And note that  the smooth, unblemished skin that used to be deriguer for aspiring top models is passe. Lumps, bumps, and wrinkles are prized for lending character. Warts are in, the more the better!  The one above right and second down on the left (quite a hot item now)  has been  aptly dubbed "peanut pumpkin" because it looks a lot like it's been rolled in discarded peanut shells. The official name of this variety, a French heirloom from a southern town called Eysines, is Brodé Galeux d'Eysines; this translates as "embroidered with warts from Eysines."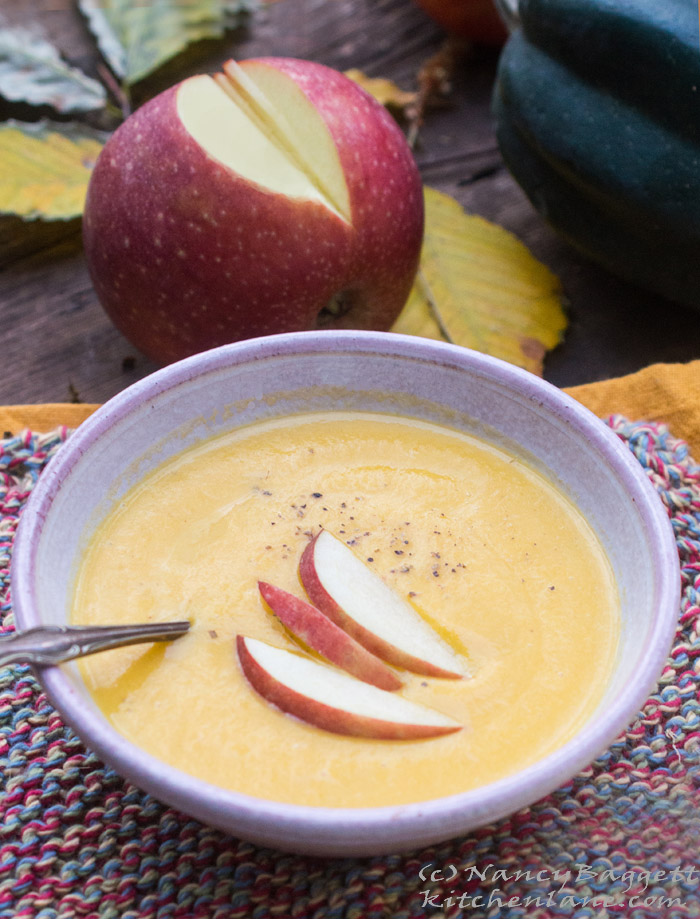 Considering the odd-looking outside of peanut pumpkins, I was surprised to discover that they are very tasty baked and even better in soup–a bit like acorn squash, but softer. And their flesh is thick and a bright, deep orange that is strikingly pretty. However, don't buy with the intention of carving them; the shells are extremely hard and the task will be frustrating instead of fun. Another lesser known squash that's a hu-hum green on the outside (below) but has an unbelievably brightly colored flesh and tastes wonderful roasted or microwaved is called Fairytale, shown cut into slices here. (You might be tempted to think the color has been manipulated through photoprocessing, but it's totally natural!  It can add rich color to dishes, such as the Harvest Bisque recipe below.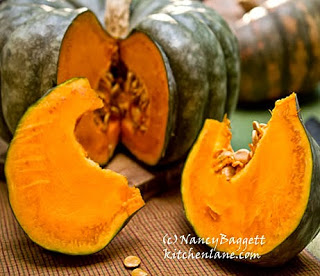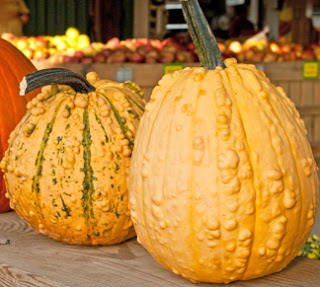 Lately, American pumpkin seed purveyors have actually  been squabbling over who has the right to sell seeds of  certain gnarly kinds. One company attempted to patent a "new" pimpled variety that detractors claim has been been around for centuries. Writes Grit editor-in-chief  Hank Will:
"In an interesting move in the wholesale garden seed supply industry, Siegers Seed Company in Holland, Michigan has been quietly pushing an all-encompassing patent application through the system that would essentially allow them to own a piece of genetic history in the pumpkin and squash families. Siegers' move appears to be aimed at owning the rights to virtually all warts on pumpkins and their relatives. And they want to own the rights to all patches in which warted pumpkins appear. Huh? My ancestors grew warted gourds, pumpkins and squashes long before Siegers was even in business, and they received the seed from Native American gardeners who had warted cucurbits in their patches for who knows how long….."
For more details, plus a late 1700s image of an orange pumpkin with warts, check out the Grit story here.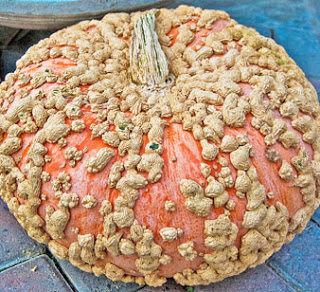 Actually, all these curious, non-traditional-looking pumpkin shapes and colors made me wonder whether in fact some of them  might technically be called "hard-shelled squashes" instead. However, a little research on the topic didn't enlighten. A couple sources said pumpkins tend to have tougher stems than their cucubit cousins–not terribly helpful. So I'm just not going to worry about botanical correctness.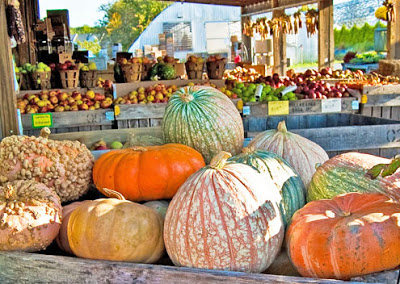 Autumn Harvest Bisque
As you can see from the pics above, the produce place I visited was loaded with apples and other harvest bounty, which, of course, I couldn't pass up.  So, I decided to put some of  it to work in the wholesome cool-weather soup offered here.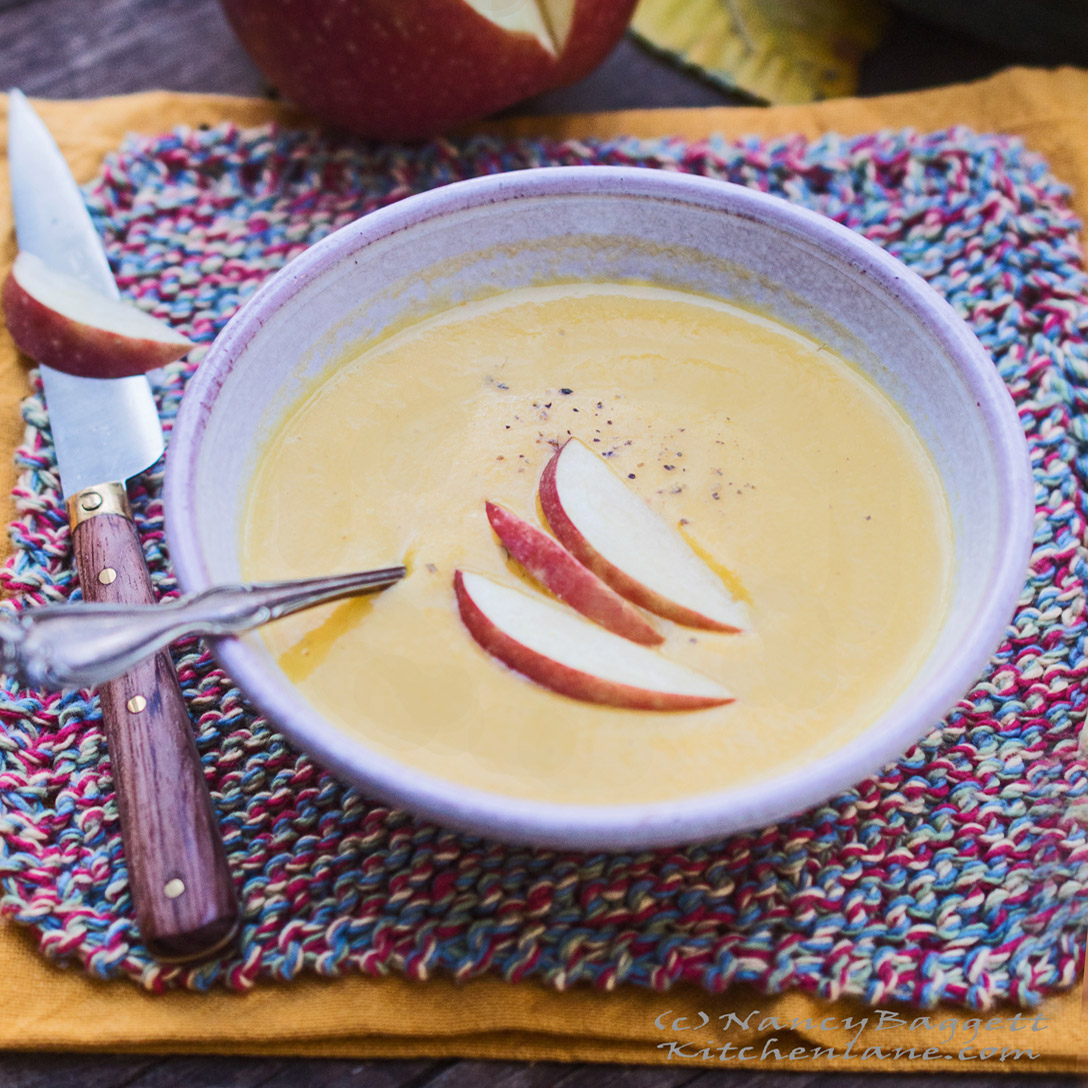 Featuring apples, several root vegetables including carrots and parsnips (don't leave them out), and winter squash or eating pumpkin, this simple, healthful bisque really captures the spirit of the season. It is  fragrant, delicious and colorful, and makes a fine starter for Thanksgiving dinner or any festive cool weather meal. I love it for lunch. It is gluten-free and can be free of dairy if you wish; I like to add in a half cup of cream for a little extra richness, but this is entirely optional.

Autumn Harvest Bisque
Frankly, I was surprised at how terrific all these ingredients are together. I think you'll like it, too.
Serves:
makes about 1½ quarts
Ingredients
1 large onion, chopped
1½ tablespoons unsalted butter (or substitute 1½ tablespoons olive oil if desired)
2 cups peeled and chopped sweet-tart apples (such as Golden Delicious or Honeycrisp)
1½ cups peeled and chopped parsnips
1 cup peeled and coarsely chopped peeled Acorn, Hubbard, Fairytale or other winter squash
1 cup peeled and finely chopped carrot
1 teaspoon ground coriander
1 teaspoon minced fresh ginger root
½ teaspoon dried thyme leaves, crumbled
About 4 cups reduced-sodium or regular chicken broth
½ cup light cream, optional
Salt and black pepper to taste (optional)
Fine slices unpeeled apple for garnish
Instructions
In a 4-quart saucepan or similar-size soup pot, combine onion and butter.
Cook over medium-high heat, stirring frequently, 3 or 4 minutes, until onion softens and begins to brown.
Stir in the apples, parsnips, squash, carrot, coriander, ginger root, and thyme.
Stir in 3¾ cups broth and bring to a boil over high heat.
Reduce the heat; simmer, covered, stirring occasionally, until parsnips and carrots are just tender when pierced with a fork, about 15 minutes.
Let cool slightly.
In batches, puree until very smooth in a blender. (For a less smooth consistency you can puree using a food processor)
Return pureed mixture to saucepan over medium heat. Stir in the cream, if using.
Thin the bisque to the desired consistency with more broth or water.
Simmer, uncovered, about 5 minutes until flavors are well blended.
Taste and add salt and pepper, as desired.
Serve in cups, bowls, or soup plates.
Garnish servings with several fresh apple slices just before serving.
For another appealing, very traditional autumn recipe, my pumpkin bread pudding, click 
here.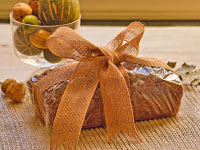 For a different autumn recipe, check out my pumpkin-cranberry quick bread here.
Or perhaps another soup–my very zippy pumpkin-tomato bisque (a fab combo); go here .