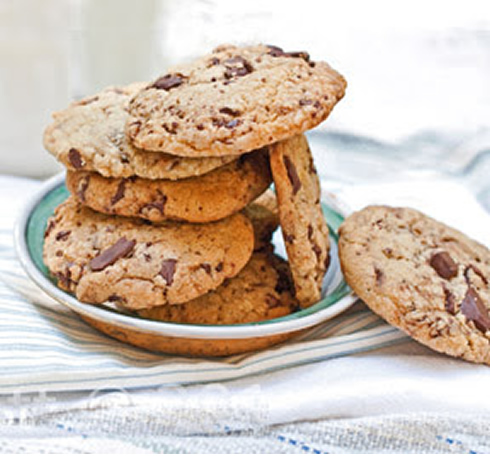 I'm just home from a baking convention in California, and my head is still spinning with all the new information learned. I was particularly interested to hear what baked goods recipes Americans most often search for on the web.
If  you're guessing, as I did, that chocolate sweet treats head the list, you're absolutely right, though I was surprised at which one was in the biggest demand. As you can see below, chocolate cake recipes were searched for most often; I'd expected chocolate chip cookies to be on top. (Incidentally, these two came in third and fourth in all recipe searches, right behind pork chops and meatballs!)
But what really boggled my mind and will likely stun you also is just how many millions of folks are out there surfing for recipes of their baking faves.  According to Erika Kerekas of  inerikaskitchen.com, who gave an excellent talk at one of the convention sessions, here are the amazing stats on the number of peeps searching per month:
> 7.4 million search for chocolate cakes
> 6 million search for chocolate chip cookies
> 4.75 million search for "bread" or "loaf pan bread"
> 2.25 million search for banana bread
Now, I already have several entries on my blog that fit in three of the categories: chocolate molten lava cakes, banana muffins, banana-chocolate bundt cake with chocolate glaze, and yeasted chedder bread and crusty white pot bread. But I don't include a chocolate chip cookie (horrors!), and since I have a brand new book called Simply Sensational Cookies just published this month, it's definitely time to post one of my favorite chocolate chip recipes from the book here on my blog.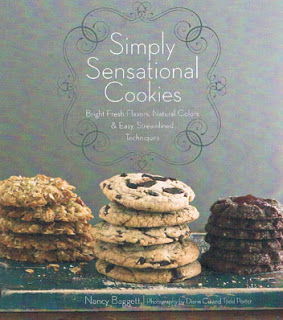 Actually, I designed this recipe so it can be made with either chocolate chips or chopped up chocolate. So, if you like the convenience of reaching for a bag of morsels you can, but if you prefer to choose a favorite brand of semisweet or bittersweet chocolate and  incorporate it, that's fine, too.
You'll notice that I added the tag "Ultimate One-Bowl" to the recipe name. This is partly to highlight that I think it's  especially delectable, but also to signal that it's easy. Like a number of other cookies in the book, including  the One-Bowl Mocha-White Chocolate Chip Cookies and One-Bowl Big Chocolate-Chip Cookies, these are "one bowl wonders," with everything mixed together in a single container. This, of course, makes cleanup a breeze. If you'd like to see my ultimate chocolate chip cookie being mixed up, baked and scarfed down by my grandkids, check out the quick little video here. The pic at the top of this post is one I took of the cookies; below right is the pic that pros Diane Cu and Todd Porter took and that is actually featured in the new book.
I'm excited to tell you that Simply Sensational Cookies is already garnering some great buzz and a highly enthusiastic response from both critics and buyers. It has been a brisk seller on Amazon.com, ranking as one of the best selling cookies books since the very first day it came out.  If you're one of the "early adopters," thank you VERY MUCH. (And do spread the word!)
Two sites, yumsugar.com here and yahooshine.com here  put the book on their "best" fall cookbooks lists.
Plus, the Good Cook Book Club has chosen to offer Simply Sensational
Cookies as a selection for their members.
Ultimate One Bowl Chocolate Chippers (or Chunkers)
from Simply Sensational Cookies — New from Wiley
If you're one who feels that ready-to-use semisweet chocolate morsels produce perfectly delicious chocolate chip cookies, then use whatever brand of semisweet or bittersweet brand of morsels you like for these easy, crisp-on-the-edge, chewy-in-the-middle treats. (For very chewy middles, take care not to overbake.
If, on the other hand, you prefer chunks of premium chocolate, then feel free to chop chocolate and use it instead.  In this case, do be sure not to use chocolate with a cacao percentage higher than 65, as it likely won't be "baking stable," meaning they may run and cause the cookies to flatten too much.  (For my chocolate chip bars-in-jars, go here.)

Ultimate One-Bowl Chocolate Chip (or Chunk) Cookies
Ingredients
¾ cup (1½ sticks) unsalted butter, cut into chunks
⅔ cup packed light brown sugar
½ cup granulated sugar
1 large egg, at room temperature
2 teaspoons vanilla extract
Scant ½ teaspoon salt
Generous ¼ teaspoon baking soda
1¾ cups unbleached all-purpose white flour, plus more if needed
1 ½ to 2 cups (up to 11 ounces) semisweet or bittersweet chocolate morsels or substitute 1 ½ to 2 cups chopped (1/8- to ¼-inch pieces) semi-sweet or bittersweet (50 to 65 percent cacao) chocolate bars, disks or pistoles
Instructions
Baking Preliminaries: Position a rack in the middle of the oven; preheat to 350 degrees F. Grease two large baking sheets or coat with nonstick spray; or line them with baking parchment.
In a large microwave-safe bowl with the microwave on 50 percent power, melt the butter just until not quite fully melted or runny, stopping and stirring at 30 second intervals. Stop before it melts completely. (Alternatively, in a large, heavy pot over medium heat, heat the butter, stirring, until mostly melted. Remove from the heat.) Stir until the butter is lump-free and barely warm.
Vigorously stir the brown and granulated sugars into the butter, mashing out any lumps with the back of the spoon and stirring until well blended. Vigorously stir in the egg, vanilla, salt, and baking soda until the mixture is well blended and smooth. Stir in the flour just until evenly
incorporated. Lightly fold in the chocolate morsels or chunks; excess stirring may cause them to melt. If the dough is very soft, stir in up to 1 tablespoon more flour to stiffen it slightly. On a sheet of wax paper with greased hands divide the dough into quarters. Then shape each portion into 6 or 7 balls, spacing about 2½ inches apart on the baking sheets. Pat down the tops just slightly.
Bake (middle rack) one sheet at a time until the cookies are lightly tinged with brown and are not quite firm when pressed in the middle, about 10 to 13 minutes. Let stand until they firm up just slightly, about 2 minutes. Using a wide spatula, transfer the cookies to wire racks. Cool completely. Cool the baking sheets between batches or the cookies may spread too much. Yield: Makes about 30 2½- to 3-inch cookies. Storage: Store airtight for up to 1 week. Or freeze airtight, for up to 3 weeks.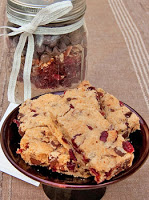 For my chocolate chip-cranberry bars, at right,
go here
.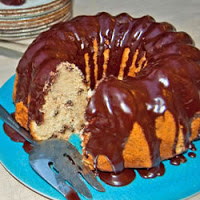 Or, check out the banana-chocolate chip bundt cake here.