I've never written a "50 Winning Ways with Chicken Cookbook," but I could have! Over the years I've turned out dozens, no make that hundreds, of mostly healthful recipes calling for chicken (very often chicken breasts) for various food publications.
Editors often assign recipe developers and authors chicken recipes because they are an exceptionally convenient, quality protein source that most readers enjoy. Plus, chicken breast meat is almost always available, not too pricey, and extremely versatile.
But a key reason I've produced so many chicken recipes is that they are a mainstay for my own family dinners. Which means that the process of creating them kills two birds with one stone (so to speak): I simultaneously devise and test a recipe for a client and put together a dish to use for dinner! (Since I'm often involved in baking assignments, at the end of many testing days the countertops are crammed with sweet treats and, alas, absolutely nothing that could serve as supper!)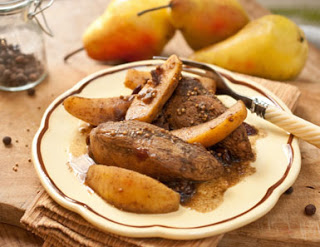 Depending on the mood and pantry supplies, chicken breasts are easy to turn into a diverse array of entrees, from homestyle pot pie, coq au vin, and Chinese stir-fry, to faux veal Parmesan, Tex-Mex white chili, and Indian-style curry. I've made and served all of these many times over the years; they are different enough from one another that nobody ever says, "Not chicken again–we already had that this week!" Well, er, the rule here that everybody must either be satisfied with what is put on the plate, or be prepared to buy takeout or assume the job of cooking may account for the lack of complaints.
To kick off the New Year, my hubby and I resolved (once again) to consume fewer calories and less fat, and more fiber, fruits, and vegetables. So the idea of slipping some succulent, high-fiber pears I had sitting around into an entree seemed right on. And it turned out to be a winner! In fact, so much so that I'm now adding the dish into my regular chicken breast recipe rotation!
While the ingredients list calls for a bit of curry powder, don't conclude that the dish will seem Indian. Rather, it heads in the direction of Indonesian or Malaysian, mostly due to the combining of sweet-sour, spice, soy sauce and fruit elements with the meat. But I make no claims of authenticity: Other than eating a grand meal at the Indonesian Embassy in Washington, DC, a few years back; sampling Dutch-Indonesian menus in several Amsterdam restaurants decades ago; and loving my husband's now long-departed Navy captain uncle's seriously good Nasi Goreng, I'm short on experience with far east Asian cuisines.
Spiced Chicken with Pears
This is a zesty, fragrant, easy skillet dish–the spices, juice, vinegar and sugar form a marinade and later a simple pan sauce that compliments the chicken pieces and the pears beautifully. Serve it as shown here, or over rice if preferred. The recipe is adapted from one I created for the Washington Post several years ago. (As one writer colleague likes to say, if you can't borrow from yourself, who can you borrow from?)
Tip: If you don't have
mustard seeds, you can substitute 1/2 teaspoon powdered mustard, although neither the look nor texture will be nearly as interesting.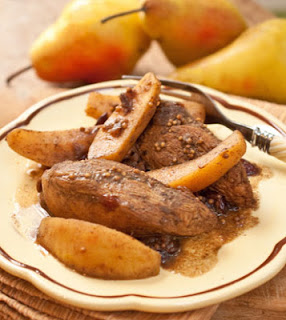 2 tablespoons apple cider vinegar or unseasoned rice vinegar
2 tablespoons plus about 1/4 cup apple juice or orange juice, divided
2 tablespoons light brown sugar

1 tablespoon low-sodium soy sauce
1 1/4 teaspoons mild or medium hot curry powder
1 teaspoon yellow mustard seeds
1 teaspoon ground allspice or 1 teaspoon ground cardamom
1/4 teaspoon salt, or to taste
1 tablespoon corn oil or canola oil
4 5- to 5 1/2-ounce boneless, skinless chicken breast halves, split lengthwise
3 large barely ripe Bartlett pears, peeled, cored and cut lengthwise into 8 slices
In a large, shallow non-reactive bowl, stir together the vinegar, 2 tablespoons juice, brown
sugar, soy sauce, curry powder, mustard
seeds, allspice, and salt until well blended. Add the chicken pieces,
tossing until coated. Marinate for 10 to 15 minutes (or up to 30 if more convenient).
Heat the oil in a 12-inch nonstick skillet over
medium-high heat till hot but not smoking. Add the chicken pieces
to the skillet; reserve any unabsorbed marinade. Cook, frequently stirring and turning the chicken pieces until lightly browned on all sides,
about 5 minutes. Stir in reserved marinade and pears. Briskly
cook, turning frequently, until the pan liquid boils down; continue adding more juice a tablespoon or two at a time as needed to prevent burning until the chicken is just cooked through,
about 12 to 15 minutes longer. Stir in a tablespoon or two more juice to produce a little pan sauce.
Taste and add more salt, if desired. Arrange the pear slices and chicken on a platter or individual serving plates (over rice, if desired). Spoon the sauce over top. Serve immediately. Makes 4 servings.
For my Curry-in-a-Hurry recipe, go here.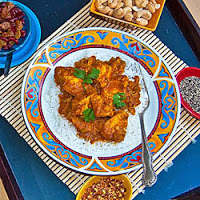 For a quick, easy Tex-Mex entree, check out my zippy black bean-chicken skillet here.