DID YOU MISS MY VALENTINE'S NEWSLETTER? GO HERE.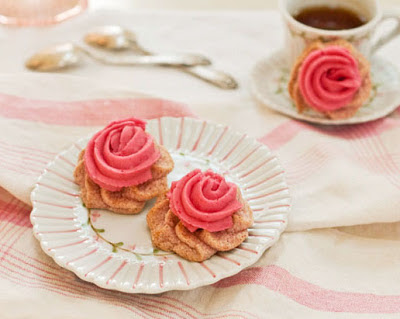 Are you thinking that these cookies would be perfect for a party or romantic Valentine's treat? I agree. I took them to my sweet granddaughter's birthday celebration several days ago, and she loved them. (The cookies are actually photographed with the child's tea set I gave her several years ago.) I've also served them at a spring luncheon and given a prettily-wrapped tin to an ailing friend. And they are on my list to prepare again for this Valentine's Day.
In case the pretty-in-pink theme seems a tad too much, let me mention that my granddaughter is a girlie little girl who enjoys pinks and purples, ruffles and frills. Since I never had daughters to dress in cute frocks or shower with baubles and bows, I've been enormously pleased to at last indulge and bestow upon my grandchild girlie gifts including–oh joy!–a dancing ballerina jewelry box, a My Little Pony plate, a faux gem-studded tiara, and lavender-hued hand mirror!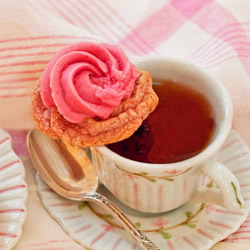 But let me get back to the subject of this post. Obviously, the stunning-looking raspberry buttercream frosting is the star of the show; any good, not-to-sweet vanilla spritz or butter cookie can serve as the base. When it comes to pastry decorating, I'm committed to truth in advertising; if it looks boldly raspberry, it's gonna taste boldly raspberry. Both the buttercream flavor and color are completely natural and intense, coming from pure, freeze-dried red raspberry powder, not food dyes and artificial flavorings.
As for where to find the freeze-dried raspberry powder, it's available on-line. But I don't actually recommend this as it usually only comes in large containers
that cost $20 to $40 dollars each! Besides the expense, the powder
loses its oomph over time and will become faded and stale long before
you've used up so much. One other problem is that some raspberry powders on the market contain fillers and red dyes and skimp on the berries; if you do buy the powder check the label to be sure the product is pure.
Alternatively, I suggest buying small or medium-sized packets of plain freeze-dried raspberries (available in some health food stores as well as on line), then turn them into powder yourself. This requires simply grinding them in a food processor with a small amount of powdered sugar, then sieving out the seeds. The packets generally cost $7 to $9, which seems pricy until you remember that the berries are dehydrated so you're getting a lot of them. One brand I like and can obtain at a local heath food store is called "Just Raspberries." Another easy option is the Trader Joe's brand available at Amazon.
Intensely Raspberry Buttercream Frosting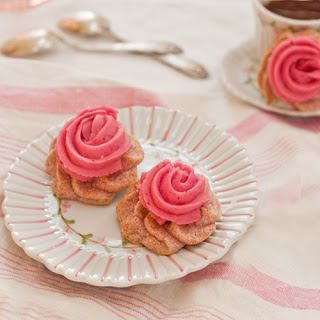 This recipe is from my new cookie book,
Simply Sensational Cookies.
The buttercream can serve as a superb filling for French macarons, as well as
a frosting for cupcakes. The recipe may be doubled, if you wish. It keeps
well, so can be conveniently readied ahead and refrigerated several days until you
need it. In fact, the fruit flavor actually blooms if the frosting is allowed to mellow a day or so.
Tip:
For a really bright hot pink frosting like that shown here, use the
maximum amount of raspberry powder and the optional cranberry juice
cocktail noted in the recipe. The minimum amount of raspberry used
alone with water will produce a slightly less vivid shade. The color
will also vary depending on the brand of freeze-dried raspberries; some
are a bold red; others are slightly muted.

Raspberry Powder
Generous 1/2 to 2/3 cup freeze-dried raspberries
1 tablespoon powdered sugar, or more if needed
Frosting
2 2/3 cups powdered sugar, plus more if needed
1/2 cup (1 stick) unsalted butter, slightly softened and cut into chunks
3 1/2 to 4 tablespoons freeze-dried raspberry powder, to taste
11/2 to 2 1/2 tablespoons water, or cranberry juice cocktail, as needed
1 teaspoon raspberry extract
For the raspberry powder:
Process the berries and 1 tablespoon powdered sugar in a food processor
until the berries are chopped fine, but the seeds and some bits of pulp
are still visible. If the berries have so much moisture that the
mixture clumps, add more sugar and process until a "sieve-able"
consistency is obtained. Stir the raspberry mixture through a very fine
sieve into a small bowl to remove the seeds and any coarse bits of pulp;
stop stirring before you force any coarse bits or seeds through. You
should have enough sieved powder to yield 3 1/2 to 4 tablespoons. (If you have extra, just store it airtight in a small jar and use it another time.)
For the frosting:
Beat the powdered sugar, butter, berry powder, 2 tablespoons water (or
cranberry juice and the extract in a large mixer bowl on low speed
until the mixture is completely blended. If very stiff, beat in a little
more water. Beat on medium just until thoroughly blended, scraping down
the sides as needed. If necessary, gradually beat in a little water or
more powdered sugar as needed for the desired spreading or piping
consistency.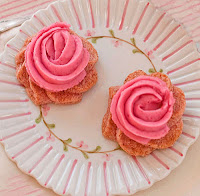 The
buttercream may be used immediately but the flavor and color will
intensify if it is allowed to mellow a day or so covered airtight and
stashed in the refrigerator. Let it come to cool room temperature and
stir vigorously before using. (It can also be frozen, airtight, for up to 1
month. Thaw completely before using.)
For decorating cookie tops:
To spread, put little dollops of buttercream on cookie tops, then swirl
it slightly with the tip of a knife. To pipe, spoon the mixture into a
pastry bag fitted with a [1/2]-inch diameter open star tip; for deeply grooved swirls like those shown, use a pastry tip with long, prominent teeth. Pipe
rosettes onto the cookie tops by holding the tip vertically and
squeezing the bag and rotating the tip at the same time. Let
stand until the buttercream sets, at least 30 minutes and up to 1 hour,
if desired.
Yield: Makes about 1 1/4 cups buttercream, enough for lightly topping about thirty 2 1/2-inch cookies.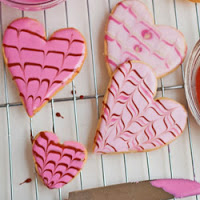 Another Valentine's cookie idea–dye-free iced heart cookies shown at right and posted here.
Or perhaps you'd like the all-natural lavender buttercream frosting (below left) here.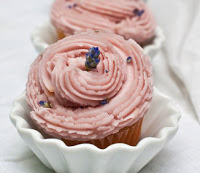 For other dye-free orange and berry buttercream frostings (shown below), plus decorating with crystallized violets, go here.
See a quick, fun video about Simply Sensational Cookies here.