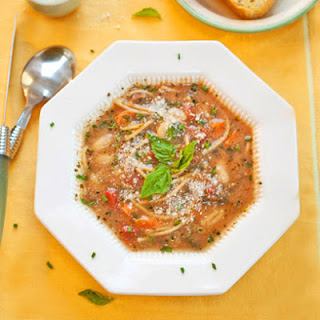 Fair warning to locavores: I deliberately seek out fresh basil and chives and make this hearty, pesto-pasta-white bean soup in the dead of winter. In fact, these herbs seem most vibrant and compelling when the local landscape looks bleakest. Never mind that they were grown in warmer climates and shipped in. At this point I'm desperate for  fragrant leafy things that at least momentarily conjure up images of  bright summer days and verdant, flourishing gardens.
Just the heady herbal scents wafting from the colander, cutting board, and pot lift me from the doldrums. Doubtless the C, K, and B6 vitamins and other antioxidants swirling in each steaming spoonful are replenishing depleted  nutrients and curing ailments. And with snow falling fast and a biting wind bending the trees and rattling the window panes, the heat and sustenance are a vital respite from the season's dreariness and cold.
Actually, homemade soups, especially ones featuring vegetables, like this recipe, are a mainstay in my mid-winter kitchen. Yes, they are more trouble than store-bought. But they are the only way to avoid the key deficiency of canned  soups–that distinctive canned taste!  Even the usual copious quantities of salt  never seem to banish an abiding blandness or reinvigorate ingredients that the canning process has somehow sapped of life.
To nurture the habit of  having healthful, homemade soups always on hand during the darkest months, over the last few years I worked up a repertoire of recipes that can be made without a lot of fuss and which also minimize cooking time. I aimed for dishes that could be prepped, cooked, and on the table in about 45 minutes. Here's one of several I created for Eating Well magazine)  that takes less than 30-minutes; yes, they checked!  And here are my zesty, very popular curried lentil-brown rice-veggie soup and a zesty minestrone .
Lately, I've been fiddling with additional ideas  for streamlining soup recipes, and this Italian-inspired pesto-pasta-white bean version is one result. To keep preparations simple, the recipe  relies on good-quality canned broth, canned white beans, a commercial basil pesto, and pre-washed baby spinach. Yes, commercial pesto isn't nearly as appealing as homemade, but it works just fine and really saves on  muss and fuss. To compensate for its lacks, I throw a generous handful of chopped fresh basil and chives into the soup, then sprinkle over more and top with Parmesan just before serving.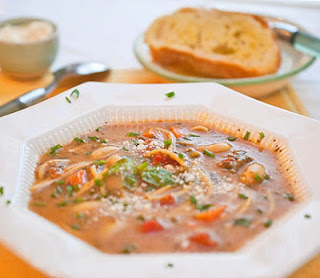 Tip: It's possible to turn this into a  meal with crusty
bread. Or if you've got just a bit more time, make some quick crostini: Thickly slice that bread and brush the slices generously with olive oil (and a little basil pesto, too, if you like). Bake the slices in a 375-degree F oven for about 10 minutes or until crisp and lightly browned. Remove from the oven and sprinkle with a combo of shredded mozzarella and parmesan (and sliced Kalamata olives if desired). Then bake until the mozzarella melts and just begins to brown.
1 tablespoon olive oil
1/3 cup peeled and chopped carrot
4 to 5 cups reduced-sodium chicken broth
1 teaspoon dried marjoram leaves or dried thyme leaves
1/2 cup 2-inch-long pieces broken-up uncooked vermicelli or other similar thin pasta
Half a 6-ounce bag fresh, ready-to-use baby spinach leaves, coarsely chopped
1 14- to 15-ounce can cannelloni beans or great Northern beans, rinsed and well drained
1/3 cup lightly packed chopped fresh basil leaves (stems removed), plus more for garnish
1/4 cup chopped fresh chives, plus more for garnish
4 to 6 tablespoons commercial basil pesto, to taste
1 15-ounce can diced garlic- and basil-seasoned tomatoes (or plain diced tomatoes), including juice
Salt and freshly ground black pepper, to taste
Freshly grated Parmesan for garnish
In a 5- to 6-quart soup pot, combine the oil and carrot. Cook over medium heat, stirring, for 3 to 4 minutes. Stir in 4 cups broth and marjoram (or thyme), and bring to a rolling boil over high heat. Stir in the pasta. Cook, uncovered, until it is barely al dente, about 3 to 4 minutes.
Add the spinach, beans, basil, chives, pesto, and tomatoes to the pot. Bring to a gentle boil. Cook, uncovered, for 5 minutes so the flavors can blend. If needed, thin the soup with a bit more broth or water. Taste and add salt and pepper as desired. Garnish servings with more fresh basil and chives and Parmesan. as desired. Makes a generous 1 1/2 quarts.
Another fine option–Lentil-Veggie-Brown Rice Soup , shown left. Or perhaps you'd enjoy the Spicy Fish Chowder, shown right.