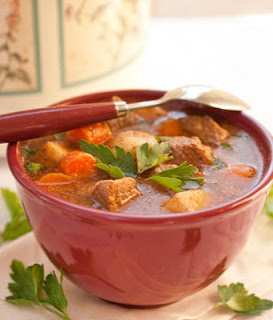 A number of notable things happened in America in the 1970s: The Watergate scandal, a funny, iconoclastic television show called "All in the Family," (which it's said President Nixon never found amusing), and the excessive use of the word "groovy." Other touchstones: The widedespread wearing of ludicrous, psychedelic print bellbottoms, and a national preoccupation with a self-actualization-through-flight novel featuring a bird named Jonathan Livingston Seagull.
If you lived during (or is is through!) that era, or have since watched "That Seventies Show," you're likely aware of these phenomena. But unless you were interested in cooking; or were a kitchen appliance manufacturer; or authored cookbooks, you may have missed several other huge 1970s happenings: The arrival of the Rival Crock Pot, followed up by a blockbuster cookbook, Crockery Cookery, written by Mable Hoffman. (She was a colleague of mine who died in 2010 at 88).
The Crock Pot debuted at the National Housewares Show
in Chicago in 1971. It retailed for about $25 (comparable to a $100 + price tag today). Rival had actually obtained the original cooker, called the Beanery, from the Naxon Utilities Corporation, but repurposed the appliance to target a much broader, rapidly growing audience, women who worked away from home all day. The key selling point: Plug in a big pot of ingredients before you leave in the morning and have a hot meal waiting to serve the family when you get home at night.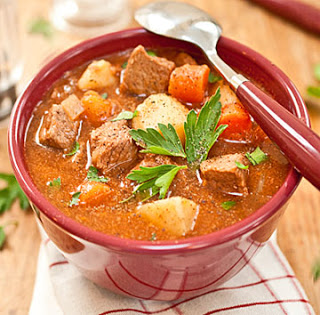 Even though the appliance had a drawback–truly tasty dishes were in fact harder to turn out than people expected–the message resonated, and according to Rival's figures, Crock Pot sales took off. In 1971, the Crock Pot earned $2 million; then $10 million in 1972; $23 million in 1973; $57 million in 1974, and a peak $93 million in 1975. The craze was over and sales started dropping, but the slow cooker habit stuck and the pots became a permanent fixture in many households.
The pesky little problem of disappointing dishes–slow cooker fare tended to be watery and bland if cooks tried to prepare their favorite "regular" stove-top stews and soups in the appliance–sent the first wave of consumers scrambling for recipes that would yield better results. Enter industrious home economist Mable Hoffman, whom a smallish publisher called HP Books hired on a tight deadline to cook up a cookbook to meet this demand. Trained in recipe development and food science at the University of Maryland and already
experienced at creating recipes for corporate clients, Mable, shown below left with several 1970s Crock Pots (note their Brady Bunch orange and avocado green colors), was perfect for the task.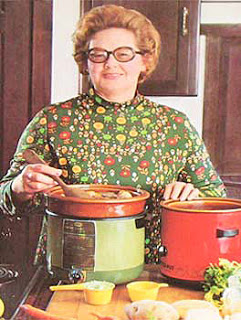 During a talk she gave at a culinary conference in the late
1980s, she said that to deliver the manuscript on time she'd set up twenty Crock Pots in her California kitchen and tested more or less nonstop for months. One major challenge of creating slow cooker recipes, she observed, was that, "it took a whole day to do a dish from start to finish!"
Mable's book, Crockery Cookery, appeared in 1975 and was an instant smash hit. Almost immediately it sold out several huge print runs (including some of 250,000 copies), and it made the New York Times best-seller list for several weeks. It was "the right book" at "the right
moment," said the The Times in 1976, adding that the 20 million
Americans with slow-cookers "were eager for tips." Eventually, Crockpot Cookery went on to sell 6 million copies, today ranking as America's sixth best selling cookbook ever.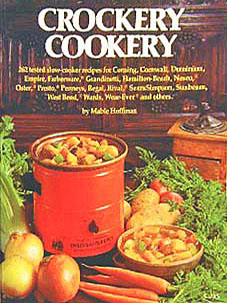 By the time I met Mable at the culinary conference she was already a legend in the cookbook business. After Crockery Cookery, she'd gone on to write a whole series of HP cookbooks, Deep Fry Cookery in 1977, Chocolate Cookery in 1978, Crepe Cookery in 1979, and, Healthy Crockery Cookery in 1985, in the process helping to turn her publisher into a major force in the industry. (Eventually, over 25 years, Mable wrote eighteen cookbooks and won several awards for excellence.) Like many other awe-struck young food writers then, I aspired to emulate Mable and write a bestseller for HP Books. No, HP never took me on, though another company did publish my first cookbook (which was not a bestseller) in 1985.


Perhaps the most remarkable thing about Mable's incredible success was that she handled it with such grace. She was always approachable, friendly, and down to earth, and readily acknowledged that as the New York Times had suggested, the staggering sales numbers of Crockery Cookery were partly due to being in the right place at the right time "with the right thing." During her talk she also allowed that she didn't consider it her best book, and even agreed with detractors that slow cookers tended to make dishes taste flat.
Still, it was clear that Mable was a talented, dedicated pro who had carefully analyzed how to create appealing recipes and methodically tested them to deliver the best possible results. And, we noted, she was willing to share her expertise.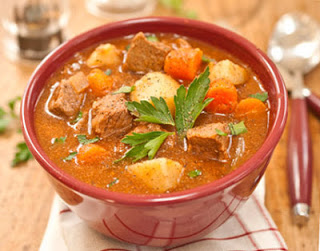 She said that one key to slow cooker recipe success was to incorporate far less liquid than was called for in traditional stove-top stews and soups and to use extra-flavorful broths and seasonings. She had figured out that the evaporation of moisture and associated concentration of flavor that normally occurs during simmering and boiling just didn't happen in the Crock Pot, and she always took this into account. Another tip she said she'd discovered later while working on her Healthy Crockery Cookbook was to reserve some herbs or other seasoning ingredients and add them in at the very end of cooking. She felt this produced brighter, fresher tasting dishes, and I've found through my own recipe developing that she was absolutely right.
Nearly forty years later millions of American families are still cranking out "set it and forget it" meals in a slow-cooker, most often in a Rival Crock Pot. The model shown in the background at the top is modern, but I still have and occasionally use the vintage orange and blue striped one I bought decades ago. Frankly, I think I'm showing more wear than the pot!
Tangy Slow Cooker Beef & Vegetable Stew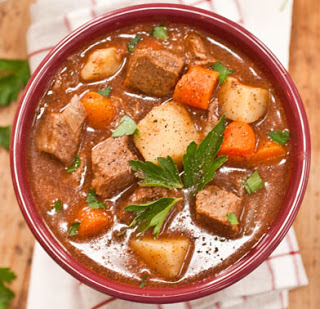 Though I've created a number of slow-cooker recipes over the years, this one is a brand new. I wanted to head in a healthful direction with it–keeping the fat and sodium moderate and boosting the consumption of veggies, nutrients and fiber. To give the stew a bit of extra zip, I use Mable's trick of adding in a flavor enhancer (some barbeque sauce) near the end, and garnishing the stew generously with fresh chopped parsley. (Of course, the parsley can be omitted if you wish.)
Notice that the recipe calls for reduced-sodium
bouillon cubes or beef base and V-8 juice; do use these or the stew will be too
salty. Instead of the usual bouillon cubes, I suggest the
reduced-sodium Better Than Bouillon beef base product. The flavor is closer to
homemade beef stock, plus its paste-like consistency makes it much easier than
cubes to blend into water.
In case you wonder, the lentils or brown rice called for serve several
purposes. They gradually break down, which helps thicken the broth slightly.
And they contribute flavor, fiber, and extra nutrients.
1 1/4 to 1 1/2 pounds beef top round, trimmed of fat and cut
into 1 1/4-inch cubes
3 reduced-sodium beef bouillon cubes or granules or 3
teaspoons reduced-sodium beef base paste, dissolved in 1 cup hot water
1/4 cup uncooked red or brown lentils or raw brown rice
1 tablespoon dehydrated minced onions or freeze-dried chives
1 teaspoon dried thyme leaves
2 cups reduced-sodium V-8 juice or tomato juice
2 cups 1-inch Red Bliss potato cubes (peeled or unpeeled as desired)
2 cups 1/2 inch-long baby carrot lengths
1 1/2 cups 3/4 inch-long celery stalk pieces
1 small yellow onion, coarsely chopped
1/4 to 1/3 cup commercial barbeque sauce, to taste
1/4 cup chopped fresh parsley for garnish, optional
Stir together the beef, beef broth-water mixture, lentils or
rice, dehydrated onions, and thyme in a 3-quart or similar slow cooker. Let
stand while the remaining ingredients are readied. Stir the V-8 juice into the
slow cooker, then in the order listed add in the potatoes, carrots, celery, and
onions; do not stir further.
Cover with the lid, turn the cooker on high and cook until
it heats to hot, about 45 minutes. Turn down the heat to low; cook 7 to 10
hours. Stir in the barbeque sauce; raise the heat to high and cook until the
stew is piping hot again. Garnish with fresh parsley, if desired. Makes 5 or 6
generous main-dish servings.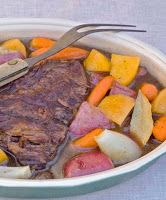 For another, totally different beef dish (with red wine) inspired by a Julia Child recipe from the same era,
go here.