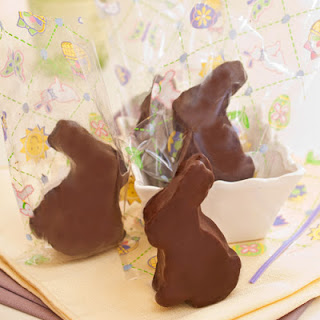 I've been addicted to marshmallows as long as I can remember. Well, not the "circus peanuts" kind (shaped to look like giant peanuts in their shells) due to their weird baby aspirin orange color and truly disturbing artificial orange flavor. But every other marshmallowy treat  or concoction that I've ever tried has grabbed me and held on tight!  (BTW, the candy is named for the marsh mallow plant; up until the 19th century its sap was a key ingredient in the confection.)
As a child I was thrilled with the plain store-bought marshmallows singed or nearly incinerated over campfire flames or merely floated in cups of hot cocoa. I found marshmallow fluff a wondrous  addition to a peanut butter sandwich and marshmallow topping the only suitable garnish for cherry snowballs. I loved the little egg-shaped chocolate-covered marshmallows that came in faux egg cartons and specifically requested them for my Easter basket every year.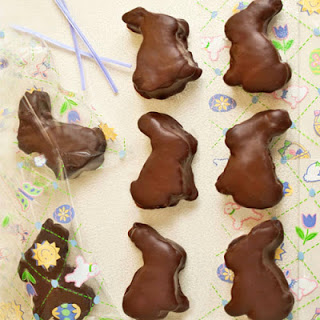 About 15 years ago, I first tried my hand at making marshmallows. I really didn't believe that they could be that much better than store-bought, though people often made that claim. But they were! In fact, they were about as big a step up from the supermarket marshmallows as just-shelled garden peas are from canned peas.  Equally surprising, since I could rely on my heavy-duty stand mixer for all the beating, they were the most trouble-free, easy-peasy confection I'd ever made. (Fudge and I, on the other hand, have tussled many times over the years, though we have reconciled in the recipe here.)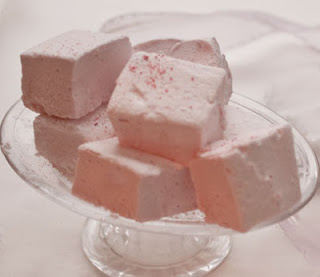 I've been making homemade marshmallows ever since. Lately, I've been experimenting with various flavors, and these  raspberry-flavored ones may just be the best I've ever created.
Above you can see the marshmallows cut out into bunnies using cookie cutters, then dipped in chocolate.  I'll be handing them out, individually wrapped, to the kids in the family at an Easter brunch. But just cut into squares and served "as is," as shown at left, or as squares dipped in chocolate they are a special, no make that stupendous, treat! Additionally, they are gluten-free, and if you omit the optional red food color as I always do, they will be dye-free as well. (The pretty light pink of the ones here comes from the naturally colorful frozen fruit juice concentrate that also provides the berry flavor.)
Very Raspberry "Regular" or Bunny-Shaped Marshmallows
Regular square and cut-out shaped marshmallows are readied in a similar manner except that the cut-out kind require a sharp-edged metal cookie cutter like the one pictured below. If you really want cut-out shapes but don't have an Easter bunny cutter, any metal cutter, such as a heart, scalloped or plain round, or simple flower petal shape will work just as well.
The cutters are easier to use if the marshmallow layer is a bit thinner, so I prepare it in a slightly larger pan when I'm planning to cut out the marshmallows. I find I need to rinse off and re-spray the cutters with non-stick spray as they become too sticky to work well.
The process takes a little patience, but if the marshmallow slab is allowed to firm up the full 24 hours before being cut, and fairly large cutters are used, the marshmallows can be pushed out without a lot of fuss. They can be finished just by sifting powdered sugar (especially over all the cut edges) and then served. Or they can be gussied up with a chocolate coating, like the ones shown in the top pics.  The recipe for
chocolate coating the marshmallows is here
.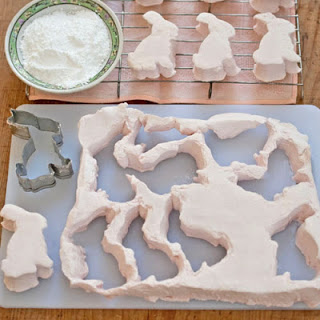 Tip: If you're preparing gourmet-shaped marshmallows instead of square ones, once all are cut out from the marshmallow slab, it's possible to "recycle" the scraps by combining and rewarming them in a microwave. Do this on 50 percent power for 30 seconds, then stir just enough to blend; extra stirring can cause the mixture to deflate. As necessary, microwave a little more on 50 percent power, checking frequently till the pieces just melt together. Then turn the mixture out into a small square dish that has been coated with non-stick spray and dusted with powered sugar. Let the mixture completely cool and set up again for at least 4 hours before using it. Take care not to overheat the scraps, as this may deflate the marshmallow mixture slightly.Tip:  Marshmallows do involve a lot of beating, so a sturdy, fairly powerful stand mixer should be used.
About 1/2 cup powdered sugar for dusting dish and marshmallows
2 tablespoons, plus 1 teaspoon unflavored gelatin (3 to 4 packages)
1/2 cup plus 2 tablespoons cold water
1 3/4 cups granulated sugar
1 cup light corn syrup
1/2 cup frozen (thawed) cran-raspberry juice concentrate, or white grape-raspberry juice concentrate, or other mixed berry juice concentrate
1 pinch of salt
2 teaspoons vanilla extract
1/2 teaspoon raspberry extract, optional
1 to 2 drops liquid food color, optional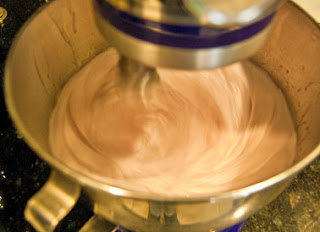 For regular square marshmallows: Spray a 9- by 13-inch flat baking dish with nonstick spray.  For cut-out marshmallows: Use a 10- by 15-inch baking pan and spray with nonstick spray.Then insert parchment paper into the dish or pan, allowing the paper to overhang the narrow ends about an inch. Very evenly coat the paper with nonstick spray. Evenly sift a light layer of powdered sugar onto the paper; the marshmallow will stick to any spots that are missed.
In a small bowl, sprinkle the gelatin over 1/2 cup plus 1 tablespoon cold water. Let stand, stirring once or twice, until the gelatin softens and absorbs the water, about 6 minutes.
In a 3- to 4-quart heavy saucepan over medium-high heat, stir together the sugar, corn syrup, juice concentrate, and salt until well blended. When the sugar dissolves, raise the temperature and bring the mixture to a full boil, stirring. Continue boiling, uncovered, for 20 seconds. Stir in the gelatin, vanilla, and raspberry extract, and boil, stirring, for 30 seconds longer. Remove from the heat and continue stirring until the gelatin completely dissolves.
Pour the mixture into a large mixer bowl. Add the food color, if desired. Using a whisk attachment if available, and gradually raising the mixer speed from low to high speed, beat until the mixture is stiffened, lightened, and very fluffy, about 5 to 7 minutes.
Using a nonstick spray-coated rubber scraper, scrape out the marshmallow mixture into the prepared baking dish or pan, spreading evenly to the edges. Evenly dust the surface with powdered sugar. Coat a second sheet of wax paper with nonstick spray; pat the sprayed sheet down on the marshmallow surface. Set aside at room temperature until the mixture cools and firms up, at least 6 hours and up to 24 hours; it will become firmer and easier to handle if left the full 24 hours.
To cut the marshmallows into squares: Generously sift powdered sugar onto a large clean cutting board. Peel off one sheet of wax paper from the marshmallow slab, then lay the slab on the sugar. Peel off the second sheet of wax paper and sift more powdered sugar over top. Using lightly greased kitchen shears or a large, sharp lightly greased knife, cut the slab crosswise into 12 portions and lengthwise into 8 to form generous 1-inch marshmallows (or as desired). Dust all the cut surfaces of the marshmallows with powdered sugar to reduce their stickiness. As necessary, clean off the knife and re-grease.
To cut marshmallows into gourmet shapes: Ready sharp metal cutters of your choosing by lightly coating with nonstick spray. Then press down all the way through the marshmallow layer to cut out the gourmet shapes desired. Push the marshmallows out of the cutters with your fingers and continue. Clean off and re-oil the cutters as needed. Dust the cut-out marshmallows all over with a little more powdered sugar (especially the cut edges) so they don't stick together during storage. Store, loosely packed in an airtight container for up to 3 weeks.
The marshmallows can also be chocolate-dipped following the directions
here.
Makes 96 generous 1-inch square marshmallows; yield of gourmet-shape marshmallows will vary greatly depending on the sizes of the cutters used.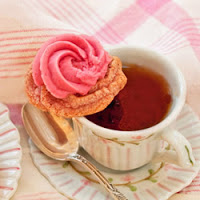 For another appealing holiday or spring sweet treat, add these pretty dye-free pastel buttercream frostings to cupcakes, cakes, or cookies.