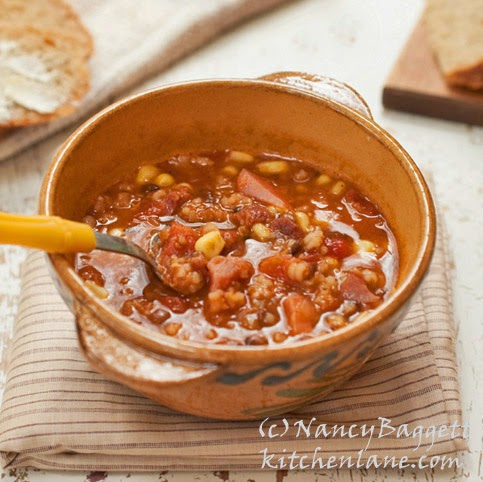 Wait, stop! You weren't really going to throw out that holiday ham bone, were you? Leftover ham bones should always be considered culinary treasures and saved for making soup or stock.
Pitch out a bone and you're literally throwing away $5 or $6. Plus, you're wasting the chance for a truly memorable, soul-satisfying meal. (I've just had a bowl of the ham and vegetable soup shown here for lunch. It was hard to hold off long enough to take the pics!)
If you didn't know, ham bones are luxury items nowadays. At some point the specialty ham shops wised up and hiked prices of their bones left from readying sliced ham plates. A 1 1/2 to 2-pound one with a little meat  used to cost $.99, or at most $1.99. But no more. Lately, I've been paying $5.99–yikes! (Though the bones are a bit meatier than before.) And I always feel exhilarated to have scored at all, because the clerks say that ham bones are usually snapped up by customers with standing orders!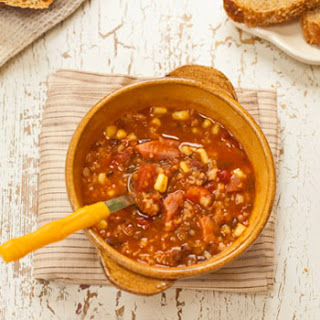 If you're absolutely, positively too busy to deal with your leftover ham bone immediately, put it in a plastic freezer bag and stick it in the freezer until you're less harried. DO NOT forget to label and date the package first; even if you promise yourself to remember what's in the bag, you probably won't. (The bone will be fine in there for up to 2 months.)
Another option is to do the preparations in stages. You can ready just the stock, then stash it in the refrigerator for several days or in the freezer for up to 3 months. Once any nice chunks of meat are trimmed off and reserved for adding to the soup later, the task is fuss-free. The bone just gently boils  in a large pot with  water (and a few herbs and vegetables, if desired),  for 2 to 3 hours. I like to start the stock right after dinner, then cool it slightly and refrigerate a day or so until I have time to make the soup.
Because this recipe features a whole grain  (brown rice), lentils, and veggies, it's quite wholesome. If you make a point of skimming off the surface fat from the stock as called for and also trim the excess fat from the diced ham, the soup will be fairly low in fat. Using no-sodium-added canned diced tomatoes and omitting salt from the recipe will help control the sodium level as well.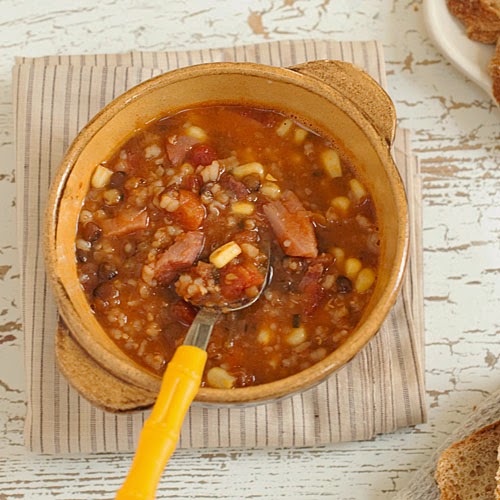 Wholesome Ham Bone-Vegetable Soup
Right off, take note that this is not your typical ham soup. Instead of featuring beans, it stars lentils, veggies and rice–a great change of pace IMHO.
Depending on how much meat is left on your ham bone, this oh-so-savory soup can do for a lunch or a very substantial one-dish supper. Serve bread and perhaps a salad or fruit dish, if you wish.  The recipe makes a large batch, enough for several meals or to feed a crowd.
If you feel you must streamline soup preparations,  it's perfectly okay to rely on frozen vegetables. When I'm rushed, I add a (rinsed and drained) medley of frozen carrots, green beans, peas, chopped onion, and diced green peppers, plus some fresh diced celery and cauliflower. Feel free to add or subtract to suit your taste or what's on hand in your kitchen.
Tip: The recipe gives you a choice of  regular or instant brown rice (or white rice in a pinch), and either red lentils or brown lentils. Instant brown rice cooks in less than 15 minutes; regular brown rice requires about 40 minutes. Red lentils take about 20 minutes, brown lentils about 30. So, for a meal in the shortest amount of time, use instant, or "10-minute," brown rice and red lentils.
Tip: If this recipe entices you, but you don't have a leftover ham bone, substitute two or three smoked pork hocks. Instead of trimming off the meat before the cooking, it's easier to do it after the stock is readied.
1 medium sized (1 /12 pound or similar) ham bone, all slices removed and reserved for another purpose and smaller pieces trimmed of fat, diced and reserved for the soup
12 cups (3 quarts) water, plus more as needed
1 to 2 large bay leaves
1 teaspoon dried thyme leaves
2 to 3 tablespoons freeze-dried chives or minced dehydrated onions,
Leafy celery tops, optional
1/2 cup uncooked red lentils or brown lentils
1/2 cup uncooked "instant" brown rice or regular brown rice (or use white long-grain rice if unavailable)
1 28-ounce can no-sodium-added diced tomatoes (or 2 14 1/2-ounce can diced or chopped tomatoes), including juice
2 to 2 1/2 cups mixed diced vegetables, fresh or frozen (thawed)
1 1/2 to 3 cups diced ham (whatever amount was reserved from the ham bone)
Freshly ground black pepper and salt to taste
To make the stock: Trim any remaining chunks of meat from the ham bone and dice them. Wrap the meat
airtight and refrigerate for up to 24 hours to add back to the soup later.
(Or freeze for up to 3 weeks for later use.) Combine the ham bone, water, bay leaves, thyme leaves, chives or onion, and celery tops (if using) in a 4-quart or larger pot. Bring to a boil over medium heat. Adjust the heat so the pot boils gently and cook, covered for at least 2 and preferably 3 or more hours (the longer the cooking, the more flavorful the stock). Remove from the heat and let cool slightly. Strain the stock through a sieve (discarding the herbs, vegetables and bone) and measuring out and reserving the stock. If there is less than 8 cups of stock, add enough water to it to yield 8 cups. If using the stock immediately, skim off the fat from the top and discard. If refrigerating it for later use, skim off the fat once the stock has chilled.
To make the soup: In a 4-quart or larger pot stir together the ham stock, lentils, and rice. Bring to a boil, then adjust the heat so the mixture boils gently.
Cover and cook, stirring once or twice, until the rice and lentils are barely tender; the time will vary from about 20 to 40 minutes depending on the type of  rice and lentils used. Stir in the tomatoes, mixed vegetables and reserved diced ham. If the soup seems at all thick, thin it with up to 2 cups water (overly thick soup may burn and stick on the bottom). Let boil gently, covered and stirring once or twice until the vegetables are tender and the flavors well blended, about 15 minutes. Taste and add pepper and salt as needed.  Makes about 2 1/2 quarts of soup.
You may also like the bread shown accompanying this soup; it's the "kneadless" Pale Ale Boule from my Kneadlessly Simple: Fabulous, Fuss-Free, No-Knead Breads.  Or, for a healthful quick bread to go with this soup, check out my Applesauce Muffins, shown below, here.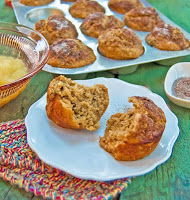 Other soup options: Try my savory autumn bisque ( shown below)  here. Another tempting soup, a minestrone, is here.