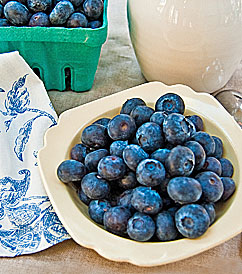 A blueberry-apple crumble sounds like a casual, home-style dessert, and this one certainly is. In fact, it's like a crisp, but on the slightly crumbly side. Here, the fairly pricey fresh blueberries–which are also yummy eaten straight, of course–are stretched with some chopped apples.
This blueberry-apple crumble makes fine family fare because it's wholesome as well as yummy. In addition to including fiber from the rolled oats and fruit, it is quite low in fat. Note that this dish is mostly about the blueberries and apples and is not overly sweet, so it is also fairly light on the calories. It could be served at a brunch or for breakfast. If you sub white or brown rice flour for the wheat flour in the recipe, it can be gluten-free.
The best news is that this crumble tastes a bit like a fruit pie, but is much easier to make. The recipe is updated a bit from my Dream Desserts cookbook, which I wrote back in the 1990s. It featured a whole array of fairly healthful desserts and some stunning pics by photographer Marty Jacobs.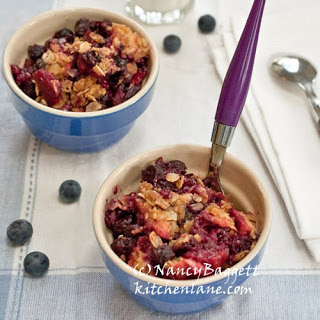 I love fruit desserts, so have a number posted on Kitchenlane, including my blackberry cobbler, apple crisp and simple microwave baked apples.
Tip: I prefer fresh blueberries, but you can use frozen and the dish can be made year round. Dress up the servings with a scoop of vanilla or butter pecan ice cream. Note that the lemon zest is optional–add it to perk blueberries or apples that are on the bland side.
1 cup old-fashioned rolled oats
1/2 cup packed light or dark brown sugar (or more for very tart fruit)
3 tablespoons all-purpose white flour (or white or brown rice flour for a gluten-free version)
1/2 teaspoon ground cinnamon
3 tablespoons cold butter or stick margarine
1 1/2 tablespoons corn oil or canola oil
3 2/3 cups peeled and diced Golden Delicious, Rome, Granny Smith or other sweet-tart cooking apples
1 tablespoon lemon juice
1/4 to 1/2 teaspoon finely grated lemon zest, optional
2 2/3 cups fresh or frozen (thawed) unsweetened whole blueberries
Preheat oven to 375 degrees F. Lightly grease a 9- by 13-inch (or similar) baking dish.
Stir together oats, brown sugar, flour and cinnamon. Using forks or fingertips, cut in butter and oil until thoroughly incorporated. In a large bowl, toss apples with lemon juice and zest until well combined. Stir in berries. Reserve scant 1 cup oat mixture for topping. Add remainder of oat mixture to fruit, tossing until well mixed. Spread in baking dish. Sprinkle reserved oat mixture over top.
Bake for 35 to 45 minutes, or until mixture is bubbly and nicely browned on top and apples in center are tender when pierced with a fork. Transfer to a cooling rack. Serve warm or at room temperature. Store, refrigerated, for up to 3 days.
Makes about 6 servings.
Check out my apple crisp here.