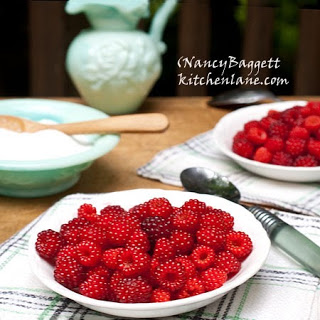 One of the joys of my summers is foraging for wild berries. I've gone berry foraging every year since childhood. Most of the hours have been spent in Maryland. But I've gathered berries in a number of other states and also in Canada, Great Britain, Denmark and Germany. Among the prizes I've most often collected: blackberries, black raspberries, red raspberries, golden raspberries, dewberries, and wine berries.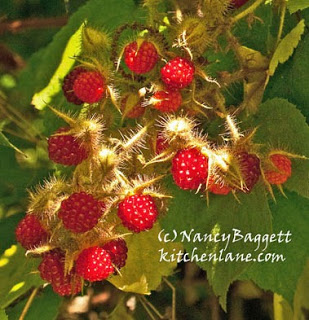 Wine Berries (Rubus phoenicolasius)
A great part of the pleasure of berrying comes just from being outside listening to the birds sing and the leaves rustle. And at the same time I'm getting something really useful done! Except for one productive blackberry patch next to a busy highway, my berry foraging spots are peaceful and soothing. My mind can drift and wander as freely as the butterflies floating by.
Of course, part of the fun is also in returning to the kitchen with just-picked, free-for-the-taking fruit. Since I'm always coming up with ways to use my foraged treats, you'll find Kitchenlane recipes that feature a whole array of berries, including blackberry cobbler, raspberry ripple ice cream, and berry sundae sauce.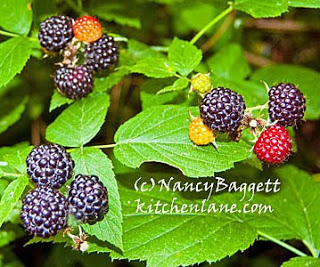 Black Raspberries, aka Blackcaps (Rubus occidentalis)
Kinds of Berries to Forage
The last few years, I've made a habit of taking a camera along on my
berry foraging outings and collecting photographs of the varieties I find. In case you've noticed any of these along country roads, woods, or even highways and weren't sure of their identity, the pictures will help you sort them out.
Yes, they are all edible. One variety featured here that you may not have seen is the wine berry, pictured at the top in bowls and above right still on their canes. Two distinguishing features are the hairy stems and branches and shiny, bright orange color. Wine berries are actually a type of Japanese red raspberry imported to the U.S. as garden ornamentals. But now they have naturalized and are even becoming invasive in parts of the east, including here in Maryland. (I have some that just came up in my back yard!) Despite their enticing name, wine berries are not as flavorful as "regular" red raspberries, shown below at left. As a result, I always add in some raspberries or blackberries to jazz up wine berries in a cobbler or crumble.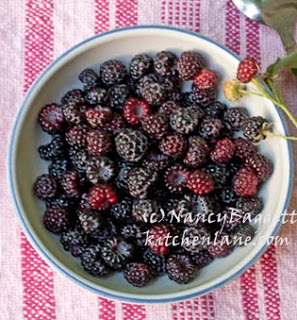 Wild Black Raspberries (Rubus occidentalis)
The black-colored berries above left and at right are also a type of raspberry. The best way to tell them from blackberries is to look at the undersides. As you can see from the bowl here they have a tidy little indentation in the bottom. Each one grows like a cap around a nub at a stem end. This is why they're sometimes also called Black Caps. If you forage, you'll also find that black raspberries ripen about a month ahead of  blackberries. They don't taste like blackberries either; think very bold, zesty, and complex raspberry flavor.
Red Raspberries (Rubus idaeus)
Still another raspberry occasionally found here in the woods is the golden or yellow variety, shown below right. Notice in the pic the white nubs that remain after the berries are picked; these are called toruses and are characteristic of all raspberry varieties. This one is basically an albino berry or as the horticulturists put it, "a varient resulting from the presence of recessive genes that impede production of the (red or black) anthocyanin pigments." Whew! Maybe it's just because they look pale, but the ones I've picked tasted a little pale, too.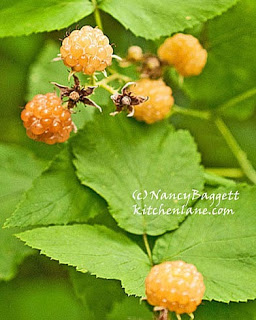 Golden Raspberries (Rubus occidentalis-candensis)
I haven't found them while foraging berries in Maryland, but another fairly rare type that grows both wild and commercially are a purplish raspberry called Rubus neglectus. It's a natural cross between the  red and black raspberry, and I hear it tastes fabulous. Rumor has it the wild version is most often found in Vermont. This is  making me want to go berry foraging there!
Luckily for American foragers everywhere, the blackberry grows pretty much like a weed.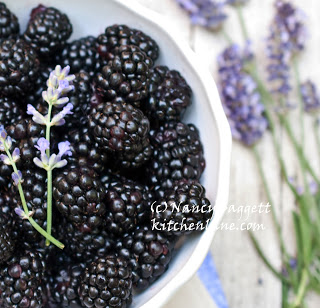 Bushes line suburban and city parking lots and playgrounds and anywhere else cleared land is left untended. I've photographed the bowl of blackberries with lavender to remind you that this herb enhances the berry flavor beautifully. (Lavender will liven up raspberries and wine berries and many other fruits also.)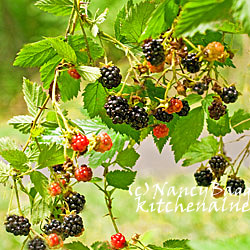 Wild Blackberries (Rubus fruticosus)
Some wild blackberries, like those at right, droop on their branches and are fairly low-growing; others stand upright and form dense thickets. They can vary from pucker-up tart to honey sweet. Certain kinds, called dewberries, even ramble along the ground and climb on fence rows and bushes.  Some kinds are wickedly thorny, others only moderately so. Horticulturalists have created several popular thornless types. But I've never seen these in the woods, perhaps because thorns discourage deer from totally demolishing the canes. ( I know the deer forage berry bushes because they nibble on the cultivated red raspberry canes in my yard.)
Very-Berry-Fruit Streusel Cobbler
This homey, succulent streusel cobbler calls for red raspberries or wine berries, plus either black raspberries or blackberries, plus either plums or peaches. The stone fruits round out the flavor and "stretch" the berries a bit. I also like adding them because they produce a less seedy cobbler.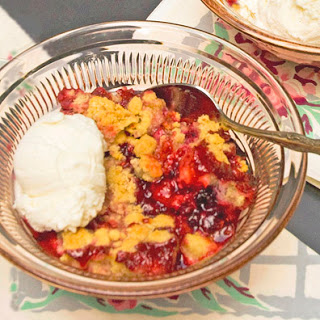 The crumb topping, or streusel,  comes out slightly crisp and sweet, providing a pleasing contrast to the tartness of the filling underneath. Be sure to bake until the streusel is done all the way through and golden brown. Test the center top with a toothpick to be sure.
If you're interested in similar seasonal fruit desserts, check out my favorite blueberry crumble or blackberry cobbler.
Generous 3/4 cup granulated sugar
2 tablespoons cornstarch
3 1/2 cups red raspberries or wine berries (or a combination)
1 1/2 cups black raspberries or blackberries
3 cups pitted and chopped red or black plums or peeled, pitted and chopped peaches
2 to 4 teaspoons lemon juice
Dough
1 2/3 cups unbleached all-purpose white flour
1/3 cup packed light brown sugar
1/3 cup granulated sugar
3/4 teaspoon baking powder
1/4 teaspoon salt
7 tablespoons unsalted butter, melted and cooled
1 large egg, lightly beaten
Ice cream or whipped cream for serving
Preheat the  oven to 375 degrees F. Lightly coat a 9-inch by 13-inch flat baking
dish with nonstick spray. For the filling: Thoroughly stir together
granulated sugar and cornstarch in a large bowl. Gently stir in the
berries, fruit and lemon juice until well blended. Spread the mixture evenly
in the baking dish.  For the dough: Thoroughly stir together
the flour, brown and granulated sugar, baking powder, and salt in a
medium bowl. Add the melted butter, stirring until incorporated. Add the
egg, stirring with a fork until mixture is blended and clumped.
Sprinkle the clumps of dough mixture evenly over fruit.
Bake in middle third of oven for 35 to 45 minutes, or until well browned and
bubbly. Test the center with a tooth pick; the particles should look
dry and crumbly, not wet or gummy. Transfer to   wire rack and let cool to
barely warm or cooled before serving. Serve with ice cream or whipped
cream. Makes 8 to 10 servings.
Other recipes you might enjoy: my blackberry-plum sorbet  or my blueberry crumble.