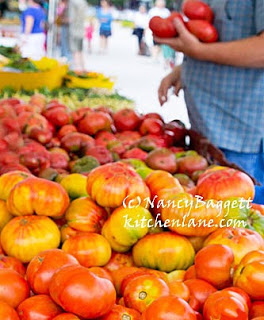 The reason I've haven't gotten out much is that I've been on deadlines for several magazine articles. One of the odd challenges of stories for magazines is that the publishers need the material submitted many months ahead. So, I'm always working on recipes and topics completely out of season–like winter stews in June when it's 95 degrees F, or ice creams in the middle of a blizzard!
Recently, I finished creating spring recipes for a story that won't appear until next April! Now my counters are full of all kinds of cookies I'm making to take to a photo shoot next week for my cookie article that will run in December. So here at Kitchenlane I'm focused on baking, cutting out and decorating snowmen, santas, reindeer, and festive Christmas trees, while everybody else in my neighborhood is making salads, sorbets, and summer coolers.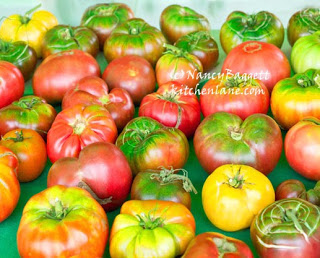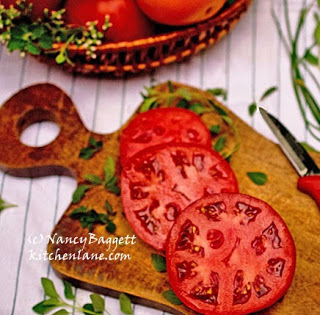 Of course, I'm also writing blog posts, and these feature topics that are in season at the moment. And nothing, absolutely nothing is more summery than straight-from-the-garden tomatoes. These not only looked lovely in the market, but their fragrance seduced me into buying twice as many as I intended. (But it's okay, because already the supply is dwindling.) I know I'll be using some in my vegetarian pasta and summer veggie dish here.
Tomatoes Oregano
This
is one of my favorite ways to take advantage of an abundance of
succulent, summer tomatoes. I think the plate looks extra pretty when the tomatoes are several colors, but honestly, all red ones taste just as good! I know that
the fresh tomato, basil, and mozzarella combo, called caprese salad, is the rage these days. But frankly, IMO fresh tomatoes and oregano
are even more stunning together than the famous caprese duo. Apparently others think so too; even though
this salad calls for 6 or 7 large tomatoes, four or five people usually
polish it off.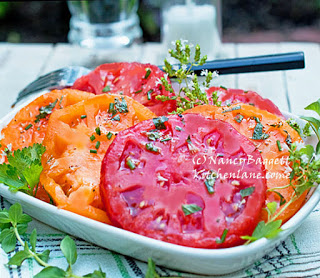 Since the dish is prepared ahead, it makes a convenient addition to a summer luncheon or buffet supper. In the pic here, I only plated part of the recipe to have for lunch; the rest of the tomatoes I'll be serving for dinner.
Tip:
The easiest way to peel tomatoes is to plunge them in boiling water for
about 30 seconds. Then, when they are cool enough to handle, just strip
the skins right off. I suppose you could skip peeling the tomatoes, but they are so tender and succulent with the skins removed, I think it is more than worth the trouble.
1/4 cup red wine vinegar or unseasoned rice vinegar
2 tablespoons extra-virgin olive oil
3/4 teaspoon granulated sugar
1 tablespoon chopped fresh chives (or 1 tablespoon chopped scallions, including tops)
1 to 1 1/2 tablespoons finely chopped fresh oregano or 1 teaspoon dried oregano leaves
1/8 teaspoon celery seed, optional
1/4 teaspoon each, salt and black pepper, or to taste
6 or 7 large, sun-ripened tomatoes, peeled and cored
Oregano, chive or garlic chive blossoms and fresh parsley leaves for garnish, optional
Additional coarse red, black or white crystal salt and pepper for serving, optional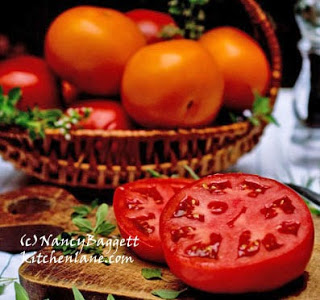 In
a 1-cup measure, stir together the vinegar, oil, sugar, chives,
oregano, celery seed (if using), salt and pepper until the dressing is well blended. It
may be made up to several days ahead and refrigerated; let stand until
warmed almost to room temperature before using.
Up to 8
hours before serving time, cut the peeled tomatoes crosswise into
generous 1/4-inch-thick slices and refrigerate. Up to 1/2 hour ahead,
arrange a layer of them on a non-reactive serving plate, then drizzle
some of the dressing over them. Top the slices with another layer of
tomatoes, then drizzle with more dressing. Repeat until all the slices
and dressing are used. Cover and refrigerate a few minutes before serving if desired. Garnish with oregano, chive or garlic chive blossoms and/or
parsley leaves and very lightly with coarse-crystal salt, if desired.
Makes 6 or 7 servings.
Pasta-Summer Veggie Skillet–another summer garden fave you might like.Or perhaps Oven-Dried tomatoes (shown right.)