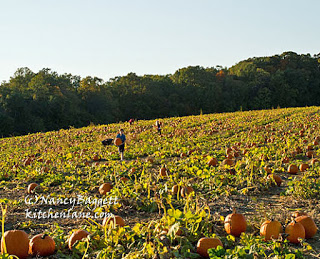 That's my grandson in the blue shirt proudly carrying a pumpkin he picked back to the stand to pay for it.  A bit late he realized that while the upside was a large, impressive choice, the downside was he had to carry an 18-pound load across an expansive field!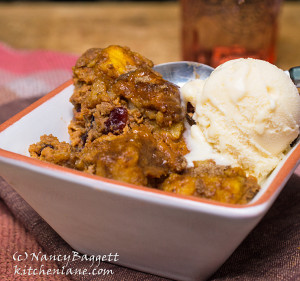 Just spying a patch or display of pumpkins like the one we visited reminds me of how much I love this ingredient in a number of recipes, including the pumpkin bread pudding featured here. (Actually, it calls for canned pumpkin; my grandson's prize is for adorning the porch!)
When I was first served a delectable pumpkin bread pudding at a New England inn several decades ago, I assumed it was a modern American twist on a classic English comfort food dish. I was right about the American twist part, but dead wrong about it being a modern recipe.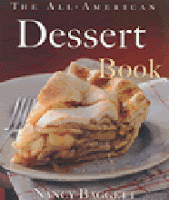 In fact, the first truly American cookbook, Amelia Simmons' 1796 American Cookery, contains a winter squash pudding noting that it that it is "a good receipt for "Pompkins…."  I used her recipe for  inspiration when creating the  pumpkin bread pudding recipe in my All-American Dessert Book .The native Americans introduced the Colonists to squashes and pumpkins, and they had been eatenfor decades by the time Simmon's book appeared. In Massachusetts, pumpkin
served as a mainstay of the Pilgrims, though not necessarily by choice, as this amusing bit of doggerel from the 1630s reveals:


For pottage and puddings and custards and pies
Our pumpkins and parsnips are common supplies,
We have pumpkins at morning and pumpkins at noon,
If it were not for pumpkins we should be undoon.
Pumpkin Bread Pudding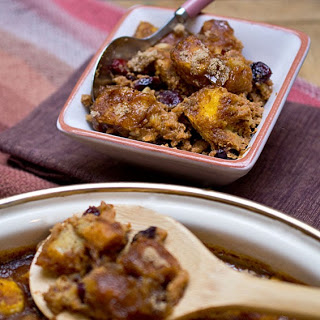 Adapted slightly from a recipe in my The All-American Dessert Book, this pudding has a soothing pumpkin-and-spice flavor, enticing aroma, and gratifying hominess. It tastes much like pumpkin pie, but being "crustless" is an easier and more foolproof dessert. It's also ideal for fall and winter brunches. I've baked this pudding on a number of television shows and in cooking classes; it's always a huge hit!
The pudding is great served with whipped cream or ice cream but is nice with my easy Brown Sugar Orange Sauce, too.
If preparing this recipe for a crowd, you may want to double it. Turn it into an attractive 10- to 11-inch by  at least 2 1/2-inch baking dish for 35 minutes, then sprinkle on the brown sugar and continue baking until the center is firm when lightly tapped, about 20 minutes longer.  The pic below shows the pudding as it's about to go in the oven.

Pumpkin Bread Pudding
Ingredients
4 large eggs
1 cup packed light or dark brown sugar, plus 3 tablespoons for sprinkling on pudding
1 cup whole or low-fat milk
1 cup light or heavy (whipping) cream
1 15-ounce can solid-pack pumpkin (not seasoned pie filling)
2½ teaspoons ground cinnamon
1 teaspoon ground ginger
¾ teaspoon ground allspice
5½ cups cubed (1/3 inch) crusty, day-old French or Italian bread, crusts removed
¾ cup dried, sweetened cranberries,
Ice cream or lightly sweetened whipped cream or heavy cream for serving, optional
Instructions
Position a rack in the middle of the oven and preheat to 325 degrees F.
Lightly grease a 7-by-11-inch or 10-inch round and 2-inch deep baking dish or coat with nonstick spray.
In a large bowl using a wire whisk, beat the eggs until frothy and smooth.
Add the brown sugar, whisking until it dissolves.
Whisk in the milk, cream, pumpkin, and spices until completely blended and smooth.
Lightly fold in the bread cubes and cranberries.
Turn out the mixture into the baking dish.
Lay a sheet of baking parchment or wax paper on the surface and press down to keep the bread submerged.
Let stand for 5 to 10 minutes. Peel off and discard the paper.
Bake, middle rack, for 25 minutes.
Sprinkle the remaining 3 tablespoons brown sugar over the pudding and
continue baking just until the center of the pudding is firm when
lightly tapped, 12 to 17 minutes longer. Transfer to a wire rack. Let
cool for at least 15 minutes. Serve spooned into bowls.
Garnish with ice cream, whipped cream, or heavy cream, if desired.The pudding will keep, covered, in the refrigerator for up to 4 days. Reheat to warm before serving.
Other fall recipes you may like–a succulent pumpkin-cranberry
quick bread 
here
, or
pumpkin soup here.