Domenica Marchetti's new tome, The Glorious Vegetables of Italy is a beautiful book to hold in your hands,
to drool over,
to leaf through, to learn from. The photos, by Sang An, are artful, appetizing, and elegant yet unfussy. The recipes are varied, well constructed, and show off the author's sound palate and solid grasp of her subject. And her headnotes set scenes, tell stories, explain, and generally make you want to rush into the kitchen and cook.
Domenica mentions in the book intro that she spent her childhood summers visiting her aunts in Italy, where nearly every day began with a trip to purchase produce from a local farmers' market. Her firsthand knowledge gained from shopping and cooking with relatives in her family's homeland shows in her recipes. Back in the States, her mother (originally from Abruzzo) "had my sister and me shaping
gnocchi and ravioli by the time we could see over the kitchen counter," she says. Which also shows in her deep affection for the dishes and the traditions of the cuisine.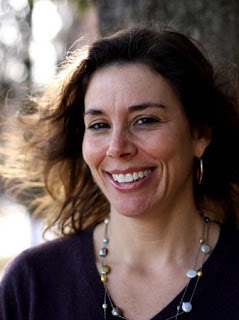 The whole charming, well-crafted package underscores a fundamental truth Domenica wants her readers to understand: That in real Italian cooking vegetables feature as prominently as the pasta. "Somehow," she says, "the perception persists that Italian food is heavy: heavy on
carbs, heavy on portions–huge gooey pizzas laden with sausage and
pepperoni, spaghetti and meatballs, cream sauces galore. This actually
bears no resemblance to the way people in Italy cook and eat."



The Italian peninsula is really a garden, she points out. Many regions are blessed with a long growing season, so a glorious array of fresh
vegetables is available and depended upon year round. If the
tomatoes are fully ripe from sufficient time on the vine, the peppers crisp, and the fennel
sweet and tender, a little olive oil, or lemon juice, or fresh herbs, or other simple additions are all that is needed for exquisitely flavorful soups, salads, main dishes, sides, pastas and sauces. Perhaps to emphasize the great versatility of vegetables, Domenica even serves up a chapter of dolci, such as the winter squash panna cotta pictured below left. For more details and photos from her book, go here.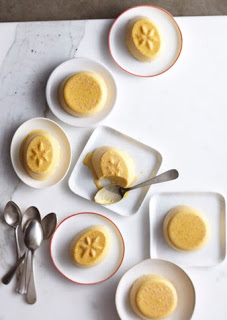 To add a little perspective to these glowing remarks, I must disclose a few things: First, though not a vegetarian, I love vegetables and prefer lighter, less meaty, less dairy-laden fare. Second, Domenica and I are friends, and she gave me a copy of The Glorious Vegetables of Italy to review. Third, she used a no-knead focaccia recipe from my Kneadlessly Simple book as inspiration for a recipe in her new book, noting my method creates a loaf that is "foolproof" and "as close to perfect as you can get…." With such flattery, how could I not be swayed in her favor at least a bit!?
Still, I'm not the only one lauding and enjoying this book. Kate Williams, who reviewed it for SeriousEats here, notes the "drop dead gorgeous" photography, then comments that "the recipes inside are totally on point and the writing between them is warm, inviting, and informative." It's clear Domenica has got herself a hit!
Roasted Wax Beans with Chopped Herbs and Feta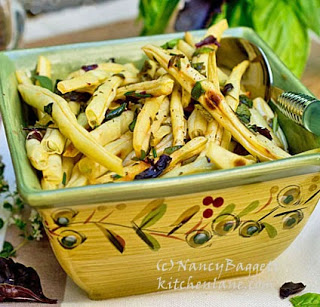 Domenica calls for feta in this recipe, but I've made it with and without the cheese and love it both ways. It is, hands down, the best dish for fresh green beans I've ever eaten. Also, I find it works as a side dish served warm, and as a salad served at room temperature.
Though she specifies wax beans, I've also successfully readied it with regular green beans; they are much easier to find where I live.
Note that the photo of the beans is not from The Glorious Vegetables of Italy, but one I shot. The directions are slightly adapted from Dominica's original recipe.


1 pound fresh yellow wax beans, stem ends trimmed off
4 tablespoons extra-virgin olive oil, divided
1/2 teaspoon fine sea salt
Finely grated zest and juice of 1 small lemon
1 garlic clove, peeled and lightly crushed
2 to 3 tablespoons chopped fresh herbs, such as oregano, basil, mint, and chives
1 to 2 ounces Greek feta cheese, crumbled, optional
Preheat the oven to 425 degrees F (220 degrees C)
Put the beans on a medium-sized rimmed baking sheet; drizzle with 2 tablespoons olive oil, then stir until well coated. Spread out to form a single layer. Sprinkle the salt over top. Roast, uncovered, for 10 to 15 minutes, stirring once or twice, until the beans are just tender when pierced with a fork.
Put the beans in a serving bowl. Add the lemon zest, garlic, herbs, and the remaining 2 tablespoons olive oil, tossing thoroughly. Sprinkle over the feta, if using, and toss well again. Cover and let the dish sit at least 10 minutes to allow the flavors to blend. Makes 4 to 6 servings.
Summer Vegetable-Pasta Skillet--another recipe you may like: