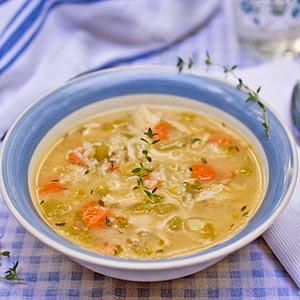 Ahhh, homemade chicken soup. Just the words stir memories of warm and soothing and my mother's kitchen. Just the aroma wafting from a steaming bowl today restores my feeling that all is right in at least my little corner of the world. I'm betting good home-style chicken soup makes you feel the same way.
I remember hovering with a bowl and spoon near the huge pots of chicken soup simmering on the back of the stove in our Maryland farmhouse. Especially in cool weather Mother's chicken soup was one of my favorite comfort foods (though I didn't know that term at the time).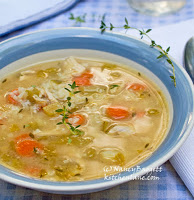 We often had roast chicken for dinner, and my mother routinely tossed the leftover bones and water into a soup pot after most of the meat had been consumed. Like many homemakers of the post Depression era, she'd been schooled in never wasting food. A carcass could readily be turned into homemade stock, which, along with the last chunks of chicken saved and a few vegetables, yielded an economical, yet enormously satisfying follow-up meal.
My mother didn't season with spices or herbs much (an occasional bay leaf went into beef stew but never into chicken dishes), so her chicken soup was simple and straightforward: Carrots, celery, and onions were standbys from the larder. For some reason she kept rice instead noodles around, so the version I grew up on and now consider the classic featured rice. I  have updated her recipe a bit though, as I love the taste of thyme in it, and also like to include chopped fresh cauliflower for extra flavor and nutrition. And to intensify the stock flavor slightly, I add in some canned broth as well as water.
If you've never prepared chicken soup from a chicken carcass, don't worry. The technique involves nothing more than gently cooking left-over roaster bones with water (and seasonings if desired) and gently boiling until a stock forms.  Then strain out the bones by pouring the liquid through a sieve or colander, and discard the excess fat by skimming off the layer that floats on the surface.
Leftover Roaster Chicken-Vegetable-Rice Soup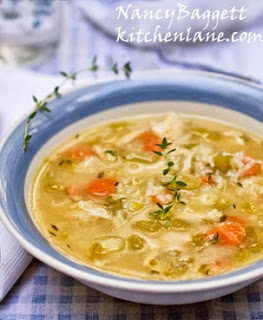 It's possible to make this soup with the bones from either a chicken roasted at home, or one purchased ready-to-serve from the supermarket. Just remember to adjust the salt accordingly. Most commercially prepared roaster chickens have been brined, so the stock from a carcass will be on the salty side. So, the soup may not need any additional salt at all. The stock from a home roasted chicken probably will.
Tip: Many stores sell take-out chickens prepared with several different seasoning blends, such as barbecue or honey (or, here in Maryland, a spicy "Chesapeake" herb-spice mix). For a traditional chicken soup flavor, be sure to start with a plain or only mildly seasoned purchased roaster.
1 leftover roaster chicken carcass, meat removed and about 1
cup diced white meat reserved for adding to soup later
6 cups water
6 to 7 6-inch thyme sprigs, or 1 teaspoon dried thyme leaves,
divided
2 cups reduced fat, low-sodium chicken broth
1 small bunch (6 to 8 medium) green onions, well washed,
roots trimmed off, white parts chopped, tops reserved
1 cup each diced celery and diced cauliflower
2/3 cup thinly peeled, sliced carrots (or use half carrots and half parsnips)
1/4 cup raw (uncooked) long-grain white rice
1/8 teaspoon fresh black pepper or to taste
Salt to taste
To make the stock: Break the chicken carcass into three or four pieces. In a medium soup pot or large saucepan combine the carcass pieces, 6 cups water, and 5 thyme sprigs (or 3/4 teaspoon dried thyme). Add onion tops to the pot. Bring the pot to a boil over medium-high heat, covered. Adjust the heat so the liquid boils gently and cook, covered, for at least 30 minutes and up to 45 minutes if desired. Let cool slightly.
 Pour the stock through a sieve into a 4-cup or larger heat-proof glass measure, discarding the solids. You should have at least 4 cups stock; if necessary, add water to the pot to yield 4 cups. Refrigerate the stock, covered, until it cools and the fat rises to the surface. Skim off and discard the fat. The stock may be used immediately or refrigerated for up to 3 days.
To prepare the soup: Combine the chicken stock, 2 thyme sprigs (or 1/4 teaspoon dried thyme leaves) 2 cups chicken broth, chopped green onions, celery, cauliflower, carrots, rice, and black pepper in a large saucepan over medium high heat.
Adjust the heat so the broth boils gently and cook, uncovered, for15 to 20 minutes or until the rice is just tender. Remove the thyme sprigs and discard. Stir the reserved chicken meat into the soup and bring the pot back to a full boil. Taste and add more salt and pepper as needed. Serve immediately or cool slightly, then refrigerate for up to 3 days if desired. Alternatively freeze the soup for up to 3 weeks. Makes 4 to 6 generous servings.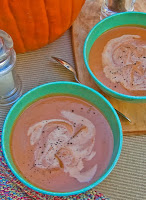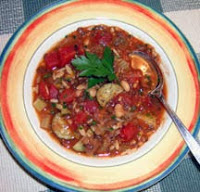 Another classic soup you may like,
minestrone
.