In every age, artists and their work inevitably reflect what's deemed fashionable at the time. Savvy Byzantine painters elongated human faces, rendered their backgrounds flat, and depicted halos as stylized golden pie-chart rounds. Hip renaissance artists loaded their works with fleshy females and plump, pink cherubs (think Sistine chapel), and painted in a luxe, pseudo-realistic style.
Whatever the era, once the notion of what's "in" is in the air, almost everybody hops on board. This is certainly true of modern day food photographers and stylists, whose main business is creating arresting images that capitalize on or, better yet, set trends.
To help you assess whether your own food pics or those of others are plugged in or passe, here's a list of some of today's hot food props. Seeing them in images tells you the photographer or stylist is at least trying for trendiness. The only problem, of course, is that once everybody is following along, the real avant-garde are off to something else. (Note that all of the images here are mine, and if you want to check out the associated recipes, just click on the caption under the pic.)
Bright colored bendable plastic drinking straws.
Truly au courant photographers and stylists today always prop beverages with eye-catching plastic straws. These must be bendable to
facilitate positioning them at the prescribed jaunty, cock-eyed angle.
(Be aware that older paper straws lacking flexible "elbows" are
hopelessly outdated, though they can be used to lend an authentic, nostalgic touch in shots of classic
soda fountain treats.) Additionally, it's de rigieur to either flavor
coordinate the straws (red straw in strawberry smoothie, green straw in
limeade) or color complement them (blue straw in orange soda pop, yellow
straw in a purple cow). Note that vertically or diagonally striped straws are now vanguard; solid ones have peaked. Which means that my shot here at left is old hat.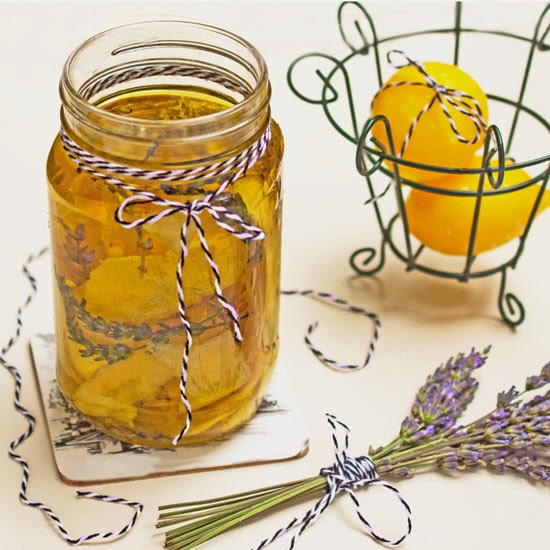 Bakers' twine.
When shooting confections, baked goods, and many other edibles, stylists and photographers in the know use bakers' twine as often as possible and in as many colors as possible: Red-white, navy-white, black-white, turquiose-white, forest green-white and chartreuse-white are the bare minimum. And the more twine used, the hotter the shot. Excessively winding or tying twine around just about any subject is ultra-chic. So is lavishly draping, trailing, or looping multiple strands of bakers' twine over any surface. The twine use can be totally gratuitous; conventions don't have to make sense, after all.
Note that though I overused the twine just to be amusing, nobody even seemed to get the joke!
For some super-cool twine pics that inspired mine, check out my trendsetter friend Irvin Lin's post here. You'll also notice his shots include both the very latest striped drinking straws and sprinkling of herbs (mentioned below).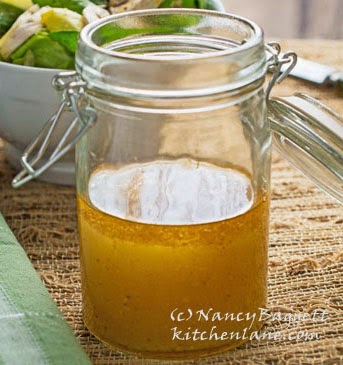 Citrus Vinaigrette.
Distinctive bottles and jars.
For fashion-forward food photographers and stylists, propping with the right bottles and jars is huge. Vinegars, oils, vinaigrettes, syrups, spices, seasonings and such need to be presented in glassware that appears to have come from great aunt Ida's canning cupboard, or Dr. Metzer's Medicinals & Soda Shoppe, or the planet Zerxon. As a rule, ordinary, everyday glass containers of the sort used by regular people will not do. (Note that at one time propping with a Mason jar was the rage but is now only in vogue if you spiff it up with bakers' twine or a raffia bow.)
Weathered wood, peeling paint.
Every enlightened stylist or photographer has a collection of weathered wood surfaces to shoot on, such as antique pastry and cutting boards, butcher blocks, old barn siding, and bleached boardwalk or pier planks. Usually, plain or painted wood surfaces are not sufficiently gnarly until they have spent at least 5 years out in the elements or have been chopped or pounded upon for a decade. The decrepit moss-growing picnic table featured in the violet pic at the top sat in my wooded back yard for 15 years! Weathering often takes so long that items are no longer trendy by the time they're usable, so most stylists scour junk yards, flea markets and shabby-chic shops for their first-rate pieces.
Weirdly shaped and colored flatware.
Clued-in food stylists or photographers routinely rely on quirky and gaudy plastic-handled flatware to add a playful funkiness and angularity to their food images. I tried to emulate their approach in the blueberry crumble shot at left and am hoping that that tacky purple spoon jutting up oddly from the bright blue bowl just screams, "I've got flair!" Frankly, I find this sort of propping a bit strained and artificial, but then, what's "in" is often contrived. (This shot has gotten a lot of looks and likes on Tastespotting, which suggests that at least some do find it hip.)
Fresh strewn herbs.
Today's with-it food stylists and photographers routinely fill empty space in shots with artfully placed herb sprigs and leaves. They are particularly fond of propping with hard-to-find fresh herb flowers, such as purple chive blossoms (shown at the top in the vinegar shot), or tiny blue rosemary or white oregano blooms. But be aware there are a couple of herb rules for the truly trendy: Only adorn a dish with herbs that it actually contains (no marjoram in it, no marjoram on it!). Only garnish with flat-leaved parsley; curly went out (along with broccoli) in the first Bush administration.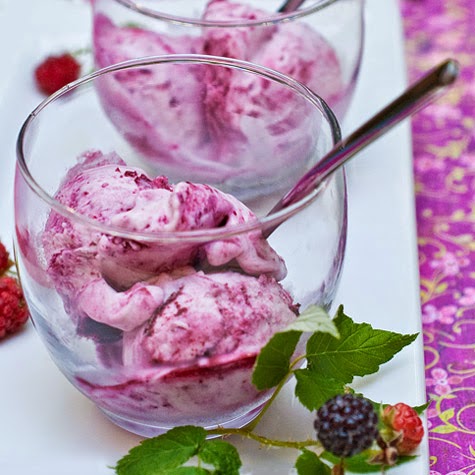 Best Ever Raspberry Ripple Ice Cream
Fruits and vegetables with leaves and stems intact.
Tastemakers don't shoot fruits and vegetables that appear to have been purchased from the supermarket. Their fruits and vegetables must have leaves, or stems, or roots intact and look as if they came dew-kissed from an orchard or farm. If they are baby-sized vegetables in unusual colors, so much the better; notice the chi-chi mini zucchinis and eggplants and little orange tomatoes in the pic at the very top!
Influential food stylists will spend hours rifling through piles of produce at farmers' markets for specimens that meet their exacting requirements: Raspberries or blackberries still attached to their brambles; cress with roots damp and dangling, fat cherries drooping from their stems. And stylists are not above cheating on the critical botanical elements when necessary: I've witnessed a New York stylist painstakingly gluing perfect leaves and stems brought to the studio from her New Jersey apple tree onto a basket of grocery store apples. (FYI, the apples below have not been tampered with, though I did have to hunt diligently for one fruit with both a leaf and stem.)