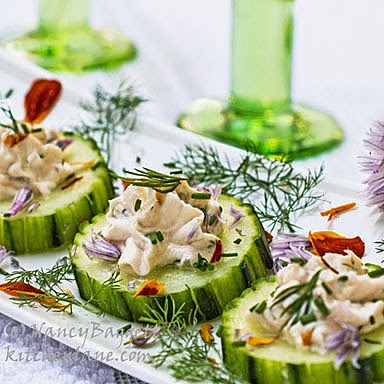 Today, just because I like food to look appetizing, I'm sharing a few super-simple (really!) presentation tricks and techniques we learned in pastry chef school.  They dressed up these tempting cucumber canapés  but can work with other dishes, as well. If you're one of the many home cooks who stresses about entertaining and worries that that your food is too plain for guests, these suggestions can help you. They're also handy if you enjoy being creative or want to entertain with flair on a budget.
Don't worry! Even though these are tricks from professional chefs and caterers, they are easy enough that anybody can benefit from them. Except for the last suggestion, they require absolutely no training or skill.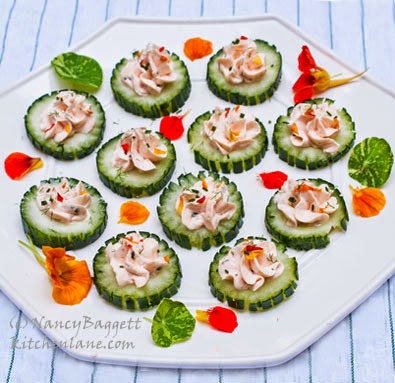 >Offer party food in individual servings.
Even the simplest salads,fruits, desserts, or whatever will seem more elegant presented in individual plates or servings than when plunked on the table in big bowls. At a party I just attended the caterer gussied up Kalamata black olives and grape tomatoes merely by threading them together on cocktail skewers; a simple step, but they looked inviting and people ate a lot of them. Notice that my recipe here seems quite fancy-schmancy just because it's served up in appetizing nibbles. The effect would have been ho-hum if I'd plopped the exact same salmon or herb spread in a dip bowl and set it out with a plate of cuke sticks.
>Give your dish a fancy name.
Don't snort, this works! Chefs do it all the time—they call soups bisques or potages and pot roasts daubes so they'll sound special and worthy of a hefty price. To avoid seeming silly or pompous don't go overboard like some chefs do though: At several fine dining establishments I've visited the dishes took up less space on my plate than their elaborate names took up on the menu! Here I simply call my cucumber rounds "canapés;" the word has an instant cache that "nibbles"or "cocktail snacks" do not.
>Garnish your food with an abundance of herbs, colorful vegetables and edible flowers.
It takes very almost no time or talent to garnish dishes and make them look like good professionally prepared fare. If you happen to have or can obtain fresh edible flowers or herb blooms for garnishing, they will raise the poshness level even higher. As you can see from the pics here, just adding a few nasturtium or marigold petals and "confetti" in with the fresh dillweed lends a decidedly gourmet look. Recently, I placed my canapés among dishes that were in fact readied by a high-end catering firm. The head caterer actually rushed over and inspected my plate to be sure it was worthy of setting out with his food: "Looks good—very good!" he said sounding quite surprised.  For more on garnishing a cheese ball with chive blooms go here.
>Invest in a packet of disposable pastry bags and a couple of large open star tips and learn to use them.
It's amazing how much more pizazz tidy squeezed-out swirls, stars, or rosettes have than little dabs and blobs! Once you get the hang of it, adding toppings, frostings, etc., with a pastry bag and tip is actually much faster and easier, too. And note that even imperfect piping will look prettier than globs dropped from a spoon and smoothed with a knife.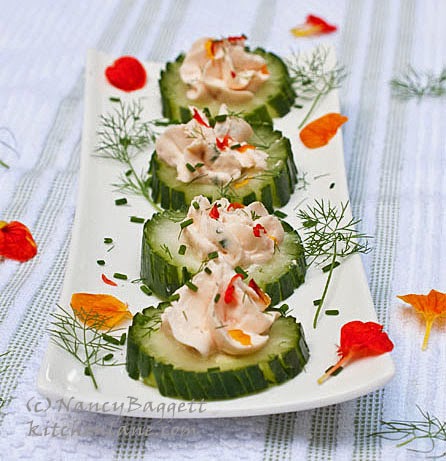 For another delish recipe that features nasturtiums go here.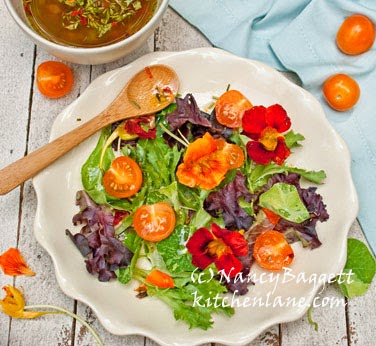 Fancy Schmancy Cool as a Cucumber Canapés + Tips on Turning Dishes into Party Food
These are crisp and munchable, gluten-free, and lighter and more refreshing than a lot of cocktail fare. (Which makes them ideal for summer and for waist watchers.) The fresh nasturtium blooms are optional, but if you have them in your garden, they'll add a decidedly chichi touch. Marigold petals and chive blooms, used in the pic at the top, can also be used the same way. For more on garnishing a cheese ball with chive blooms go here. As pictured, the recipe features a smoked salmon-cream cheese spread. However, you can leave out the fish for very tempting vegetarian version. Another possibility: Make a batch of each so guests have an option. A food processor makes prep effortless. If you are really leery of using a pastry bag and tip and decoratively piping the cream cheese spread, you can swipe it onto the cucumber slices with a little spreading knife. No, the look will not be quite the same!
Ingredients
1 8-ounce tub "light," "soft," Neufchatel cream cheese, at room temperature
3 to 4 tablespoons chopped smoked nova salmon (or lox) to taste, optional
Generous ⅛ teaspoon salt (omit if using the salmon in the recipe)
1 tablespoon finely chopped fresh chives (or substitute
tender green onion tops), plus more for garnish
½ tablespoon finely chopped fresh dillweed, plus small sprigs for garnish
2 to 3 long, thin, tender cucumbers,
Nasturtium bloom petals, some whole, some chopped into a confetti, for optional garnish
Instructions
In a food processor, process the cream cheese, salmon (if using), salt (add if salmon is omitted), chives, and dillweed until very well blended. Scrape down the bowl sides and process several minutes longer. Refrigerate, covered, at least 1 hour and up to several days, if preferred. Let it warm and soften a bit for easier piping or spreading.
Shortly before serving time or up to two days ahead, score the cucumbers lengthwise with fork tines to create decorative edges, as shown, or, if the peels are tough, peel the cukes leaving only thin lengthwise strips of dark green at intervals, then score them. Cut the cukes crosswise into generous ¼ to ⅓-inch slices. Lay them out on paper towels. Pipe small portions of the cream cheese mixture onto cucumbers. Cover and refrigerate until needed.
At serving time arrange the rounds on a serving platter or plates, and garnish with fresh chives and dillweed sprigs, and nasturtium confetti and petals, if desired. Makes about 35 to 45 canapés. For more on garnishing with nasturtiums go here. For making a colorful nasturtium-chive vinegar, go here.