I am on vacation in the UK now, traveling about the islands in the Orkney chain off the north coast of Scotland. These islands are remarkable both for their breathtaking natural beauty and wealth of major archaeological sites.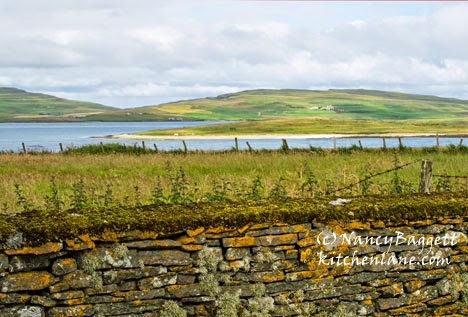 View from Hackness Battery, island of Hoy
The air and water are clean and clear and landscapes serene and bucolic. Since I am on the road visiting a new island nearly every day, I'm going to keep this post short, and mostly let the images tell the story of our trip.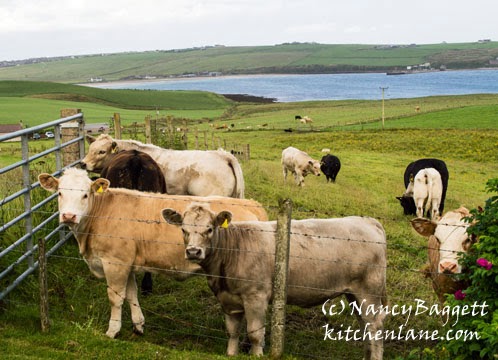 Cattle grazing on the Orkney Mainland island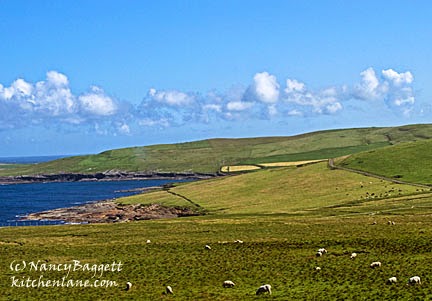 Sheep grazing on the island of  Sanday
As the two photos just above suggest, farming is the major industry; we've seen cattle and sheep grazing on all twelve islands we visited. Archaeological evidence indicates that the inhabitants have raised cattle here for more than 5,000 years–their bones have been found in Neolithic settlement sites, including the amazing Skara Brae pictured below; a whole community lived in this stone village dating back to about 3,000 BC!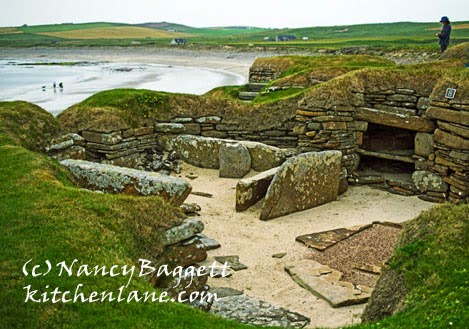 Skara Brae Neolithic Village, Mainland, Orkney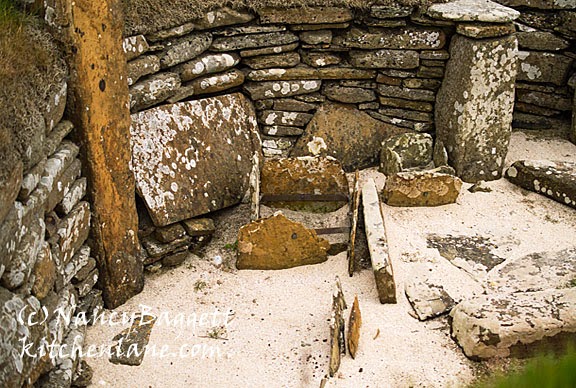 Interior of  a Skara Brae family "home."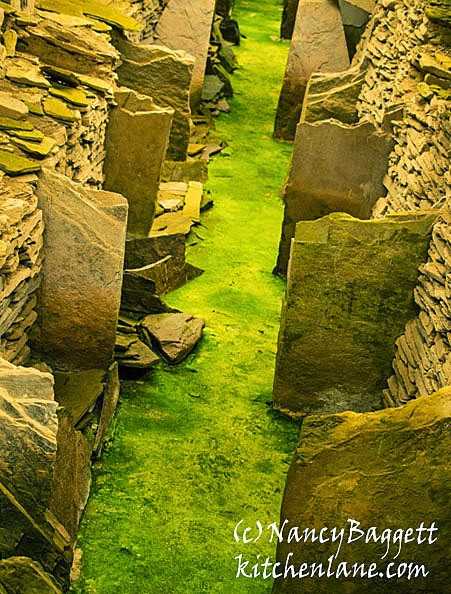 Mid Howe Neolithic Stalled Burial Cairn, Rousay island.
Even more common that Neolithic villages are burial cairns, such as the "stalled" Mid Howe structure pictured above. It is massive compared to most though, with 12 stalls running along a central passage and a tomb that stretches a length of 77 feet.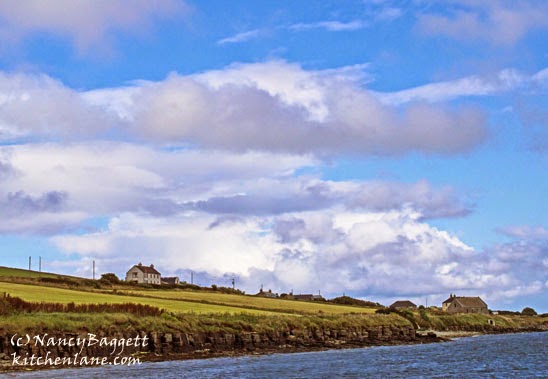 View from Aynhallow Sound of Rousay harbor.
Many Orkney vistas feature water–from the ample scattering of bright blue lochs inland to harbors and the miles of rocky coastline that meet the north Atlantic and North Sea. Due to the coastal waters, plus salmon farms, most islands are also home to some fishermen.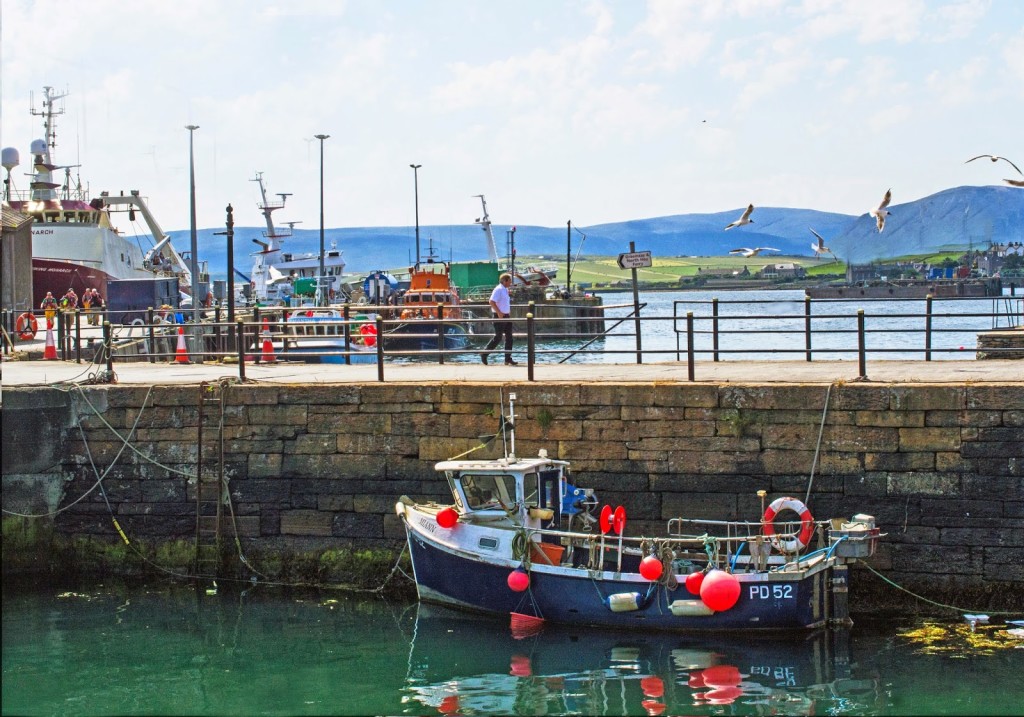 Stromness harbor, Mainland, Orkney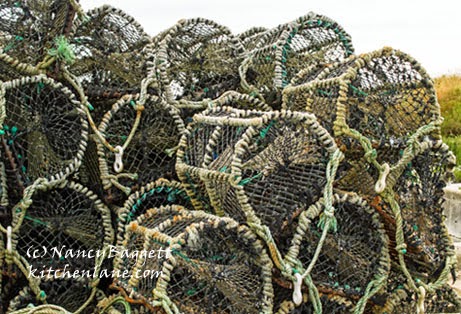 Creel pots, Tingwall Pier, Mainland, Orkney
Their creels (crab and lobster pots) and weathered wooden fish boxes can been seen stacked up on piers from Pierowall in Rousay, to Tingwall on the Mainland, to Kettletoft on the island of Sanday. We've enjoyed pristinely fresh scallops, mussels, prawns, salmon, haddock, and several dishes that featured the crabs below.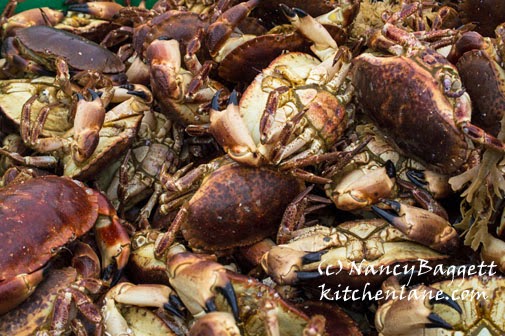 Brown crabs on Pierowall Pier, Westray, Orkney
Called brown crabs (no surprise!) they don't look or taste quite like the Chesapeake bay blue crabs we're so familiar with, but are quite good. The shot was taken just as the Westray island crabbers were transferring them from their boats to tubs headed for the processing plant right across the road from the Pierowall pier.
Classic Shortbread
I've been eating a lot of shortbread on my trip, mostly from little commercial packages, but in several cases homemade that was served at afternoon tea at B&Bs. Typically it's  crisp and buttery, mild and barely sweet. It looks plain and homey, yet is always impossible to resist.