I have been on an ice cream making (and eating) binge. Not because the weather is hot–it's not. Not because I'm working on an ice cream article or book–I'm not.
It's because I got hooked on a honey ice cream while on vacation in the Orkney islands this summer. I'd been told by a colleague, Stephanie Ridgway (who travels to the Highland Park Distillery on business there often), that I had to try the award-winning Orkney Creamery brand. This advice was excellent! The bucolic Orkney Island chain (off the northeast Scottish coast) has fertile farmland, and, apparently, the cows raised there produce particularly outstanding milk.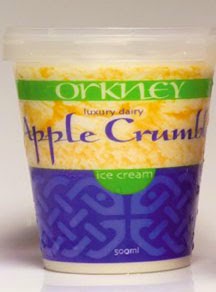 We didn't have any trouble finding Orkney ice cream. Perhaps because the company's products have won several awards for the best artisan ice cream in the UK, the brand is sold in a lot of Orkney shops, markets, and restaurants. When we were feeling a bit 4 oclockish after a hard day of sightseeing, we could usually find the individual Dixie-size containers for sale and polish off a cup. (Tip: Note that a handy mini-spoon is tucked right under the paper on the lid of the cups! I didn't realize this until I asked for a spoon; a clerk clued me in!)
Besides the more typical flavors, the Orkney Creamery makes some unusual ones, like Toffee Swirl, Apple Crumble, and Orkney Fudge. This last contains a local fudge (also well worth sampling) with a deep brown sugar-caramel, not a chocolate taste. They are all good, but the honey flavor was addictive–a not-too-sweet base, with lovely little swirls of honey mixed in. I loved it so much I had create my own recipe.  After four testings I came up with this version. I wanted it to not only be good, but easy–and it is.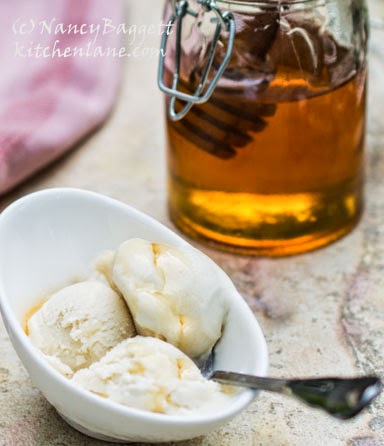 Honey Ice Cream You might be tempted to use a fancy, intensely flavored honey, but I suggest sticking with clover honey instead. It has gentle, middle-of-the-road taste that enhances and mingles with the other ingredients rather than overpowering them. By the way, I suggest starting with adding 1/2 cup honey to the recipe, which produces a base that is not too sweet. Then add in a little more to suit your taste.
Drizzling just a little honey over the servings to create honey sundaes is not only visually appealing, but delicious. Don't overdo it though, or the results will be too sweet.

2 2/3 cups whole milk, divided,
2 large egg yolks
2 1/2 tablespoons cornstarch
1 1/4 cups heavy (whipping) cream
1/2 cup clover honey or other mild honey, plus more to taste
2 teaspoons vanilla extract
In a large non-reactive saucepan combine 2/3 cup milk, egg yolks
and cornstarch and whisk until completely blended and smooth. Slowly stir in the remaining milk, then the cream and 1/2 cup honey. Bring the mixture to a boil over medium high heat, whisking constantly. Continue whisking and boil gently until the mixture thickens a bit, about 3 minutes. Set aside to cool slightly, then stir in the vanilla. Taste and, if desired, thoroughly stir in a tablespoon or two more honey for a little more sweetness. Cover and refrigerate for at least 4 hours to chill thoroughly and up to 24 hours, if preferred.
Pour the mixture through a fine sieve set over a large bowl. Transfer
the strained ice cream base into an ice cream maker and proceed according tothe manufacturer's directions. Turn out the frozen mixture into a well chilled 1-quart or larger freezer-safe storage container, drizzling in an additional  tablespoon or two of honey here and there; don't stir it in well. Immediately freeze, airtight, for up to 2 weeks. If desired, drizzle a little more honey over the ice cream when you serve it. Makes a generous 1 quart.
For another recipe inspired by my visit to the Orkney islands, check out my petticoat tails shortbread recipe here.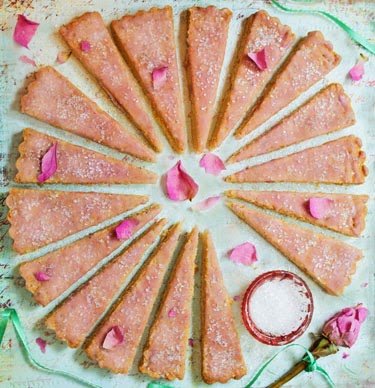 To learn more about Orkney and see some pics of the beautiful scenery, go here.