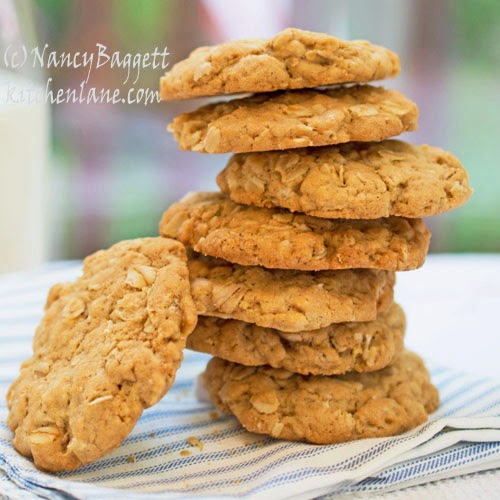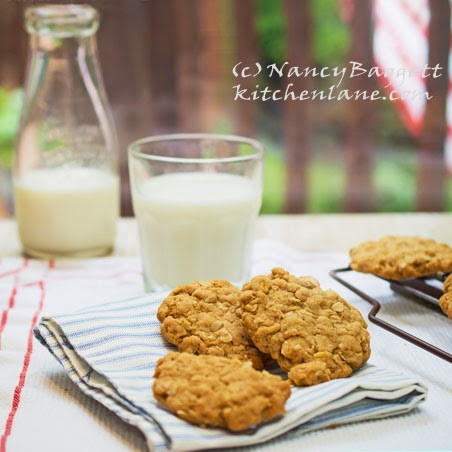 When I was a child, my cousin who lived on the farm next to ours and I usually rode our horses after school. But when the weather was too rainy or chilly to go out, we often made cookies instead. One-bowl oatmeal cookies much like these were frequently our choice, partly because the very basic ingredients were staples in our families' country kitchens. We also liked that the recipe ingredients were all mixed together in one bowl, and the butter didn't have to be softened and "creamed" first. This made it especially easy for us to ready the cookies quickly and without any adult supervision.
At the time we had no idea of the story behind what I've since come to think of as the "one-bowl wonder" cookie mixing method. In fact, I didn't learn of its history until last year, when I discovered a long-ago 1947 New York Times article written by Jane Nickerson, the newspaper's first food editor. Titled "News of Food:  One-Bowl Method of Mixing CookiesCuts Time for Task to Two Minutes," her feature credited the technique to the Quaker Oats test kitchen in Chicago. Nickerson noted that when she visited the kitchen, the director, Mrs. Reidum Kober, and her staff were "eager to report a new system of mixing cookies" that they had developed.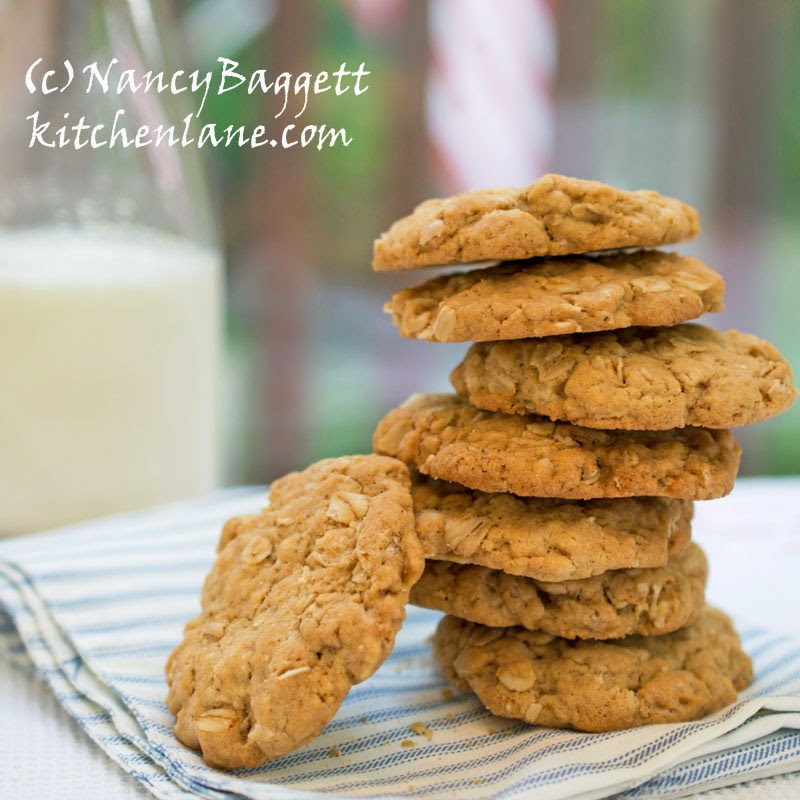 Nickerson added that "… any woman who has made one-bowl cakes knows why Mrs. Kober … wanted to adapt this type of recipe to cookies. The system eliminates the separate creaming of shortening, which is so time-consuming, and cuts the conventional mixing time for cookies from ten (or more) minutes to two. All the ingredients are emptied into a bowl, beaten for a couple of minutes–and, presto, the batter is ready for baking. …."  The story included the following recipe.
Quaker Oats 1947 One-Bowl Oatmeal Cookies
Into one bowl, sift 1 cup sifted enriched flour, 1 teaspoon baking powder and 1/2 teaspoon salt. Add 3/4 cup soft fat, 1 cup brown sugar, 2 eggs, 1 teaspoon vanilla and about 1/6 cup of milk. (Fat must be soft–that is, at room temperature). Beat till smooth or about two minutes. On an electric mixer use medium speed. Then fold in with a spoon another 1/6 cup of milk and 3 cups rolled oats (uncooked). Variations: If desired, add a 7-ounce package semi-sweet chocolate pieces or 1 cup chopped dates or 1 cup coconut. Drop from a teaspoon onto a greased baking sheet. Bake in a moderate oven (375 degrees F.) for twelve to fifteen minutes. Yield: four dozen.
I haven't tried the Quaker Oats test kitchen recipe, though I'm guessing it works perfectly satisfactorily–and will please those who like their oatmeal cookies soft and made with a goodly amount of rolled oats! (A number of  my friends have worked in corporate test kitchens over the years, and usually part of their mandate is to call for generous quantities of the company's product in recipes.) I expect that since the formula includes two eggs and also some milk, the cookies puff a bit from the steam and are on the slightly cakey side. Notice that the dough is dropped from a teaspoon to yields 40 smallish cookies; the era of super-sizing had not yet dawned!
Old-Fashioned Farmhouse Oatmeal Cookies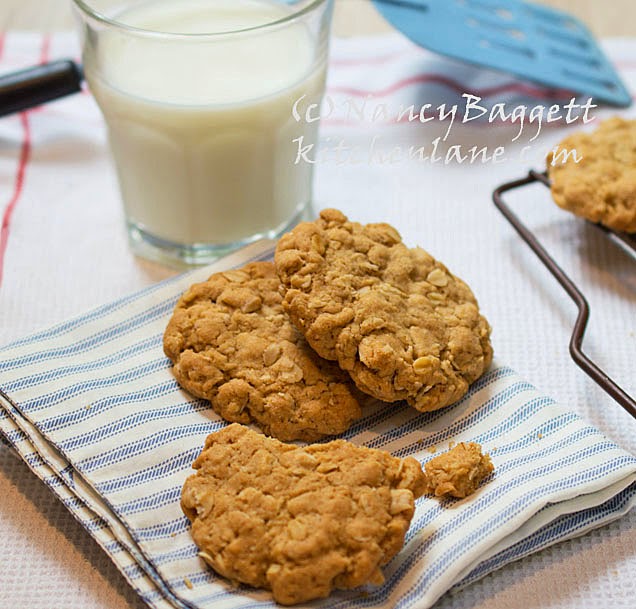 These cookies–which are not based on the 1947 Quaker Oats recipe and are, in fact, even  easier–are mild and comforting, crunchy-crisp, and generous in size. They are also attractive in a bumpy-nubby sort of way. Serve them with apple cider for a change of pace from milk.
The recipe my cousin and I used somehow got lost over the years, and I missed the cookies so much I eventually had to recreate them. Notice that my easy-peasy version calls for melting the butter in a saucepan and then stirring in everything else; this skips both having to fiddle with softening the butter and having to beat the ingredients at all. In addition, the oats and a small amount of water are stirred into the butter and allowed to stand briefly so the oats can hydrate. This keeps them from gradually sucking up all the moisture in the dough later and producing dry cookies.
These are as good (well, almost!) as the ones I remember. Oh yes, and they make the kitchen smell wonderful! The recipe is from my recent Simply Sensational Cookies cookbook, which is available here. I was pleased to learn that a New Jersey library system staff recently critiqued the book and tested a number of recipes, and then named it their  pick of the week; their review is here .

Old-Fashioned Farm House Oatmeal Cookies
Ingredients
¾ cup (1½ sticks) unsalted butter, cut into chunks
2 cups old-fashioned rolled oats
Scant 1½ cups packed light or dark brown sugar
½ teaspoon baking soda
¼ teaspoon ground cinnamon, optional
¼ teaspoon salt
1 large egg, at room temperature
1⅓ cups unbleached all-purpose white flour, plus more if needed
Instructions
Baking Preliminaries: Position a rack in the middle of the oven; preheat to 350 degrees F. Grease one very large or two regular-size baking sheets or coat with nonstick spray.
In a large heavy saucepan over medium heat, melt the butter, stirring, until mostly melted. Remove from the heat. (Alternatively, in a large microwave-safe bowl, microwave the butter on 50 percent power, stopping and stirring every 25 seconds just until mostly melted.)
Thoroughly stir the oats and 1 tablespoon water into the butter. Let stand for 5 minutes so the oats can hydrate. Vigorously stir in the sugar, cinnamon, baking soda, and salt until thoroughly incorporated. Vigorously stir in the egg, then the flour until very well blended. If the dough is very soft, stir in 1 to 2 tablespoons more flour. If it is still soft, let stand to firm up for 5 minutes.
With well-greased hands, pull off portions and roll into 1-inch balls. Space 2½ inches apart to allow for spreading. With the fingertips, pat down the balls until about 2-inches and evenly thick in diameter. Bake (middle rack) 7 to 10 minutes, or until tinged with brown all over and barely firm in the center tops. Let stand on the pans to firm up 3 minutes, then transfer to wire racks using a spatula. Cool completely before packing for storage; keep airtight up to 10 days. Or freeze airtight for up to 1 month. Makes 25 to 30 3-inch cookies.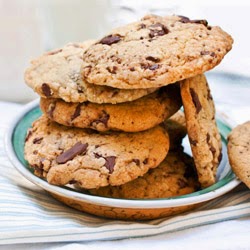 For another "one-bowl wonder" recipe, check out the recipe pictured below, my Ultimate Chocolate Chippers
here;
they're from my
Simply Sensational Cookies book
also.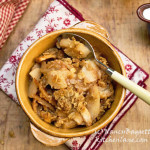 For other memories of my growing up on a farm, check out my peach crumb cake recipe here and my apple crisp recipe here.