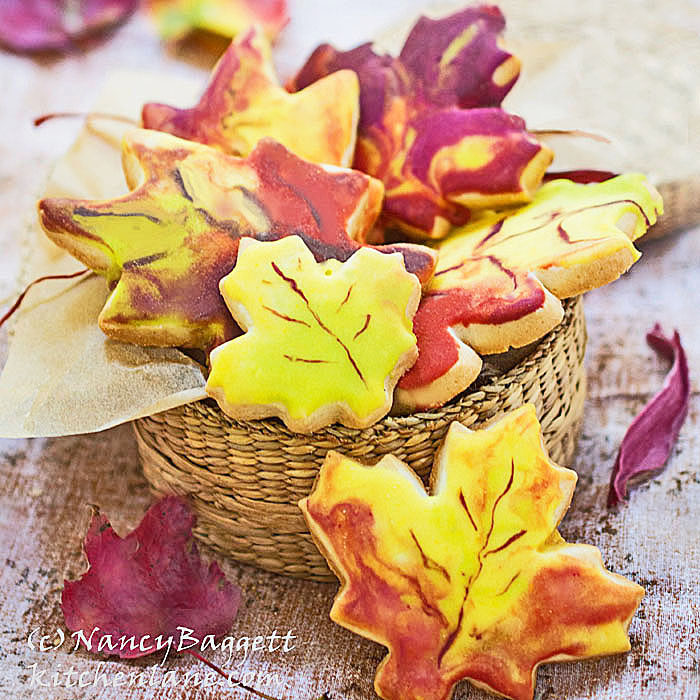 I have lots of icing recipes in my repertoire–most peeps who trained as pastry chefs do. My Kitchenlane archives contain several different buttercream frostings, including an intensely raspberry version and an orange or cranberry version; a fine chocolate glaze for cakes; and several icings for those who wish to skip all dyes and use berries and/or fruit juices or green tea to tint icings.  But of all the recipes I rely on, this All-Purpose Powdered Sugar Icing is the one I turn to most often.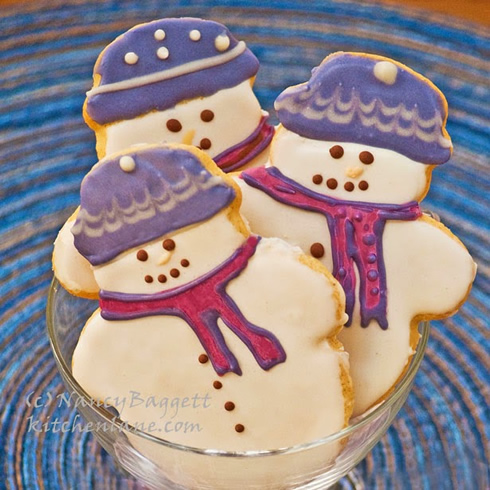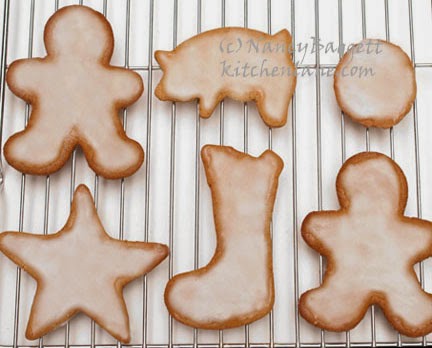 Ginger cookies spread with thin white icing
It's simple to make and spreads or pipes on readily. And it really is all-purpose–I use it both to decorate cakes and cookies in varied colors (including a plain, thin layer of white as shown at right, if that's all that's needed!). It is also designed to work with both natural botanical dyes and the more commonplace little bottles of petrochemical dye. As you can see from the pics here, many  totally different looks are possible. This icing can also be flavored with vanilla,  or almond or lemon extract, as desired.
The autumn leaf cookies at the top are actually decorated with by painting on a variety of colors with kitchen-safe artist's paint brushes.  The mottled look is created by brushing on one color, then before it dries brushing on another color so it mixes with the first. This technique is fun and readily doable for children.  I like to find some pretty falling leaves and set them out to provide inspiration.
If you piping colors on top of a base layer, as shown on the snowmen, it's usually best to let first one dry and firm for at least a half hour and longer, if possible. But, for the pretty  patterned effect shown on the tree  cookies at the bottom, you add the accent piping while the base coat is still wet. (A quick YouTube video here shows you exactly how to achieve this "wet-on-wet" look. Called "marbling" this technique easier than you might guess–my grandkids have great fun with it.)
Unlike many icings, this one works with either "regular" petrochemical food dyes or purchased botanical food colors (learn more about using these natural products here). The recipe omits all acids such as lemon juice, as these can cause certain botanical shades to change colors in unexpected ways. BTW, for really helpful tips on rolling/cutting out cookie dough, my quick very popular YouTube video shows the BEST and easiest way. It yields better looking, more tender cookies and requires far less clean up than the traditional rolling on a floured surface technique.
If you need a good, all-purpose sugar cookie to go with this icing, click here for one that's easy to work with and produces very tasty cookies.
All-Purpose Powdered Sugar Icing
This recipe makes a fairly large batch of powdered sugar icing that can be divided into up to 5 to 6 smaller colored portions to decorate a generous batch of cookies. Alternatively, following the directions below, divide it into two complementary-colored portions to decorate a cake as shown at the very bottom.

Note that the recipe calls for an optional ingredient, dried egg white powder or meringue powder. While it's not essential when you use petrochemical dyes, if you plan to use intense, contrasting icing colors right with lighter ones (like those on the snowmen and the fanciful cake at the bottom), the powder will help keep the shades from bleeding together as the decorated goodies stand.
Also, it is best to use it if you are using botanical dyes, as it will help set these more fragile colors and keep them from fading during storage. Egg white powder is sometimes stocked in the baking section of supermarkets; meringue powder is often found with Wilton baking/cake decorating supplies in discount department and craft stores.

Don't omit the corn syrup from the recipe, as it increases spreadability and enables the icing to flow more smoothly and evenly. If you prefer to avoid high-fructose corn syrup, use the Karo brand, which is free of high-fructose corn syrup.
Tip: If you are relying on botanical colors, be sure not to replace the water called for with lemon or orange juice or any other other acidic ingredients. Even small amounts will react with the pigments in the natural dyes and cause their colors to change or fade in unpredictable ways.

All-Purpose Powdered Sugar Icing
Ingredients
1 1-pound box
or 3 cups powdered sugar, if lumpy sift after measuring
1 tablespoon commercial dried egg white power or meringue
power, optional
1 teaspoon light corn syrup
1 teaspoon vanilla extract, or ½ teaspoon almond extract or lemon extract
4 to 6 tablespoons water, as needed
Drops of synthetic or botanical food colors, as desired
Instructions
In a large bowl thoroughly mix together the powdered sugar and egg white powder (if using). Add the corn syrup, vanilla (or other extract), and 4 tablespoons water. Stir them in, gradually adding more water as necessary for the desired consistency. For piping, the consistency should be stiff enough that the icing holds its shape but can be piped through pastry tips. For spreading, the icing should have a fluid but not runny consistency. Divide the icing among up to 5 or 6 smaller bowls for cookie icings and stir in food colors as desired. Keep covered with plastic wrap when not being used so they don't dry out.
Use immediately or store them in the refrigerator for up to a week. Stir well and bring to room temperature before using.
To decorate the cake as shown: Tint a generous 2/3 of the icing a base color and the remainder an accenting drizzling color. Brush off and discard any crumbs clinging to the cake. Spread the base coat evenly over the cake using a table knife or wide-bladed spatula. If desired, while the icing is still wet, sprinkle edible sprinkles or sparkling or sanding sugar onto the cake sides, as shown in the picture. Let stand until the icing is firm to the touch, at least 30 minutes. (For directions on creating the candy "glass" shards for crowning the cake top, go here before adding the second icing.)
If necessary, thin the drizzling icing until just slightly fluid by stirring a few drops of water. Add spoonfuls of icing to the cake top, immediately swirling them to the edges at even intervals all the way around so they drip and form decorative stripes down the sides. For a fancier look, add pearls or sprinkles to the icing stripes as well. For adding the crown of candy shards and other decorations, go here. Let the cake stand until the icings sets, at least 20 minutes, before serving. It will keep, covered, for several days.See my all-natural green tea icing here. Or check out my fruit and berry tinted icings.