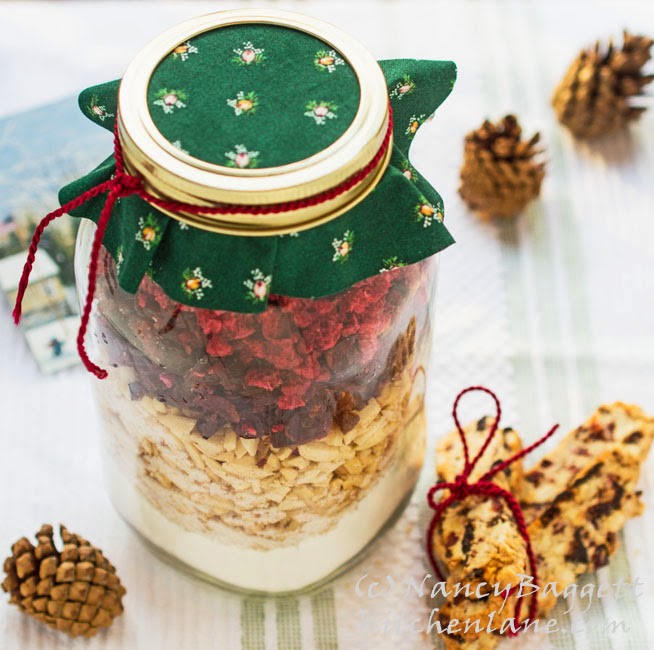 I love making kitchen gifts, so I had to include a whole chapter of "bars-in-jars" recipes in my recent baking book, Simply Sensational Cookies. All sorts of bar and regular cookie mixes and even a unique biscotti gift mix are possible. They make really appealing and attractive holiday gifts for teachers, relatives, holiday hostesses, or anybody else you or your family want to remember with a little something special. (Older kids can have fun preparing the jars themselves; younger ones can make them with a little grown-up or older sibling to supervise.)
Don't forget that you must provide the recipient a recipe card or printed sheet with directions on how to actually turn the jar of mix into cookies. As the pic above shows, I like to recycle the fronts of old Christmas cards and paste the instructions onto the backs. For convenience the information is in presented below in label format so you can print it out and use it the same way. Or just print it out onto colorful, sturdy paper, if preferred.
In case you haven't come across the term "bars in jars" before, it refers to cookie gift mix recipes that call for artfully layering all the ingredients into a clear 1-quart or 1 liter jar or canister. As you can see from the pic, the completed homemade biscotti gift mix jars look a bit like the eye-catching sand art creations millions of enthusiastic crafters were making in America in the 1970s.The jars enable recipients to conveniently ready a pan of bars (or in the case of cookies-in-a jar recipes a batch of cookies), simply by combining the whole jar of mix with a couple of fresh ingredients, usually butter and eggs. The idea behind the mix featured here is unusual in that it makes up into sliced crunchy cookies called biscotti. Don't worry–the shaping method is super-easy!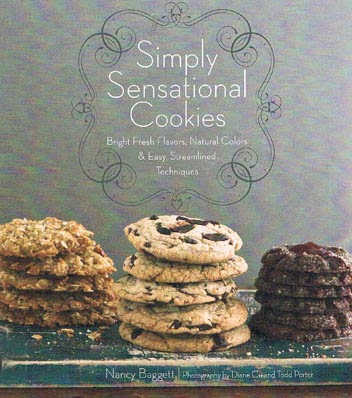 Though I can't prove it, I think the bars-in-jars layered recipes were probably inspired by the sand art creations that were the rage in the late 1970s. The term "sand art" was definitely in vogue then: When I entered these two words into the
Google n-gram data base
, the resulting graph revealed that more than 90 percent of all mentionsof the term from the 1500s through today occurred between 1972 and 1979!
It's probably not a coincidence that recipes for layered mixes started popping up then, too: When I recently searched on-line for American cookbooks featuring these homemade mix recipes, the first I turned up were HP Books' Make a Mix Cookery published in 1978, followed by its More Make a Mix Cookery, in 1980. The recipes continue to be popular though; quite a few more gift mix books have been published since then.
Cherry-Berry
Biscotti-in-Jars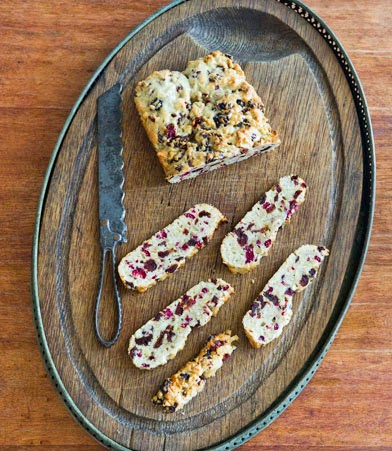 photo by Diane Cu and Todd Porter
Typically, bars-in-jars  and cookies-in-jars recipes are in the homey
category–brownies, chocolate chip drops, cowboy cookies and similar
treats. But, as the name and the pics here suggest, this particular
recipe is a different.
It yields nut and berry-laden biscotti and appeals to gourmet bakers with more sophisticated tastes. (If you prefer a more typical and familiar bars-in-jars recipe or that features more economical ingredients,
go here.
)  The pic at left is from
Simply Sensational Cookies
and was taken by Diane Cu and Todd Porter.I'm proud to tell you that our book was nominated for an International Association of Culinary Professionals "Best Baking Book" award. And, yippee,  it was just picked as a
suggested holiday gift book in a Huffington Post article!    
Note that this biscotti gift mix recipe calls for freeze-dried raspberries—the "Just Raspberries" brand is available at some supermarkets and at gourmet and health food stores. Trader Joe's and Whole Foods also carry packages of  freeze-dried raspberries sold under their own label. Several brands are available on-line. They are pricey, but add a distinctive, unusual appeal.
Biscotti in a Jar Gift Mix--A Gourmet Twist on the Bars-In-Jars Gift
If you can't find freeze-dried raspberries, freeze-dried strawberries may be substituted--either will give the biscotti an unusual berry flavor and color. If necessary you can even substitute chopped dried sweetened cranberries, which will work fine, but, of course, will lend a rather different taste. Tip: The recipe calls for completing the baking in two 4- by 8-inch loaf pans. If you think the recipient might not have these, simply supply two foil pans along with the jar of gift mix.
Ingredients
1½ cups unbleached all-purpose white flour
½ teaspoon baking powder
Scant ½ teaspoon salt
Generous ½ cup granulated sugar
1 cup coarsely chopped slivered almonds
¼ teaspoon ground cinnamon
1 cup coarsely chopped dried sweetened cherries
⅔ cup coarsely chopped freeze-dried raspberries
Instructions
Preliminaries: Set out a clear glass, transparent plastic or other attractive 1-quart or 1-liter jar, along with its lid. Set out a square of heavy-duty aluminum foil to use as a funnel. (If you have a funnel that fits the jar, by all means substitute that!)
Center the flour, baking powder, and salt on a large sheet of heavy foil. Stir together until well blended. Using the foil as a funnel, pour into a 1-quart jar. Shake, then rap the jar on the counter to even the layer.
Combine the sugar, almonds, and cinnamon on the foil, stirring to blend well. Add to the jar; shake and rap it to even the layer. Wipe down the jar sides, if necessary. Add the cherries, then the raspberries to the jar. Again shake and rap the jar to even the surface.
If the jar will be shipped, firmly stuff the empty space at the top with crumpled wax paper. Attach a tag or card with the recipe instructions to the jar. Makes 1 quart of mix, enough for about 25 to 35 biscotti.
Storage: The unopened mix will keep up to 1 month unrefrigerated, or 2 months refrigerated.
For the label/tag to present with the jar, print out, then cut out the label below.