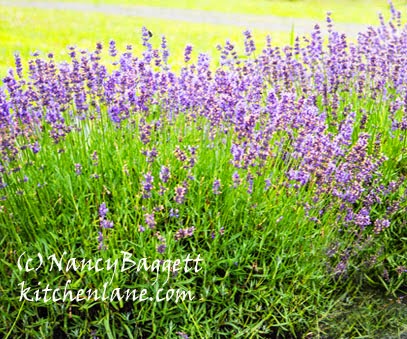 I just returned from a U.S. Lavender Growers conference. My head is still spinning from all I learned about lavender and the many friendly people I met. In our kick-off event, we sampled lavender champagne punch and other assorted lavender goodies, including spiced pecans and cheese straws, herbes de Provence-seasoned goat cheese spread, and several of my lavender cookies. (They disappeared quickly and several people asked for my recipes, so I've shared one below.)
The conference spotlighted many aspects of this enchanting herb: We watched an inspiring video featuring lavender plants, gardens, and picturesque farms of some of the organization's members. We compared the distinct aromas of different types of lavenders and talked about which ones are better for crafting, turning into lavender oil, and using fresh and dried for culinary purposes. (Several attendees particularly recommended Buena Vista, Royal Velvet, and three pink lavenders, Melissa, Hidcote Pink, and Little Lottie for cooking and baking. I've personally cooked and baked with the well-known Hidcote and Provence and suggest them as well.)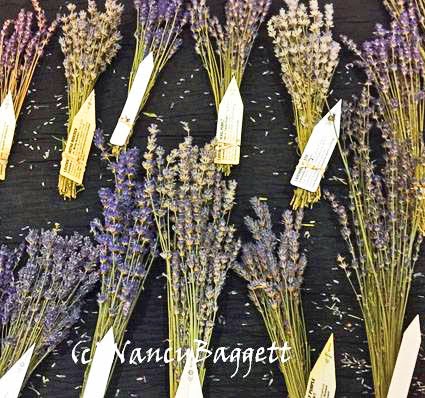 One very informative workshop covered how to identify the various kinds. Fifty different lavender varieties were laid out on long tables, literally filling the room with their haunting fragrance. As you can see the photo at left, lavender comes in a whole beautiful array of subtly different colors, sizes and shapes. Though I loved the look of the deep purple and blue types, after smelling several pink ones and noticing their citrusy sweet scents, I'm definitely going to grow some to cook with this coming summer. I won't give up the deep purple kinds though, because in some recipes, like jellies, sorbets, and syrups, they impart an appealing soft pinkish-purple or amber color.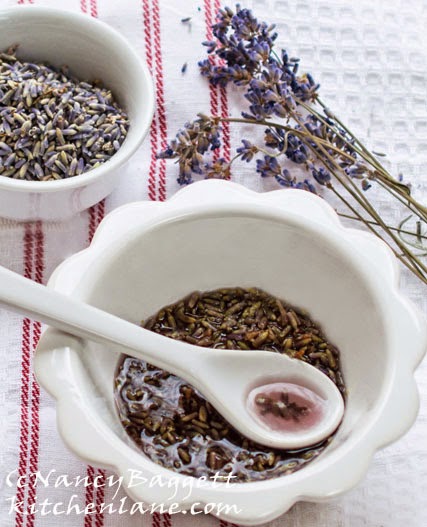 If you love lavender desserts and sweet treats, but haven't been sure how to make them, this post will help you get started using dried lavender buds. Begin by being sure the buds (the tiny flower parts shown in the bowls at right), are culinary lavender buds. Buds are often harvested and sold for craft purposes only; these shouldn't be eaten.
If you don't have time to purchase the very fresh, high quality dried culinary buds directly from a local lavender farm, some of them do sell on-line from their own websites. Another option is to purchase through venues like Amazon, Etsy, and e-Bay; several American grown lavender options I like are here and here. Like most herbs lavender loses its flavor and fragrance over time, so plan to replenish your supply after at most a year.
Preparing the icing recipe involves making a lavender infusion like the one shown at right above. In this basic step the dried buds simply steep in a little hot water and gradually infuse it with their flavor. The longer they stand, the more flavorful the infusion will be.

Lavender Cookie Icing and Natural Sprinkles
Here I've left the icing the faint natural pinkish color created by the lavender-infused water, although it's fine to add a little purple food color if you wish. I try to avoid unnecessary chemical additives due to family allergies, so suggest using natural botanical dyes for coloring foods whenever possible. The sprinkles on the cookies are also tinted with botanical colors; the ChocolateCraft brand of natural purple crystal sugar is available on-line. A lavender cookie recipe to go with this icing is
HERE.
Serves:
¾ cup icing, enough to completely decorate 40 to 50 2 ½ to 3-inch cookies
Ingredients
2 tablespoon dried culinary lavender buds
1 teaspoon grated fresh lemon zest (yellow part of the skin)
2 cups powdered sugar, plus more if needed
2 teaspoons egg white powder, optional
1 teaspoon corn syrup
3 to 4 drops lavender extract or ⅛ teaspoon vanilla extract, optional
Purple crystal decorating sugar, preferably tinted with botanical dye
Instructions
For the infusion:
Stir the lavender and lemon zest into 2½ tablespoons boiling water. Set aside, covered, for at least 1 hour and up to 8 hours (refrigerate after 1 hour).
Strain the infused liquid into a deep, medium bowl; press down hard on the lavender with a spoon to force through as much liquid as possible. Add the sugar, egg white powder (if using), corn syrup, and extract (if using) to the bowl.
Stir until well combined and smooth. As necessary, a bit at a time, stir in more water or more powdered sugar to obtain desired piping or spreading consistency.
The icing may be used as is, or tinted by stirring in a drop or two of whatever color dye (preferably botanically based) is desired. Spread the icing onto the cookies using a table knife. If decorating with sprinkles, add them right away before the icing sets. Let dry at least 30 minutes and preferably longer before packing airtight.
Notes
Tip: It's easy to make lavender sugar cookies to go with this icing using your own favorite sugar cookie recipe or my lavender sugar cookie recipe
here
.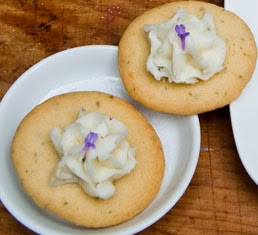 For another lavender recipe you may like, check out my fresh
lavender-lemon buttercream here: