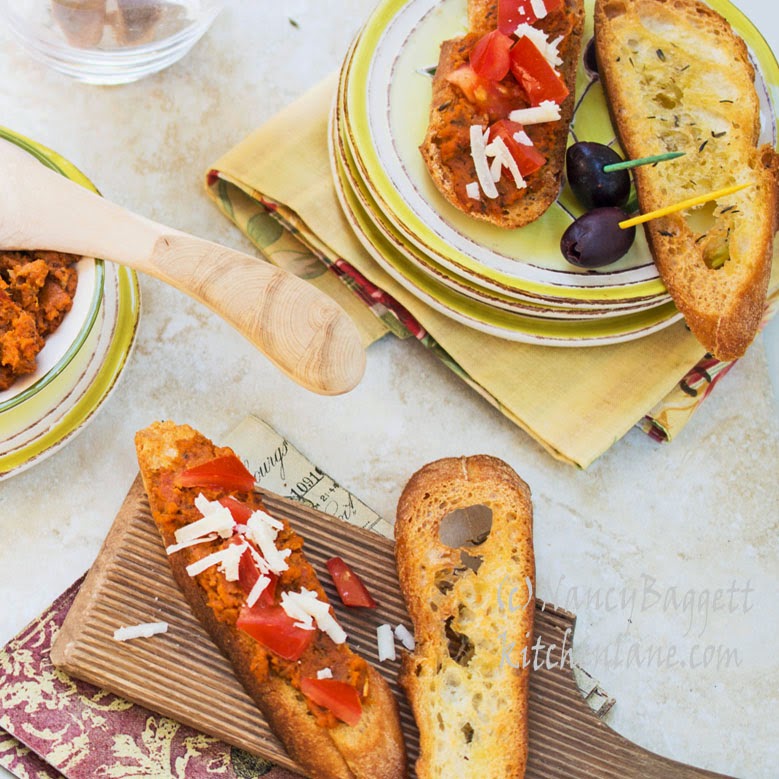 I'm convinced that Super Bowl parties are where lots of the very earnest diet resolutions made in January go to die. So many greasy-rich, salty foods get set out and scarfed up on Super Bowl Sunday, we should perhaps call it Super Sinker Sunday instead. In fact, it's said to be the second biggest diet busting event of the American year, right behind our official national feast day, Thanksgiving.
A big part of the problem is the kinds of dishes served. Estimates are that we eat 8 million pounds of guacamole, 14,000 tons of chips, and 4.5 million pizzas while enjoying the nation's most popular sports event. Even more mind blowing, according to the Wall Street Journal, about 1.2 billion Buffalo-style chicken wings get consumed–which statistically means four per person (at about 90 to 100 calories each) for everybody in the U. S. Assuming that some of us aren't eating any wings, others are, to mix metaphors, pigging out on them.
Now, I'm not suggesting anything so radical as doing away with any of your favorite fatty Super Bowl foods. But how about supplying one dish suited for those who want or need to eat sensibly but still yearn for zesty, delicious party fare?  Not only is this antipasto amazingly tasty and easy, but it contains only heart-healthy fat (olive oil) and it's suitable for vegetarians. Skip the light sprinkling of Parmesan, and it is also fine for vegans. If you offer gluten-free crackers along with the toasted bread slices, those who must go gluten-free can enjoy it as well. (For another quick, easy gluten-free snack, check out my popcorn 3 ways recipe here.)
Easy Sun Dried Tomato
Bruschetta Spread with Crostini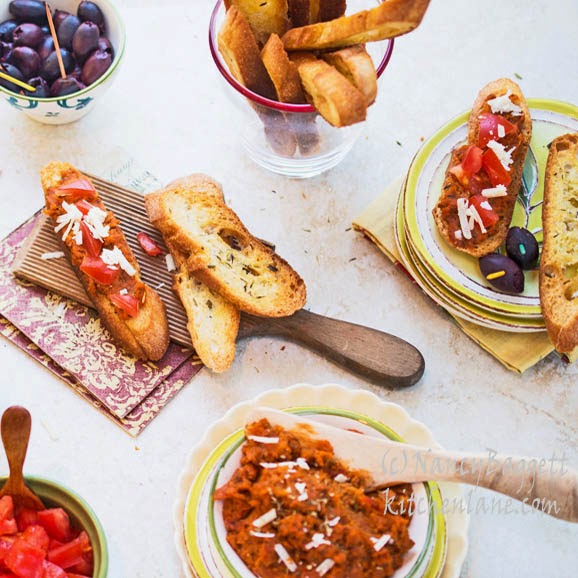 Yes, it's possible to buy bruschetta spreads, but this one is easy, convenient, healthy, and sooo much tastier and more economical than store-bought. It can be readied well ahead, and the toasted bread slices can too, so the recipe makes excellent party fare.
Usually crostini are completely prepared ahead and served as passed appetizers, but it's much easier to simply set out the bruschetta spread with the crisp toasted bread slices and let your company fix their own as desired. Another option: Serve the spread as a dip, along with crisp Italian bread sticks or purchased pita wedges. Or to accommodate guests seriously trying to diet, you can offer an assortment of crudites as well.
 To ready the crostini bread slices ahead: Cut a 22-24-inch long (or similar) French baguette crosswise on a diagonal into 1/3-inch slices. Brush the slices on both sides with olive oil, adding a very light sprinkling of oregano to the tops, if desired. Place the slices on a parchment-lined large baking sheet. Bake in a preheated 350-degree F oven for about 6 minutes on one side, then turn over and bake until beginning to brown, about 6 to 8 minutes longer. Let the crostini cool completely, then pack them in plastic bags and freeze for up to a week.
At serving time, let the slices thaw at room temperature. Then wrap them in foil and warm them a few minutes in a low oven, then serve immediately.
 Bruschetta Spread and Accompaniments
1/4 cup extra-virgin olive oil
2/3 cup chopped drained oil-packed sun-dried tomatoes
1 1/4 cups rinsed and drained canned white cannellini beans or chick peas
1 tablespoon each dried thyme leaves and dried oregano leaves
1 small garlic clove, peeled and chopped, optional
Generous 1/4 teaspoon each coarse salt and black pepper or more to taste
Bowl of diced tomatoes for serving
Small bowl of shredded Parmesan for serving
Warm crostini slices
To ready the spread: In a food processor, combine the oil, sun-dried tomatoes, beans, thyme, oregano, and garlic (if using). Process
until the tomatoes are thoroughly chopped and the spread is nearly smooth. Taste and add more salt and pepper, if desired.  Serve immediately or refrigerate, covered, in a non-reactive bowl for up to 3 days. Let warm to room temperature before serving.
At serving time, set out the spread and toasted crostini slices. Also set out the tomatoes and Parmesan to use as garnishes. Let guests
prepare their own servings. The recipe makes about 1 cup bruschetta spread, enough for a 22-inch long baguette, sliced. Double the spread recipe and bread if desired.
For another yummy tomato recipe, try the roasted tomato winter soup here.
For another, not too decadent, yet delish party munchy, check out my maple kettle corn recipe here.