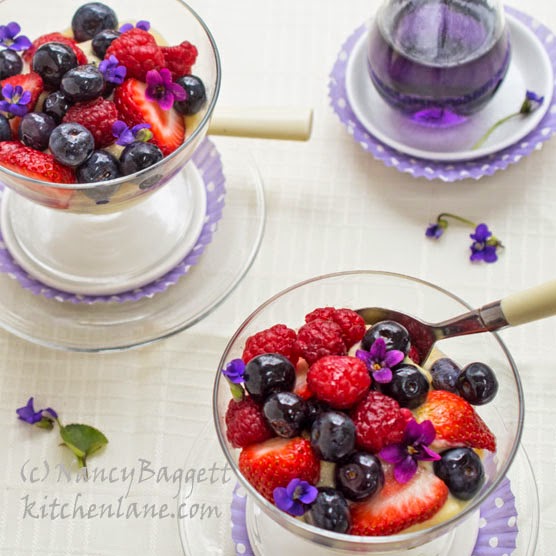 Okay, I admit it. I get excited over simple seasonal garden happenings that some peeps might consider mundane: Like the native wild violets, or viola, that  are now popping up everywhere in the woods and my neighborhood and shady backyard. A little video here shows me harvesting and using some local native violets.  And the pic above shows the delicious and unusual violet and berry trifle pudding I make with violets every spring.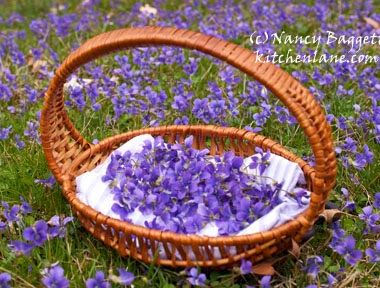 Common Blue Violet, Viola sororia
These plants are small, but gorgeous and completely edible perennial flowers that reappear–some in amazing abundance–every spring, without my having to water, prune or tend them at all. (Some detractors say that plants that just volunteer and require no effort are weeds, but how could anybody call flowers this useful and beautiful weeds?)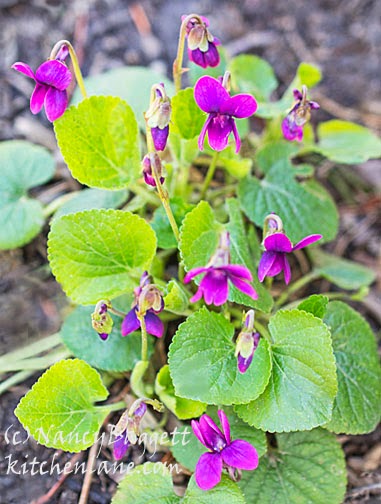 Reid's Crimson Carpet, Viola oderata
Well, actually, not all of the woodland violets in my yard are wild or even native species. Last year I bought a few scented "viola oderta" varieties to supplement the pretty purple, blue and white, yellow, and cream-colored unscented ones that just seed themselves and come up here in central Maryland.
The commonplace native viola sororia blooms shown in the basket above and many other kinds have a mild, indistinct taste and virtually no aroma. In contrast my purchased oderata violets at left and below right and left have a light but noticeable floral smell and taste.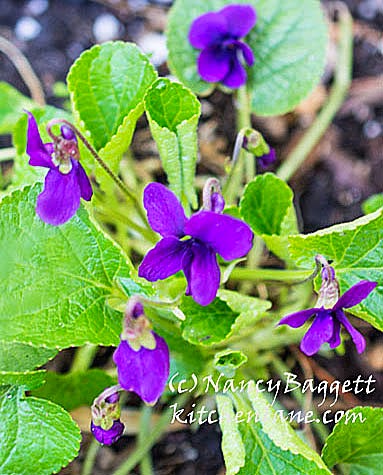 Clive Groves, Viola oderata
Despite their name, both scented and unscented violets actually come in all sorts of non-purple colors. The beautiful fuchsia kind (at left above) called Reid's Crimson Carpet is from the nursery here. I'm certainly hoping they will eventually form a carpet–this would look spectacular on a slpe in my shade garden! At the same time, I bought a scented violet with a double ruffled bloom (below left) called Duchess de Parma. Though it's beautiful and elegant, it just doesn't look like a violet, does it?
Another stunning scented variety (at right) I'm growing now is called "Clive Groves." It's named for the noted English violet expert who developed it; he's featured in this video showing how to plant his violets. Fortunately, I didn't need to look as far as Britain for my specimens; they came (in excellent condition btw) from Sequim Rare Plants in Washington State. 
I'm planning to use both the Clive Groves and Reid's Crimson Carpet in cooking when I have enough blooms. If  the idea of actually consuming violets seems novel to you, keep in mind that the flowers have long been used in France and several other European countries by home cooks and companies
to create enticing violet syrups, liqueurs, violet-flavored hard candies, medicinals, and more.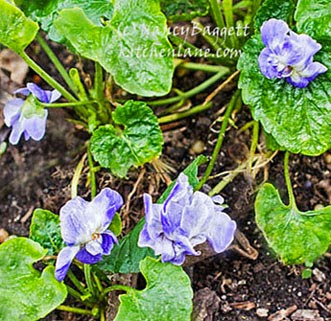 Duchess de Parma Viola oderrata
A pleasant "Sirup de Violettes" is available in the U.S. on Amazon from the French firm, Monin. But if you wish you can make your own using native purple violets
following my recipe posted here. Violet syrup can add a unique touch of color and flavor to tea or a lemon-lime soda, or to create eye-catching fruit cups or sundaes,
or to macerate berries for a charming and delectable spring dessert like the violet-berry creme pudding recipe featured in this post.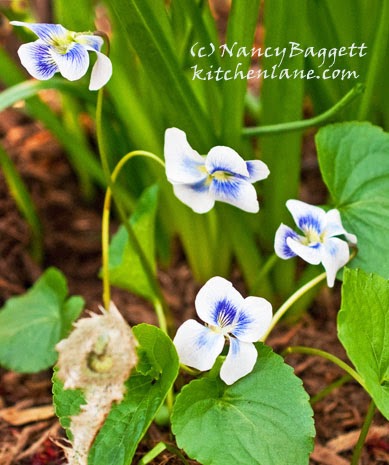 Blue & White Violet, V. sororia f priceana
An Austrian liqueur, Creme de Violette, that's favored by bartenders is also distributed in the the U.S.; for details go here. It is possible to create your own  liqueur at home; do check back for a recipe soon.
Most of the common blue and purple woodland violets that brighten the American countryside each spring work well for making a violet syrup, though because they are much less fragrant than the viola oderata types, the syrup will add mostly color and only a muted flavor. Of course, the most vibrant-hued flowers will yield the brightest colored syrup. So, if you come upon the native blue and white (left), or yellow ones (below right), or pale mauve ones (below left) pictured use them for salads, plate accents, or bouquets.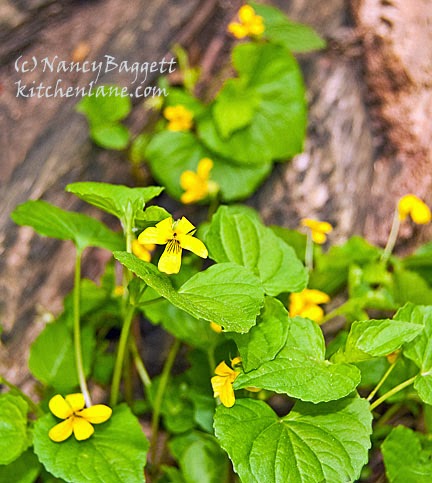 Downy Yellow Violet, Viola pubescens
Bright-colored blooms can also be candied to garnish cakes, cupcakes, and other sweet treats (recipe is here). And the purple ones can be quickly turned into a naturally beautiful purple  garnishing sugar following the directions here. You can see a quick video of a glorious field of native violets being harvested and put to use in the kitchen here.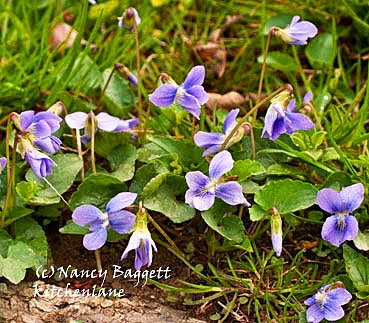 Marsh Blue Violet, Viola cucullata
Please note that all violet recipes must be prepared with only true woodland viola like those pictured in this post. The popular tropical African violets raised as houseplants are an entirely different species and are not edible.
Violet-Berry Trifle Puddings

These fetching desserts make a fine finale for any fancy occasion, whether Mother's Day party, bridal shower, or special graduation fete. You can create either individual trifles or plain puddings; the only difference is that the trifles require adding a few cubes of pound cake into the bottoms of the bowls. If you omit the cake (or choose a gluten-free cake), the desserts are gluten-free.
The pudding component, an unfussy pastry cream, can be readied several days ahead. Its flavor is reminiscent of sauce Anglaise, but since it can be brought to a full boil and cooked without any risk of curdling, it is much more straightforward and quick to make.The cake can likewise be baked ahead. Or, to minimize prep time, buy a quality pound cake, trim off the crust, and cut it into cubes. The berries can also be prepped in advance; combine them with a little violet syrup at serving time.
Tip: It's nice to provide a cruet or little pitcher of additional syrup on the table, so diners can drizzle on more, if desired.
Tip: A mix of equal quantities of fresh raspberries, strawberries, and blueberries (as shown here) is both visually appealing and tasty, but feel free to vary the fruits depending on what you have on hand. Keep them separated until serving time so the colors don't bleed together.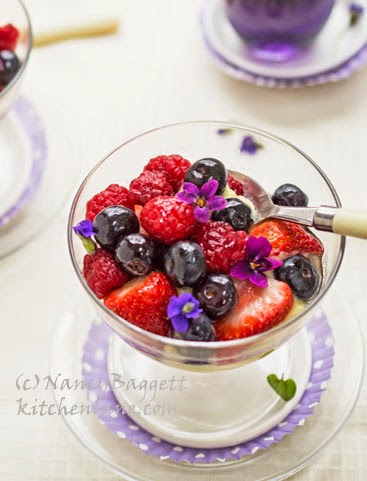 Pastry Cream
2 tablespoons cornstarch
1/3 cup plus 1 tablespoon granulated sugar
1 1/2 teaspoons grated lemon zest(yellow part of the skin)
3 tablespoons violet syrup, dessert sherry, or orange juice
4 large egg yolks
1 cup whole
or reduced-fat milk
3/4 cup heavy cream
Scant 1/8 teaspoon salt
2 teaspoons vanilla extract
1 to 1 1/2 cups crustless 1-inch pound cake cubes (needed if readying trifles)
About 2 to 3 cups mixed berries, as desired
2 tablespoons purchased or homemade violet syrup, plus more for serving
Fresh violet blooms for garnish
Dollops of lightly sweetened whipped cream for optional garnish
In a heavy, medium saucepan stir together cornstarch, sugar, and lemon zest until well blended. Whisk in the sherry and egg yolks until very smoothly combined. Whisk in the milk, cream, and salt.
Bring the mixture to a boil over medium heat, stirring. Boil gently, stirring constantly, for 3 minutes; don't undercook or the pastry cream may thin out later. Remove from the heat, then stir in the vanilla. Let stand to cool slightly. Strain the pastry cream through a very fine sieve into a non-reactive storage container. Press down firmly to extract all the liquid. Lay a sheet of plastic wrap directly on the pastry cream. Cover the container and refrigerate at least 1 1/2 hours and up to 3 daysbefore using. Stir before using.
At serving time, if making trifles, put a few cake cubes in the bottom of 4 to 6 stemmed glass dishes. Divide the pastry cream among the dishes. Stir together the berries with 2 tablespoons violet syrup. Spoon the berries over the pastry cream. Garnish the dishes with fresh violet blooms and small dollops of whipped cream, if desired. Makes 4 very generous and 6 medium-sized servings.
Several other violet recipes you may be interested in:  
Violet lemonade is here.  Violet vinaigrette and salad are here.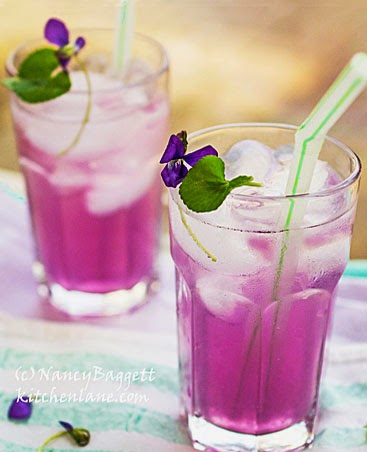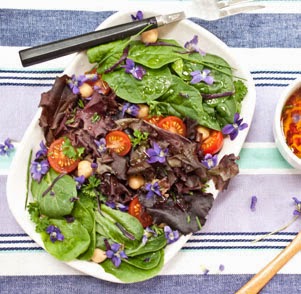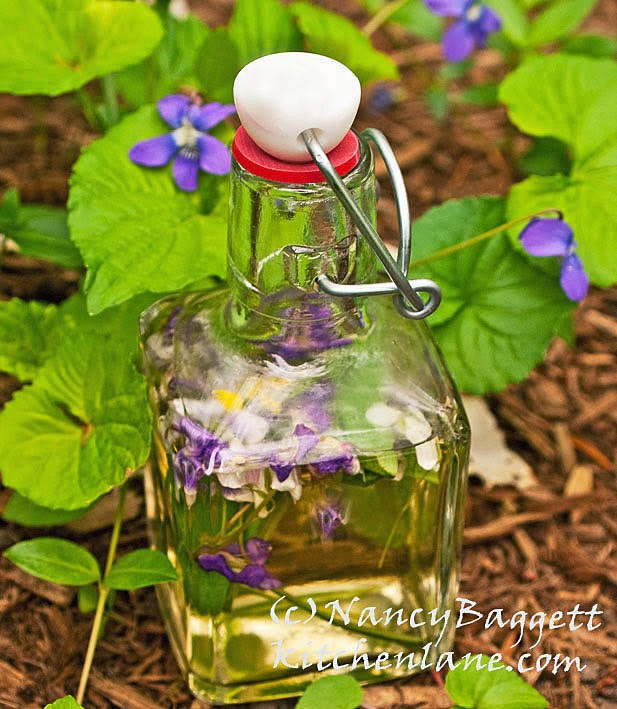 Or check out the violet vinegar recipe here.