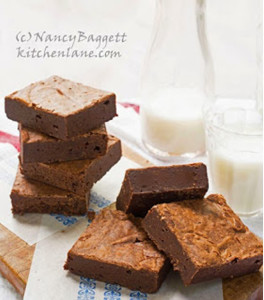 I'm baking these fudgiest-ever brownies this Memorial Day. Partly, it's because everybody loves them, and they are perfect for an informal family gathering. But it's also partly because because they are an all-American dessert, and they just seem fitting for this holiday of patriotic remembrance and pride. The recipe here is adapted to make a larger batch from one in my popular All-American Cookie Cookbook, which has lots of other tidbits of American culinary history and lore throughout.
Though many of our popular sweet treats, like pies, puddings and cakes, actually originated in Europe, brownies are a wholly American invention. The first known recipe for these sumptuous chocolatey bars appeared in the 1906 edition of the classic Boston Cooking-School Cookbook, by Fannie Merritt Farmer.
Unfortunately, cookbooks didn't contain recipe introductions in her era, so we have no idea whether Mrs. Farmer collected the recipe from someone in her school or created it herself. A similar brownie recipe turned up in Lowney's Cook Book, which was published by a Boston chocolate manufacturer the following year. (This suggests that brownies were already circulating among home cooks in the region; experts say it takes five to ten years before new recipes actually make it into published cookbooks.)
In case you're completely focused on the weekend trip to the beach, or pool party, or backyard barbeque, and have forgotten, Memorial Day was established to remember those in the United States who died while serving in the country's armed forces. It's always a bittersweet holiday for me, because I especially honor the memory of my father, who died during his service in World War II, a week before I was born. He was posthumously awarded the Silver Star Medal for his bravery.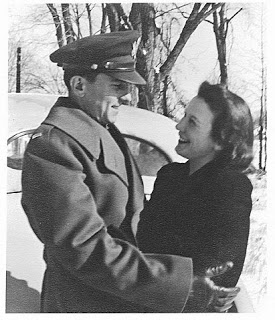 Since I never knew him or got to see my parents together, I particularly treasure this remarkably telling photograph. It is heart-wrenchingly clear what a happy couple they were, and how his sudden loss while still a young man shattered a young family.
Even if you personally don't have a loved one who died while serving our country to revere this Memorial Day, perhaps you can take a moment to reflect on the losses that other families have endured. Better yet, why not thank those you know who have served and celebrate that they have come back safe and sound. And, oh yes, if they have a sweet tooth, you could serve them these very memorable brownies!
 Super Fudgy-Wudgy Brownies
This  recipe has been very popular with tasters—a number of peeps have pronounced these dense, moist really fudge-like brownies the best they ever ate!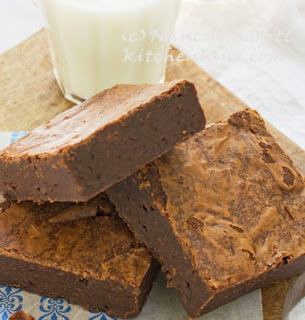 Tip: The baking time depends greatly on the pan used, so check frequently for signs of doneness. In a heavy, dull metal pan that absorbs and holds heat readily, the brownies may be done in only about 20 minutes. But a glass or shiny metal pan they may take a few minutes longer.
1-2/3 cups all-purpose white flour
1/4 cup unsweetened cocoa powder
1/2 teaspoon salt
1 cup (2 sticks) unsalted butter, cut into chunks
2 cups granulated sugar
1/3 cup brewed coffee, or plain water
11 ounces bittersweet (not unsweetened) or
semisweet chocolate, broken up or
coarsely chopped
2 teaspoons vanilla extract
4 large eggs
Preheat the oven to 350 degrees F. Line a 9- by 13-inch baking pan with heavy duty aluminum foil, allowing it to slightly overhang narrow ends. Grease or coat the foil with nonstick spray or cooking oil. In a medium bowl, thoroughly stir together the flour, cocoa powder and salt; set aside. In a very large saucepan over medium-high stir together the butter, sugar and coffee or water. Heat, stirring, until the butter melts and the mixture is hot but not boiling; don't worry if it looks curdled or oily.
Remove from the heat. Add the chocolate, stirring until completely melted. Set aside until cooled to warm (if the mixture is hot, the eggs may curdle when added). Stir the vanilla into the pan. Vigorously whisk in the eggs one at a time. Stir the dry ingredients into the pan just until the batter is evenly blended. Turn out the batter into the baking pan, spreading to the edges.
Bake in the middle third of the oven for 20 minutes, then frequently test for doneness until the center top is barely firm when tapped and a toothpick inserted in the center comes out clean except for the bottom 1/8-inch, which should look wet. Transfer the pan to a wire rack. Let stand until cooled to warm, about 20 minutes, then, for easiest cutting, refrigerate until chilled.
Using the foil as handles, carefully transfer the brownie slab to a cutting board. If desired, trim away the uneven edges using a large, sharp knife. Cutting through the foil, cut the slab in half crosswise.
Carefully peel off and discard the foil from the bottoms. Cut each brownie slab into bars; remember they are very rich. Wipe the knife clean with damp paper
towels between cuts. Stored airtight, the brownies will keep well for 2 or 3 days. They also freeze well for up to a month. If freezing, leave the brownie
slab whole, then cut into squares when partially thawed.  Makes 32 2 1/8- by 2 1/4-inch bars.
You also might like the heirloom recipe for Lowney's Brownies here.  Shown below left, they are in the classic style–very chocolately but not as fudge-like as the ones featured in this post.  Another possibility–the gluten-free peanut butter brownies, shown at bottom, are here.