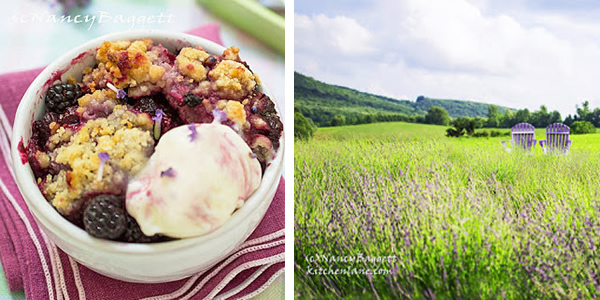 Lots of my recipes are inspired by what I'm growing, harvesting, or find flourishing in both my garden and those I visit. The last few days have been filled with inspiration partly because I've discovered and picked more than 2 quarts wild black raspberries in the woods behind my house. I was also inspired to bake with lavender after a trip to Deep Creek Lavender Farm in Western Maryland last week.  I teamed up fresh lavender blooms with berries for a really unusual and lush-tasting lavender-raspberry cobbler.
The lavender farm is an enormously peaceful, mesmerizing place, owing to the warm summer breezes, the hummingbirds and bees buzzing all around, and the compelling lavender spires and floral-spice scent heavy in the air. Even my 11- and 12-year-old grandchildren were charmed by the serenity and beauty, as well as the chickens owner Anne Davidson let them play with. The kids also had fun blowing bubbles and watching them drift and bounce across the lavender field.
My grandson even commented he'd like to retire there, which I'm betting lots of older folks who visit say, but not many kids! Still, this didn't surprise us too much, as he's quirky and often hovers between almost 13 and going on 80!
Lavender Berry-Plum Cobbler
This is a variation on a favorite berry-fruit cobbler recipe from my All-American Dessert Book. It was originally designed for those who are wary of making a biscuit topping and too pastry challenged to to even consider creating a pie crust dough. You simply stir together a crumb mixture and strew it over the cobbler top; absolutely no rolling or shaping is involved!
Since I'd just picked a lot of black raspberries, I used more of them than called for in the original recipe. Plus, I'd brought back a bouquet of fresh lavender from my trip and, knowing the flavor complements berries, I decided I had to try it in this recipe. A lavender-raspberry cobbler turned out to be a wonderful idea! The lavender added both fragrance and little hits of zestiness here and there in much the same way  lemon zest jazzes up some fruit and berry dishes.
The photo below shows my first lavender-raspberry cobbler as it was nearly ready to go in the oven.
Tip: Black raspberries can be hard to find except at farmers' markets (and maybe in the woods!); feel free to substitute blackberries.
2/3 to 3/4 cup granulated sugar
2 tablespoons cornstarch
2 cups red raspberries
4 cups black raspberries or blackberries
2 cups peeled, pitted (unpeeled) and chopped red or black plums
2 to 4 teaspoons lemon juice
2 teaspoons fresh lavender "bloomlets" (purple parts only), divided
Dough
1 2/3 cups all-purpose white flour
1/3 cup packed light brown sugar
1/3 cup granulated sugar
3/4 teaspoon baking powder
1/4 teaspoon salt
6 tablespoons unsalted butter, melted
1 large egg, lightly beaten
Ice cream or whipped cream or plain heavy cream for serving, optional
Preheat oven to 375 degrees F. Lightly coat a 9-inch by 13-inch flat baking dish (or a similar size dish) with nonstick spray. For filling: Thoroughly stir together granulated sugar and cornstarch in a large bowl. Gently stir in the berries, fruit, lemon juice, and a generous half of the fresh lavender "bloomlets" until well blended. (Reserve the remaining lavender for garnish.) Spread mixture evenly in baking dish.
For dough: Thoroughly stir together flour, brown and granulated sugar, baking powder, and salt in a medium bowl. Add melted butter to bowl, stirring until incorporated. Add egg, stirring with a fork until mixture is blended and clumped. Sprinkle clumps of dough mixture evenly over fruit.
Bake in middle third of oven for 30 to 40 minutes, or until well browned and bubbly. Transfer to wire rack and let cool to barely warm or cooled before serving. Garnish cobbler servings with the remaining lavender bloomlets and ice cream or whipped cream, if desired.
Makes about 10 servings.
Another cobbler you may like–strawberry-rhubarb is here.
Or perhaps my blueberry-apple crumb bars here.