I met Jean Jennings, the remarkable Arkansas woman who created this delectable peach cobbler recipe, on a sultry September afternoon in 2003.  I was traveling around the country collecting heritage recipes for my All-American Dessert Cookbook, and when I visited the Ozarks Folk Center in Mountain View, Arkansas, people kept mentioning her name. She had a local reputation as a great cook and outstanding cobbler maker. The staff gave me her number and urged me get in touch.
When I called Jean and asked if she would share her cobbler recipe, she said she'd be happy to. "But you'll have to drop by so I can show you how," she added. "My mother taught me to make it by eye, and I've never written anything down." She also mentioned that she'd she'd grown up in  a rural community in Van Buren County, Arkansas, and had fixed the cobbler  since childhood. She recalled that it was a favorite of the family's preacher who regularly came to enjoy their fried chicken dinner after Sunday church.  She said she'd go buy some fresh peaches and that I should visit her the next day.
Jean welcomed me warmly and immediately took me into her modern, but homey country-style kitchen. (An antique butter churn sat in one corner, and it fit right in to the decor.) An attractive, vivacious woman with pretty red hair, Jean seemed perfectly at ease as she began peeling and slicing the peaches into a pot, chatting, and fielding my questions.
"My mother always said to add more sugar to peaches than seems right at first," she noted as she dumped an ample amount from a crock into the pot, " 'cause once they cook down they'll need more than you think." I was surprised when she cut up nearly a stick of butter and tossed it into the pe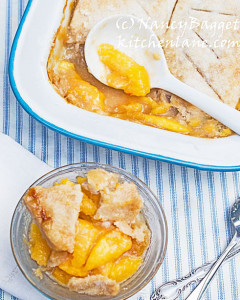 aches, too. "For more flavor," she said.
Jean worked quickly and deftly, with the air of one who had the recipe down pat from making it hundreds of times–which, of course, she had. She was also completely relaxed and demonstrating seemed to come naturally to her. (Later in the afternoon I discovered why.)
As she briskly moved from simmering the peach filling to making the dough, I had to keep slowing her down or stopping her so I could measure out and jot down the quantities I'd need to duplicate the dish at home. She explained that her mother had made her dough with good, fresh white lard, but that, "Nobody around here bakes with lard anymore.  "I use Crisco–everybody does."
She cut the shortening into the flour with forks, then added ice water and created what looked to be an incredibly smooth, supple pie dough. (When I pressed it with my fingertips this was confirmed.) In a few effortless strokes she rolled it into an oblong shape with a well-worn wooden pin. (Her use of  this dough instead of a biscuit crust reminded me that the very first "cobler" recipe known in America, a peach version in Lettice Bryan's 1839 Kentucky Housewife cookbook also featured a pie dough.)
Finally, she poured the somewhat soupy peach filling–she said she liked it that way–into a rectangular baking dish. She trimmed the pastry to fit the dimensions, then laid it neatly over the fruit. After cutting steam vents into the cobbler top and sprinkling on a little sugar, she popped it in the oven.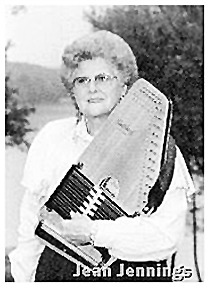 While it baked, Jean and I chatted, and I realized why she was so poised and what an accomplished woman she was. She had yearned for and finally bought herself a mountain dulcimer as a teenager; then taught herself to play it, and had been performing professionally for over 40 years. BTW, the mountain, or Appalachian, dulcimer, like the one Jean is holding  in the photo is an American strummed or plucked instrument. It's not related to the  European hammered dulcimer, which is struck with little metal mallets.
Jean said she was originally with a folk music group called the Simmons Family, then she later founded the Leatherwoods, who appeared regularly around the area and played in the annual Ozark Folk Center summer folk music program. In fact, the Leatherwoods still do perform there; the Center music program listings are here.  Jean also taught one of her four children, her daughter, Pam, to play the dulcimer, and she continues to perform with the Leatherwoods today. (I couldn't find any videos of Jean performing, but Pam, who also has red hair, can be seen playing the Appalachian dulcimer at the 7.35 minute mark of the video here.)
Jean was also active in promoting traditional Ozark folk music, the American dulcimer, and the Mountain View Ozark Folk Center. For several decades she had worked and taught at the nearby Dulcimer Shoppe;  local artisans still handcraft instruments there. And she was on the Chamber of Commerce and the Stone County Medical Board.
When her peach cobbler was finally ready, she dished up servings, and even though the ingredients were simple and she'd worried that the peaches were on the slightly green side, her cobbler tasted wonderful. The filling was amazingly rich, fragrant, and peachy, and the crust was exquisitely tender-crisp and pleasantly flavorful. I'd always resisted using Crisco, but her recipe convinced me that it could deliver excellent results.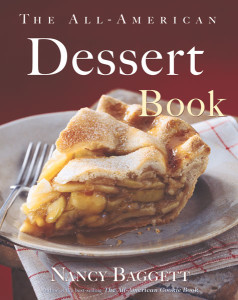 I told Jean, quite honestly, that hers was the best peach cobbler I'd ever eaten and that I would definitely be including it in my All-American Dessert Book. She was quite pleased I liked her recipe, but seemed even happier that it was going to be documented and in print. "My daughter has never learned to make it, and now she'll be able to whenever she wants," she said.
In the fall of 2005 when the book was published I sent Jean an autographed copy and a note, but didn't hear back.  I was disappointed until four years later  when I heard why.  She was already ill with cancer when we met and had died the summer before my book came out.  I am still sad that she was gone, but also proud  to have preserved her very fine recipe for future generations.  I've often wondered if her family  knows that her recipe lives on and hope that her daughter will make it someday.
Heritage Peach Cobbler
This is my slightly updated and revised version of Jean Jenning's wonderful fresh peach cobbler. Her original recipe is on p. 160 of my All-American Dessert Book.  You'll notice that I've provided the directions for making the dough by hand and in a food processor.
Tip: To quickly and easily peel peaches, dip them in boiling water for 30 to 40 seconds. Then, immediately dip them in cold water to cool them down again. The skins will usually slip right off.
9 or 10 large ripe peaches (about 4 1/2 pounds), peeled, pitted, and coarsely sliced
1 1/3 cups granulated sugar
2 tablespoons cornstarch
6 tablespoons unsalted butter, cut into chunks
Dough
2 cups all-purpose white flour
1 teaspoon salt
13 tablespoons (3/4 cup plus 1 tablespoon) well-chilled butter-flavored or regular solid white vegetable shortening, cut into dollops
1/2 cup cold water combined with 2 ice cubes
1 tablespoon sugar for garnish
For the filling: Ready the peaches. Thoroughly stir together the sugar and cornstarch in a very large non-reactive saucepan or Dutch oven. Stir in 1/4 cup water, then the peaches and butter. Bring to a boil over medium-high heat, gently stirring until the sugar dissolves. Reduce the heat so the mixture simmers gently and cook until the peaches begin to release their juices and soften, about 4 minutes; the mixture will be somewhat soupy. Turn out the peach mixture into a 9- by 13-inch baking dish or pan; set aside.
For the dough: Preheat the oven to 425 degrees F. In a medium bowl, thoroughly stir together the flour and salt. Add the dollops of shortening to the flour mixture. Using a pastry blender or forks, cut in the shortening until the mixture resembles coarse meal. Measure out and sprinkle 7 tablespoons ice water over the flour mixture, tossing with a fork until evenly incorporated. Gently knead until the dough holds together and is smooth; if necessary, add a tablespoon or two more ice water to moisten, as it should not be at all dry.
(Alternatively, combine the flour and salt in a food processor. Process briefly to mix. Sprinkle the shortening dollops over the flour mixture. Process in on/off pulses until lumpy. Measure out and sprinkle 7 tablespoons ice water over the mixture. Process briefly until the mixture is the consistency of very coarse crumbs; if it seems crumbly or dry, add a tablespoon or two more ice water until it is moist and begins to hold together. Carefully remove the processor blade.)
Turn out the pastry onto a large sheet of wax paper; gently knead until the dough holds together and is very smooth. Shape the dough into a 6-inch disc. Lay it between long sheets of baking parchment or wax paper. Roll out with a rolling pin into an evenly-thick rough rectangle about 10 1/2-inches by 14 1/2-inches. Peel off one sheet of paper, then pat it back into place. Remove and discard the second sheet. With a paring knife, trim the dough to an even 9 1/2-inch by 13 3/4 -inch rectangle, discarding the scraps.
Carefully peel the paper from the dough and discard. Lightly fold the dough in half (to make lifting it easier); center in the dish, then unfold and tuck the dough neatly into place; it will seem too large, but will shrink to just fit during baking. Using a paring knife or the edge of a large, sharp-edged serving spoon, cut two rows of decorative steam vents into the dough. Garnish the dough with a sprinkling of granulated sugar.
Bake in the middle third of the oven for 20 minutes. Reduce the heat to 375 degrees F.; continue baking 15 to 20 minutes longer or until the top is nicely browned and the edges are bubbly. Transfer to a wire rack and let cool at least 10 minutes before serving. Keeps, covered, for 2 or 3 days. Makes 10 to 12 servings.
For a berry-fruit cobbler with an easy crumb crust go here.