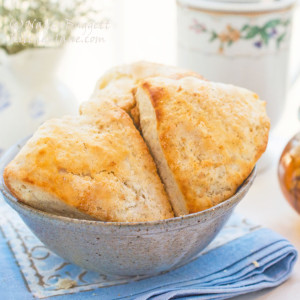 I didn't eat scones as often as I wanted during a recent glorious trip to northern Scotland and the stunningly beautiful Orkney Islands. While I dearly love scones– including my own sour cream scones here—I just dreaded saying their name. Whenever I did order them in shops, I agonized over how to pronounce the word the whole time I was in line.
If I said scone so it rhymed with con (the way most Scots do), it sounded pretentious—as though I'd been watching too much Downton Abbey and was putting on airs. As in, "My word!" I should wave a lace hankie and request a spot of tea, too!
If I said scone so it rhymed with cone, the way I normally do, I could almost feel my Scottish hosts cringing at my grating American accent. I could even imagine them serving my order on Styrofoam instead of china to rebuke me for being a  doltish Yank.
According to one research study, the Scots, who originated the little individual breads called scones in perhaps the 1400s, overwhelmingly use the (to my ears) effete sounding rhymes-with-con pronunciation. It's the choice of many other British, Australian, New Zealand, and even our neighboring Canadian speakers of English as well. British dictionaries tend cite this pronunciation as the preferred one, but do acknowledge that some, "particularly the inhabitants of the United States," use an "alternate" or "secondary" pronunciation.
Nevertheless, the results of an entertaining Oxford Dictionaries poll titled "How Do You Pronounce Scone?" published in March, 2013, reveal that currently more of the world's English speakers are in the cone camp than in the con camp. Author Simon Thomas comments on the clear "transatlantic divide," revealed in two pie charts presented, noting that the overwhelming majority of Americans pronounce scone with a long O sound while over half in the United Kingdom go the other way.
Thomas concludes that it's perfectly fine to use either pronunciation, which should make me feel better, but doesn't. For one thing, I believe that the folks who came up with something (in this case the Scots), should have the final say on what it's called. I'm also a "when in Rome" sort of traveler, so I know that when I'm back in Scotland, I'll confront my usual painful dilemma—to sound either uncomfortably hoity-toity or like a clod!
If, as Simon Thomas puts it, you're among "the unfortunate 5 percent" who don't know what scones are, you should remedy this asap and make my recipe! Scones are reminiscent of what we in the U.S. call baking powder or soda biscuits, and, when served fresh and warm with butter, are just as addictive. Although Americans tend to think of scones as being triangular, in Britian they are in fact often cut into small rounds. They tend to be slightly sweeter than our biscuits and are more likely to contain chopped raisins, dates, currants, or candied ginger and sometimes spice, though there are plenty of "plain" scones around–like mine here.
I'm looking forward to making my scones in place of Irish soda bread for St. Patrick's Day, and probably for Easter, too. No internal conflicts about serving them though. Everybody at my table thinks it's fine if scone rhymes with cone.

Sour Cream Scones
A bit like biscuits, but a little tenderer and sweeter, these sour cream scones are, of course, perfect with afternoon tea, but are equally fabulous for breakfast or as a snack. Due to the sour cream, they stay moist for a couple days and can be successfully frozen and reheated. But if possible,enjoy them still warm from the oven. Note that my recipe calls for a food processor;this makes cutting the butter into the flour super guick and easy.
Ingredients
2 cups all-purpose flour, divided
3 tablespoons granulated sugar, plus a generous 1 tablespoon for garnish
1 teaspoon baking powder
¼ teaspoon baking soda
¼ teaspoon salt
½ cup cold, unsalted butter, cut in bits
½ cup sour cream, or light sour cream
Instructions
Preheat the oven to 400 degrees F (200 degrees C). Line a large baking sheet with baking parchment. Remove 3 tablespoons flour from the 2 cups and reserve it for dough shaping. Combine the rest of the flour, 3 tablespoons sugar, baking powder, soda, and salt in the processor; process 1 minute. Sprinkle the butter over the dry ingredients; process in quick on/off pulses until it is in small pea-sized lumps.
In a medium-sized bowl, thoroughly whisk together the sour cream and 3 tablespoons room-temperature water in a medium-sized bowl. Set aside 2 tablespoons of the sour cream mixture to use as garnish, then stir the butter-flour mixture into the bowl with the remaining sour cream; don't overwork the dough or the scones will be tough. With floured hands and working in the bowl, pat and smooth the dough into a ball; if necessary for easier handling, dust it with just a little reserved flour.
Evenly sift 1 tablespoon reserved flour out over a square of wax paper or baking parchment. Cut the dough ball in half, then shape each into a ball. Working with one ball at a time, place on the flour-dusted sheet. Sift a little more flour evenly over the top. Press and pat the dough out into a 6-inch evenly-thick round, dusting with a little more flour if necessary. Brush half reserved sour cream mixture lightly over the dough top, then sprinkle with half the garnishing sugar.
Run a wide spatula under the dough to loosen it from the paper. With a greased sharp knife, cut the dough round in half, then cut each half into 3 or 4 equal wedges; lift them up and place them separated an inch apart on the baking sheet. Repeat the same procedure for the second dough portion.
Bake for 12 to 15 minutes in the preheated oven, until the tops are golden brown. Serve with butter and a selection of jams, if desired.
Makes 12 medium-sized or 16 smallish scones.
Other breads you might like:
Ariel's seeded soda bread at left
and No-knead
Guinness stout yeasted bread at right.