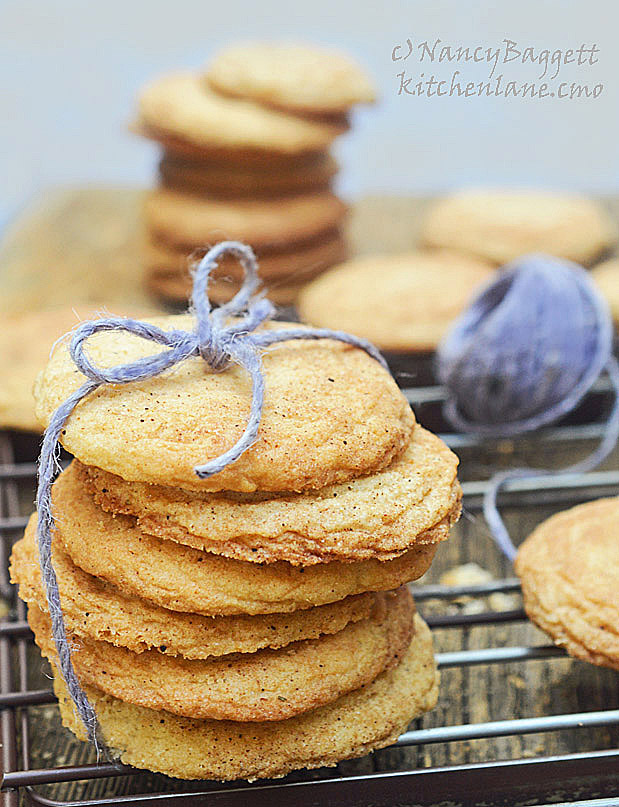 The signs of the changing seasons are everywhere. The  leaves in my yard and woods behind my house (shown below) are tinged with color and beginning to fall.  The air is crisp and spicy with the scent of potted mums by my front door.  The cool weather is telling me get back to baking–and I'm heeding the call. Right now I'm feeling nostalgic for some old favorites, like these best-ever lavender honey-spice snickerdoodles–which actually have a warm autumnal hue that goes well with apple cider, pumpkin lattes and similar fall fare.
Here, I've updated my tried and true snickerdoodles recipe for even more irresistible flavor and aroma.  The secret was in incorporating freshly grated gingerroot and ground lavender buds, along with a little honey, into the dough. If you haven't tried teaming up these three with the usual cinnamon in snickerdoodles, you've been missing out.
As with past versions, I finish by rolling the dough balls in cinnamon-sugar, then patting them down and slipping them into the oven for baking.  It's incredibly hard to wait  for them because they have a mellow-sweet scent that draws you in and keeps you peering through the oven window. Happily though, these snickerdoodles don't need a long baking, and unlike most cookies need very little cooling time. They truly are at their peak while still warm and slightly soft–about 2 minutes after removal from the oven! Children who prefer mild, homey, crispy-soft cookies always adore these. Actually, most grownups love them, too!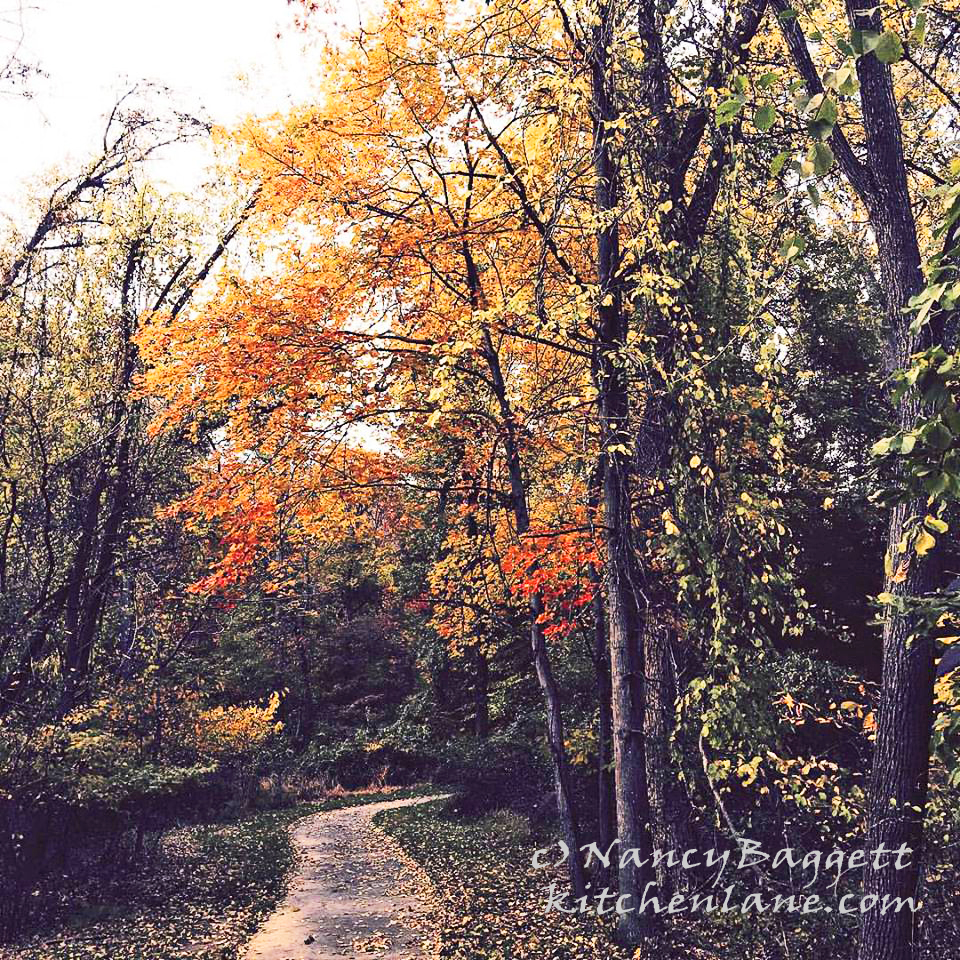 In this updated version, I've delivered the same generous size, chewy-crispy-light texture, and burnished shade that are the hallmarks of the classic snickerdoodle cookie.  One key step was to continue to rely on a combination of  baking soda and cream of tartar for leavening instead of switching to the more modern (and slightly more convenient) baking powder. Often called on to leaven before baking powder came on the scene,  the combination of baking soda, which is a base, and cream of tartar, an acid,  bubble up together to lend noticeably more lift, lightness, and tenderness than  baking powder. Plus, together the two lend a subtle but distinctive color and flavor note that sets snickerdoodles apart from other sugar cookies. Bottom line: Baking powder doesn't do the trick.  If you want real snickerdoodles and not just nice sugar cookies stick with baking soda and cream of tartar.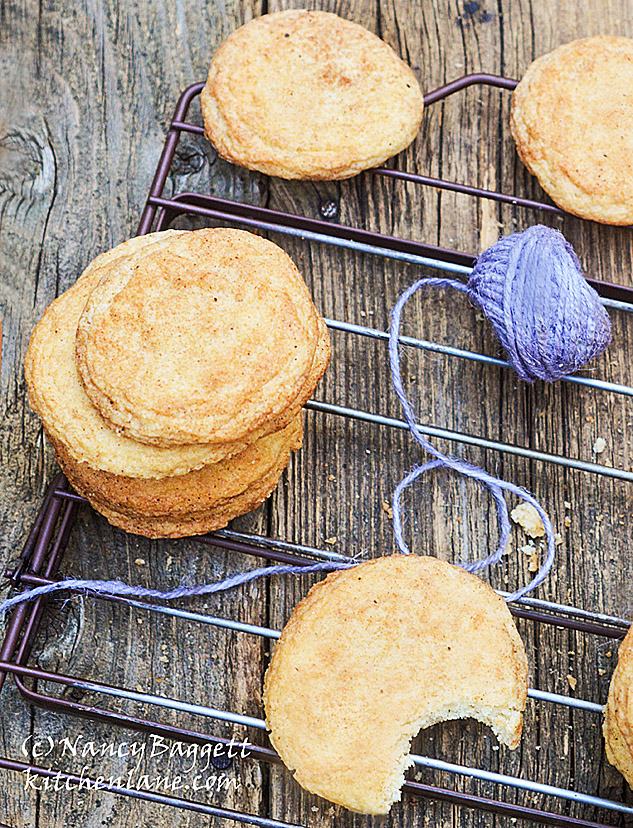 Lavender Honey-Spice Snickerdoodles
Perhaps the most satisfying, comforting, homey, and succulent snickerdoodles ever! Unlike more cookies, these really are at their best while still warm from the oven. If you don't have and can't find dried lavender, you can leave it out and skip the second step in the recipe. But really, it's worth tracking down to produce snickerdoodles that are a truly spectacular treat.
Serves:
35-40 large cookies
Ingredients
1¾ cups granulated sugar, divided
1 tablespoon dried culinary lavender buds
1 teaspoon ground cinnamon
2¾ cups unbleached all purpose white flour
2 teaspoons cream of tartar
Scant ½ teaspoon baking soda
½ teaspoon salt
1 cup (2 sticks) unsalted butter, slightly softened
2 tablespoons clover honey
2 teaspoons peeled and finely grated fresh gingerroot
2 large eggs
2½ teaspoons vanilla extract
Instructions
Preheat the oven to 375 degrees F; set a rack in the upper third of the oven. Generously grease several large baking sheets; set aside.
Combine ¾ cup sugar and the lavender in a processor. Process continuously for 4 minutes, or until the lavender very finely ground. Stir the processed sugar through a very fine mesh sieve back into the processor to strain out any large bits of lavender. Add the remaining 1 cup sugar and process until well blended.
Set aside 5 tablespoons sugar in a shallow bowl and thoroughly stir in the cinnamon. Set this mixture aside for garnishing the cookies.
In a large bowl, thoroughly stir together flour, cream of tartar, baking soda and salt. In a mixer bowl with the mixer on medium speed, beat together the butter, remaining lavender sugar, honey, and gingerroot until well blended and fluffy, about 2 minutes. Add the eggs and vanilla; continue beating until very well blended and smooth.
Beat half the flour mixture into the butter mixture until smoothly incorporated. Stir in the remainder of the flour mixture until evenly incorporated. Let the dough stand 5 to 10 minutes to firm up slightly.
With lightly greased or oiled hands, pull off portions of dough, rolling each between the palms to form generous 1½ inch balls (the dough will be soft). Roll each ball in the lavender-cinnamon sugar until coated all over. Space the balls about 2¾ inches apart on the baking sheets. Just slightly pat down the tops of the balls with your palm.
Bake, one pan at a time, in the upper third of the oven for 8 to 11 minutes or until the cookies are just light golden brown around edges; turn the pan halfway through baking to ensure even browning. Remove the pan to a cooling rack, and let stand until the cookies cool 1 or 2 minutes. Then, using a wide spatula, transfer the cookies to racks.
Let stand until completely cooled. Cool and regrease the baking sheets between batches, or the cookies may spread too much. The cookies are best served still slightly warm from the oven.
If necessary, store then airtight at most 2 or 3 days; they will gradually dry out with longer standing. They can be frozen, airtight, for a month or two; let return to room temperature before serving.
Makes 35 to 40 3 2- to 4-inch cookies.
Another lavender dessert recipe you might enjoy–
lavender fruit syrup
or
lavender cutout cookies
.