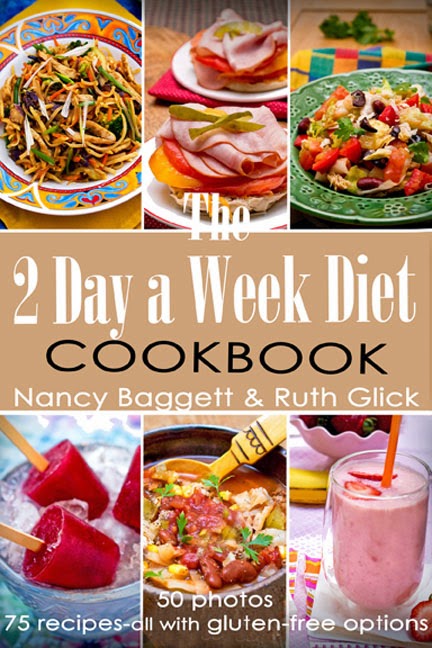 Eat Well While You Lose Weight!
BUY discounted, autographed soft-cover copies here.

Kindle and Soft-Cover versions
also  on Amazon NOW
75 Carefully Crafted Recipes . 50 Color Photos .  Tips on Losing Weight .  Menus   
Kindle version just $2.99!!

Great 5-star Reviews: "Best $ you will spend in 2014
!"
Authors Nancy Baggett and Ruth Glick both lost weight as they developed, tested, and sampled the recipes for this book. And they found staying on the plan amazingly easy. Ruth has lost 16 pounds, and Nancy, who never loses anything on any diet, has lost 6 (her lowest weight in 15 years)!  Scroll down to the bottom for more pics of just some of the easy, tasty everyday recipes–from soups, salads, main dishes, sides and snacks that you'll find in the book.
About The 2 Day a Week Diet Cookbook: A whole lot of cookbook for very little money, this attractive, 200-plus page book (in Kindle and softcover versions) has everything you'll need to LOSE WEIGHT on the 2 Day a Week Diet. You'll enjoy tasty, quick-to prepare-dishes, most shown in appealing full-color photos and presented along with helpful introductory comments or tips. Authors Nancy Baggett and Ruth Glick, shown right opening a carton of books, (and their husbands, too!) shed pounds by relying exclusively on these recipes.Their 75 favorites are featured in the book. 
An inspiring testimonial from a happy buyer of the book who's lost 20 pounds is here. She says she's thrilled because it's an effective plan she can stick with and the food is really good!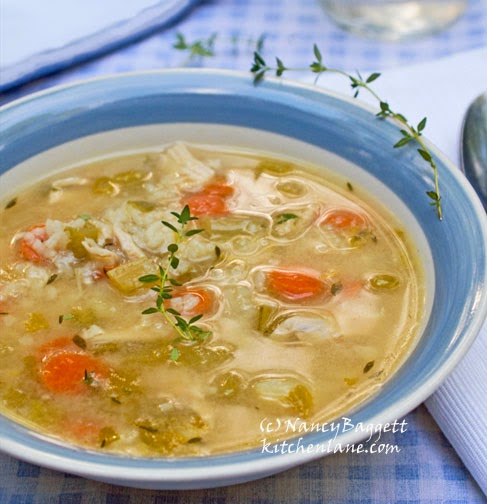 The carefully tested, nutritionally analyzed dishes are varied, nutritious, full of flavor and, at 200 or fewer calories each, perfectly designed to fit perfectly into the 500-calorie diet day budget. Think chili, chicken soup (below left), fruit smoothie, and French toast, for example. Or perhaps ethnic fare like Singapore noodles with chicken, gazpacho, tostados (shown below right), faux "fried rice." And lots more satifying soups, salads, mains, sides and snack. Many dishes are vegetarian and most are gluten-free; the few than aren't g-f include gluten-free options. And, oh yes, and the recipes are streamlined and aimed for busy cooks; ingredients are easy to find and preparations are quick and simple.
The authors have years of experience creating tasty, calorie-wise recipes for national publishers including The American Diabetes Association, Rodale Books, Prevention, Eating Well,  Cooking Light and Weight Watchers Magazine. Here, their recipes do most of  the work for you with calorie counts, shopping tips, make-ahead info, and time savers so you can conveniently fit  the plan and the recipes into your life.
Among the book's features:
75 quick, easy varied recipes

50 beautiful photographs

Clear, simple-to-follow instructions

Helpful recipe introductions

Time-saving cooking methods

Recipes that can be made ahead or frozen

Emphasis on everyday ingredients

Nutritional analysis/calorie count for each recipe

Cooking and shopping tips

Sample menus

Diet day strategies
About the Diet:
This is an incredibly easy and convenient  2 day a week weight-busting plan that–believe it or not!– lets you to lose more pounds than traditional 7 day a week diet regimes. Sometimes called the  5-2 or fast diet, but more accurately described as the 2 day a week diet, it calls for cutting calories to 500 to 600 calories only two days a week and  just eating normally the other five. The good news: Studies have shown that this plan is more effective than the usual stringent seven-day regimes. And some studies show it has other health benefits besides weight loss.
The diet was first popularized in Great Britain, but is now the rage around the world. 
The diet fits comfortably into most lifestyles. It's much more flexible and effective to follow during the holiday season than most diets, because the 2 non-consecutive days of dieting each week can be fitted around various festivities. Equally important, it can automatically help counterbalance the inevitable days of overindulging at  big meals and too many parties. (Last year the authors didn't gain at all during the Thanksgiving-Christmas eating season!)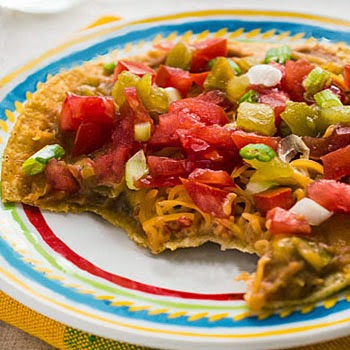 So, time to get started. Check out The 2 Day a Week Diet Cookbook and get going–your scales will thank you! And YOU will thank you as you lose weight, look better, feel great, and eat well all at the same time.
Here are some of the 75 dishes and 50 pics in the book. To try several sample recipes for free, go here.