"I became a believer. This book represents the best couple dollars you will spend in 2014."
Wow! That's what a reviewer said about our brand new  cookbook, The 2 Day a Week Diet Cookbook! I can't really imagine a greater compliment, though all the Amazon reviews posted are amazingly positive. (Check them out here.) I'm also thrilled to tell you that just since the book has been out, the book has been getting nearly all 5-star reviews and selling well on Amazon.com!
The 2 Day a Week Diet Cookbook  is specifically designed for  people who are following a phenomenal new weight-busting plan variously known as the
Fast Diet, the 2-5 Diet, or the 2 Day a Week Diet. In case you haven't heard about it, in involves eating 500 calories (600 for guys) only 2 nonconsecutive days a week, and eating normally the other days.  
The book provides a set of 75 carefully-designed and varied 200- or fewer-calorie recipes–from soups and entree to breakfasts to snacks–that give people plenty of tempting, easy, everyday dishes that will readily fit in the 500- to 600-calorie diet day budget. (Think French toast, banana-chocolate smoothie, chili, and home-style chicken and rice soup, for example. In case you need to know, almost all the recipes are gluten-free–including French toast if you use g-f bread.)
Aside from great convenience of dieting only 2 days a week, the big advantage of the diet is that  it really works! Studies have shown that even people (like me) who never seem to lose on any regime can drop pounds. My co-author, Ruth Glick, and I  have been trying out the plan using the recipes we created for our new book–with great results!
Ruth and her husband have followed the diet together for about five months: She's shed 16 pounds and he's had to buy new belts to hike up his pants! My husband
and I started using our recipes to test out the diet about three months ago, and we have have each
lost 6 pounds! Honestly, it's been surprisingly easy. And I personally feel my energy level is noticeably higher than it used to be. (Many experts claim the diet has other health benefits beyond weight loss; radio host
Diane Rehm just explored this topic with some medical researchers on her show last week.)
I know that some of you think of me primarily as a baking expert, but in fact over the years my co-author and I have done a number of "healthy" cooking and special diet cookbooks and recipes for publishers including the American Diabetes Association, Prevention, Rodale, and many others. And, I've been a contributor to Eating Well for many years, and a contributing editor for the last decade.
Here's a sample recipe and its photo from the book. I'm proud to tell you that book also includes 49 of my other photos so you can see how the finished dishes will look.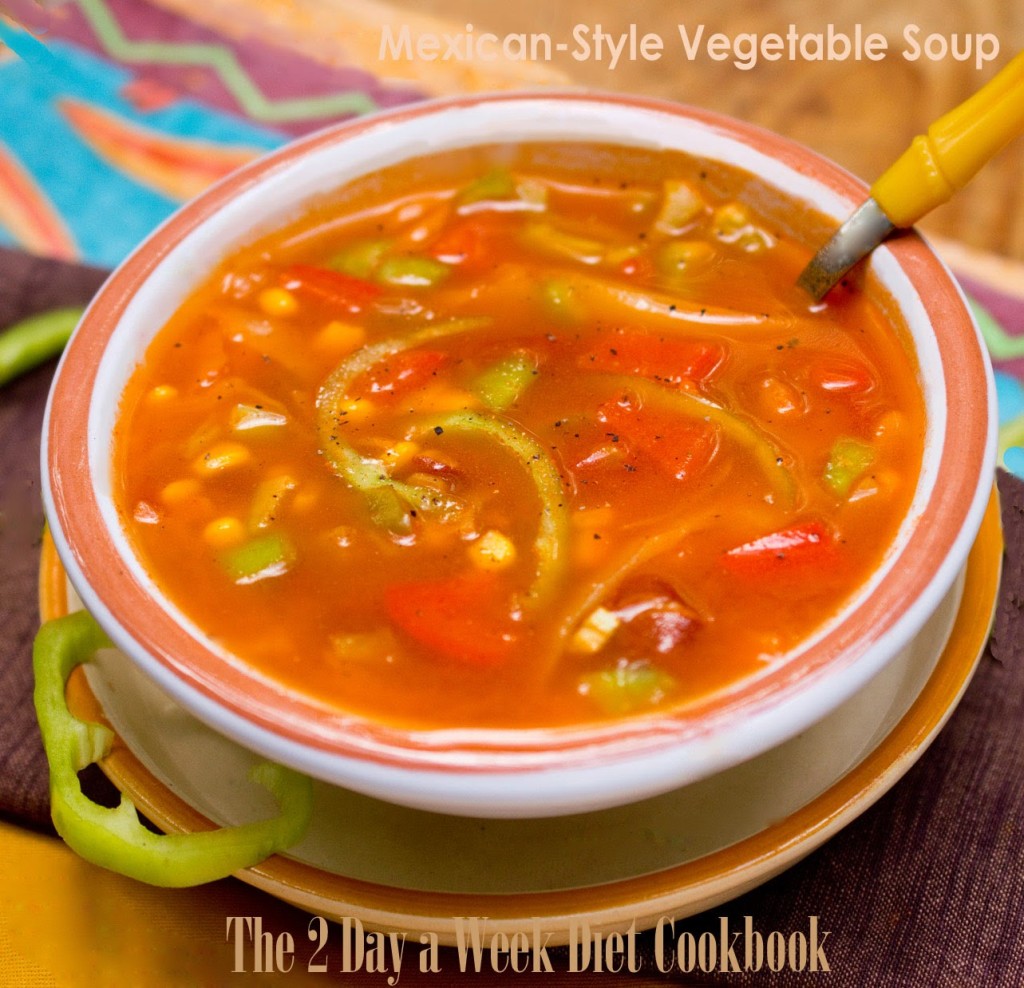 Mexican-Syle Vegetable Soup
Like many of the recipes in The 2 Day a Week Diet Cookbook, this one is low in calories, yet nourishing, satisfying and full of flavor. It is also designed to be extremely easy because most folks following the plan just don't have extra time to fuss over preparing their diet day meals.
Makes 4 110-calorie servings, about 2 cups each.
4 cups fat-free chicken broth or
bouillon or vegetable broth
1 cup mild bottled salsa
2 cups coarsely shredded cabbage
1 cup chopped sweet red  or green pepper
1/2 cup kidney beans
1 cup frozen corn kernels
1/2 tsp each chili powder and ground cumin
1. Put broth in a medium-sized pot, over medium-high heat.