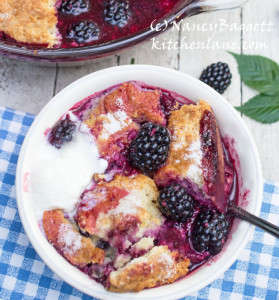 I'm lucky enough to have blackberries growing wild where I live. And even luckier that there are some productive stands of canes that nobody notices or maybe that nobody wants to go out in the heat to harvest.
Often, it's really too hot for picking by the time blackberries ripen here in July and August, but I go anyway! Some blackberries I turn into a quick berry sauce,  but when there's more time I make a blackberry cobbler.  My mother taught me to make cobblers from all kinds of berries, stone fruits and cherries when I was in elementary school. This version is one I've updated from hers.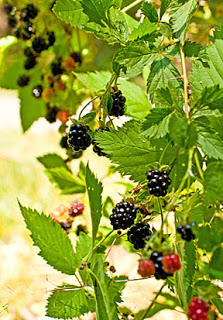 The aroma when a blackberry cobbler bakes is almost, but not quite, as seductive as its taste. My summer is simply not complete without a bowl or two. When fresh blackberries are not available, I have even substituted frozen unsweetened berries with success.
If you happen to have boysenberries, they are wonderful in this recipe, too. Sometimes I buy a pint and add them to the blackberries. The blend is even better than the blackberries alone. Maybe one reason they work so well is that they are actually a cross of blackberries, raspberries, and loganberries. They were developed by horticulturalist named Rudolph Boysen! (The pic below features fresh-picked wild blackberries I gathered by the edge of a nearby Maryland road.)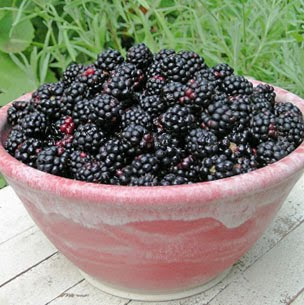 Almost My Mother's Blackberry Cobbler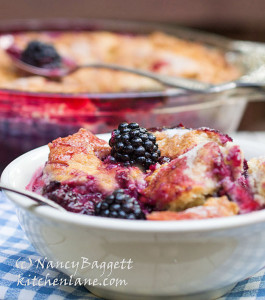 This cobbler is pretty much like the wonderful traditional one my mother prepared, but I speed up the dough making by using a food processor. It cuts the butter into the flour in a fraction of the time it used to take, and the results are just as good. (For another cobbler that calls for an easy crumb crust instead this biscuit dough check out my Raspberry Cobbler.)
I've done a lot of research on the history of cobblers, and it's clear that they originated in America. The earliest known reference is one I found in the 1839 Kentucky Housewife cookbook by Lettice Bryan. She mentions that "coblers" were "very excellent for family use," though not "fashionable" for company. Actually, I think most company would be thrilled with them today!
Tip: If you are a little short on blackberries, you can stretch them by adding up to 2 1/2 cups tart plums or tart apples.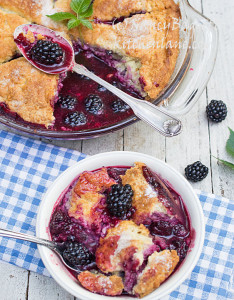 4 tablespoons (1/2 stick) chilled butter (preferably unsalted) cut into 1/3-inch cubes
4 1/2 tablespoons white vegetable shortening (or butter-flavored) cut or spooned into 1/2- tablespoon portions
1 1/2 cups unbleached all-purpose white flour
1 tablespoon granulated sugar
1/2 teaspoon salt
1 teaspoon baking powder
About 2 1/2 to 5 tablespoons ice water
Filling
1 1/8 cups granulated sugar
1/4 cup cornstarch
6 1/2 cups fresh blackberries (may substitute up to 2 1/2 cups peeled 1/3-inch pieces tart plums or apples for some of the blackberries)
2 tablespoons butter (preferably unsalted), cut into chunks
1/4 teaspoon finely grated lemon zest
1 to 1 1/2 tablespoons fresh lemon juice (use larger amount for sweet berries)
For the dough: Put the butter and shortening in the freezer while the other ingredients are readied. Combine the flour, sugar, salt, and baking powder in a food processor. Process briefly to mix. Sprinkle the butter and shortening over the flour mixture. Process in on/off pulses until lumpy. Sprinkle 2 tablespoons ice water over the mixture. Process with 1-second pulses until the mixture is the consistency of very coarse crumbs; if it seems crumbly or dry, add a tablespoon or two more ice water until it is moist and begins to hold together. Carefully remove the processor blade. Turn out the dough onto wax paper; gently knead until the dough holds together and is very smooth. Cover and refrigerate while the fruit is readied. Preheat the oven to 425 degrees F.
For the filling: Set aside 1 tablespoon granulated sugar for garnish. In a 3-quart or similar-sized oven-proof, non-reactive deep-sided skillet or stove-top casserole, thoroughly stir together remaining sugar and cornstarch. Gently stir in the berries (and plums or apples, if using), butter, lemon zest, and lemon juice until thoroughly incorporated. Over high heat, stirring, bring the mixture just to a full boil and cook until slightly thickened. Immediately remove from the burner.
To assemble the cobbler: Shape the dough into a 5-inch evenly-thick disc. Lay it between squares of baking parchment or wax paper. Roll or press out into an evenly-thick round just slightly larger than the diameter of the skillet or casserole used. Peel off one sheet of paper, then pat it back into place. Remove and discard the second sheet. With a paring knife, trim the dough edges to even the round slightly. Center the dough, paper-side up, on berries; discard the paper. Cut decorative steam vents in dough top. Garnish the dough with the reserved 1 tablespoon sugar.
Bake (middle rack) in oven for 15 minutes. Reduce the heat to 375 degrees F; continue baking 30 to 40 minutes longer or until the top is nicely browned and the edges are bubbly. Transfer to a wire rack and let cool at least 15 minutes before serving.
Makes 6 to 8 servings.
Or perhaps you might enjoy this blackberry treat, blackberry sorbet is here.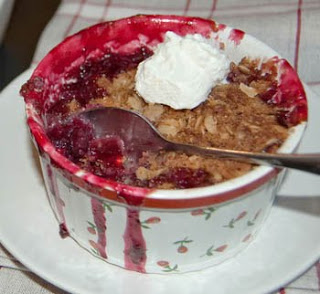 For another great summer fruit dessert that's gluten-free, try my Bumbleberry Crisp.  Or how about my slightly exotic lavender-raspberry c0bbler.