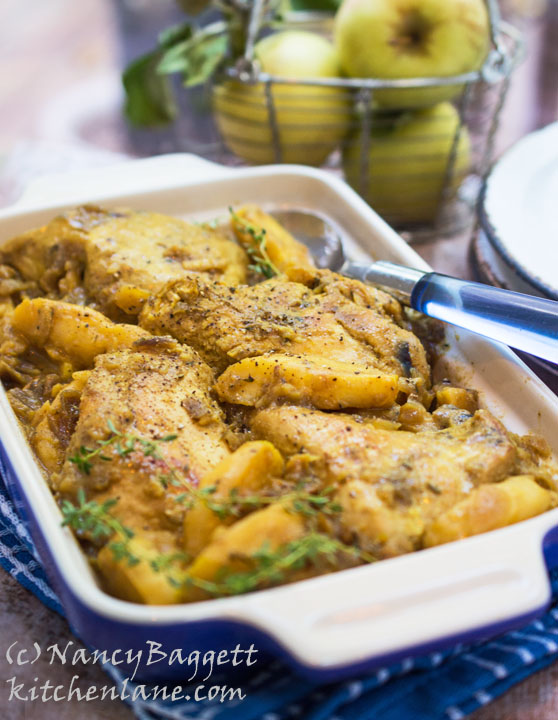 This past weekend we took our grandkids to an apple orchard. As usual, we came away with far too many apples. As in nearly 50 pounds–enough for their parents, their aunt and uncle, and both sets of grandparents! (I also had to buy a big jug of apple cider.)
So, this week I've been busy dreaming up ways to use up my personal 12-pound apple stash:  This entree, a ginger-curry chicken and apple saute, used up only three apples, but it came out just great. In fact, it's so fragrant and tasty I'm putting it on my "favorite chicken dishes" list. And though I'm serving it for supper tonight, IMO it is worthy of fixing for an autumn company dinner. More good news–it can be readied completely ahead then simply reheated for fuss-free entertaining.
Earlier in the week I also created a very satisfying fresh pumpkin and apple soup, which served as my very simple lunch several days but would also make a good starter for a fancy dinner.  Two nights I also microwave-baked apples and served them, along with scoops of ice cream, for our dessert.
Our apple supply is now down to about 6 pounds, but I need to keep working on this and clearing refrigerator space, as my favorites, the Staymens, are supposed to be ripe in just a few days. (These are nearly essential for my apple crisp and pie.)  Yes, even though apples look pretty set in a bowl on the counter, they need to be refrigerated or they get flabby and their flavor fades.
Ginger-Curry Chicken & Apples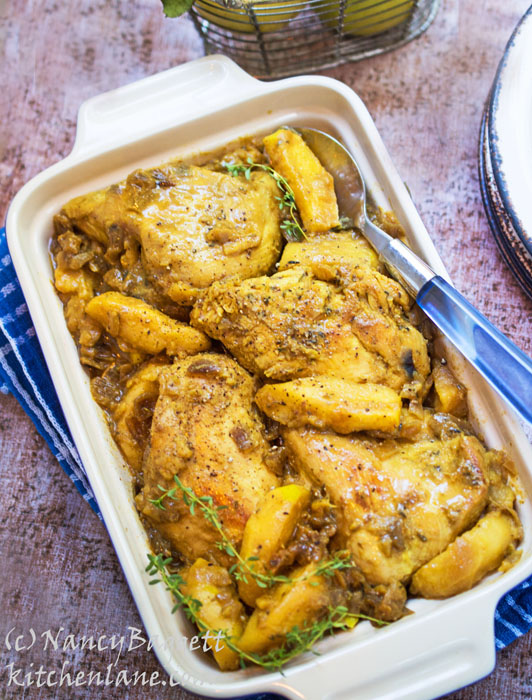 The apples, cider, fresh ginger and curry powder mingle together and lend a distinct and memorable sweet, fruit-spice flavor to the chicken.  A small amount of cream smooths and rounds out and enriches the taste–it's well worth the few extra calories.
Tip: I like Golden Delicious in this recipe because they are pleasantly sweet-tart and the slices hold their shape especially well. Braeburn and Honeycrisp also hold their shape during cooking.
3 tablespoons, plus 3/4 cup sweet apple cider or apple juice, divided
2 tablespoons corn oil or canola oil, divided
1 tablespoon mild curry powder
2 teaspoons minced fresh ginger root
1 teaspoon fresh chopped thyme leaves or ½ teaspoon dried thyme leaves, plus fresh sprigs for optional garnish
1/4 teaspoon salt, or to taste
4 5- to 5 ½-ounce boneless, skinless chicken breast halves
½ cup chopped red onions or yellow onions
2 or 3 Golden Delicious apples, peeled, cored and cut into eighths
3 tablespoons light or heavy cream
Chopped cilantro leaves for garnish, optional
In a medium-sized bowl, stir together 3 tablespoons apple cider, 1 tablespoon oil, curry powder, ginger root, thyme, and salt until well blended. Add chicken pieces, tossing until coated. Marinate for at least 15 minutes and preferably 30 minutes.
Combine onions and remaining 1 tablespoon oil in a deep-sides 12-inch or larger nonstick skillet over medium-high heat. Cook, stirring, until onions are softened and just beginning to brown, about 3 minutes. Add chicken pieces; reserve unabsorbed marinade. Cook, adjusting the heat so the chicken browns but doesn't burn, occasionally turning the pieces until lightly browned all over, about 6 to 8 minutes. Stir in reserved marinade and 1/2 cup cider; bring to a simmer. Adjust heat so chicken simmers gently, and cook 5 minutes.
Add apples; continue simmering, stirring occasionally, until chicken is just cooked through, about 10 to 12 minutes longer. If liquid begins to evaporate from the pan, add more cider.
Remove chicken and apple slices to serving platter or oven-proof casserole. Add cream and 2 tablespoons more cider to pan, raise heat to high, and reduce sauce just slightly. Taste and add more salt, if desired. Spoon sauce over chicken.  Serve immediately or cover and refrigerate up to 2 days. Reheat, covered with foil, at 3oo degrees F. until heated through, about 20-25 minutes. Garnish with thyme sprigs, if desired. Makes 4 servings.
Check out my microwave-baked apples here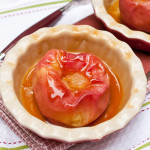 and fresh pumpkin and apple soup here.