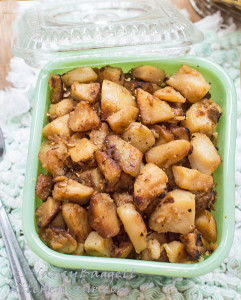 In the days before french fried potatoes became the king of the fast food sides, one of the most popular potato side dishes was home fried potatoes. Home-fries and hash-browns now mostly turn up in diners on breakfast plates and brunch buffets and old-fashioned eateries advertising stick-to-the-ribs American fare, and they are still satisfying that way. But IMHO, they are even better if you give them an ethnic twist and jazz 'em up with a little heat and spice. And you can do it with ease.
This recipe provides a few new twists and tweaks in the both cooking technique and flavorings. First start by zapping the potatoes a few minutes in a microwave oven. This greatly shortens the time spent cooking and stirring at the stove.
Then, you can add an ethnic touch in one of several ways: To serve the fried potatoes as a side with a Tex-Mex meal, at the end of cooking, stir in a couple tablespoons each of drained canned chopped mild green chiles and bottled salsa to taste.  For an addition to an Indian-style meal, add some fennel seeds and a teaspoon or two of curry powder after you cook the onion.  To give the potatoes a German-style appeal (to go with Bockwurst or similar sausages), near the end of cooking toss in some caraway seeds and several cups of chopped cabbage; continue cooking until the cabbage is just barely tender.
Finally, if you just want a lively update of the favorite old stand-by dish to go with American burgers, roast chicken, or ham, make the fried potatoes according to the basic recipe provided here.
So, there you have it–home-fried potatoes four ways. This should make four ample servings, but two or three enthusiastic eaters may polish off the recipe! Enjoy!

Home-Fried Potatoes, Four Ways
Home fried potatoes are better than ever, more versatile, and quicker to make with this streamlined and updated recipe. Tip: Be sure to use boiling, not baking, potatoes.
Ingredients
5 cups peeled and coarsely diced red Bliss or other boiling potatoes
2 tablespoons olive oil or other vegetable oil
2 tablespoons butter (or bacon grease for a Southern vibe)
1 large onion, peeled and finely chopped
Sea salt or smoked sea salt
Fresh, coarsely ground 3 or 4-peppercorn blend to taste
Sriracha sauce, to taste, optional
Instructions
Spread the potatoes on a large microwave-safe plate. Sprinkle over 3 tablespoons water. Cover with wax paper or a microwave cover. Microwave on 50 percent power for 3 to 6 minutes; stop, stir, and test with a fork at 3 minutes, and continue, stopping and checking at 1 minute intervals until the potatoes are just beginning to soften. Remove from the microwave, drain off the liquid, and pat the potatoes dry on paper towels.
In a 12 inch (or larger) nonstick skillet over medium-high heat, combine oil, butter (or bacon grease) and onion. Cook, stirring frequently, until onion is limp and translucent, about 4 minutes. Stir in potatoes and salt and pepper to taste. Adjust heat so potatoes and onion cook briskly enough to brown, but do not burn; add additional butter if needed. Continue cooking, stirring occasionally, until potatoes are well-browned and tender when tested with a fork, 10 to 15 minutes. Stir in more salt, pepper and sriracha sauce to taste, if desired.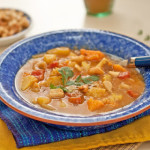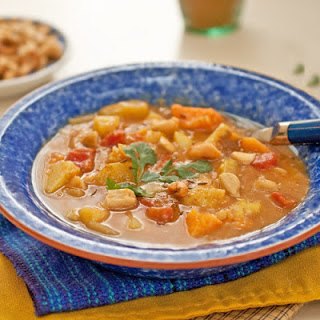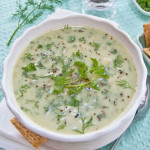 Potatoes are also terrific in the European-style Green Herb Potato Soup here.
Another fine potato soup you might like, Pantry Staples Curried Potato Soup, is here.