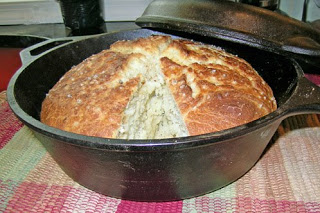 One of the first questions that comes up when folks want to try their hand at baking crusty, no-knead pot breads is, "What kind of pot should I use?" I tested a lot of Dutch ovens and pots in the process of writing my
Kneadlessly Simple
cookbook, so I have some advice to share. Here's a snapshot of my "kneadless" buttermilk bread, baked in a Lodge cast iron
Combo Cooker
. I think the loaf looks pretty tasty–and, boy, is it! And the pot is very economical, versatile, durable and a perfect size for the many pot breads in my book.
All the other breads shown are from Kneadlessly Simple, too; I've posted my Crusty White Pot Bread and Seeded Pale Ale Pot Bread for you to try. I think they will convince you that "no-knead" is not only easy, but makes excellent bread.
Tip: Even though dough doesn't usually stick to metal pots (it may in ceramic), if you do have trouble or aren't sure, simply spritz the pot with non-stick spray just before you put in the dough. And be sure the pot is fully preheated if the recipe calls for it.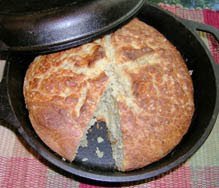 Looks Don't Matter
While pretty (and pricey), enameled Dutch ovens are nice, they aren't necessary. The cast iron pot shown here, from the Lodge Logic line, comes already seasoned and ready to use and makes great bread. I used it to test many of my crusty, rustic-style breads.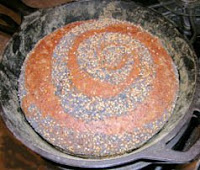 Bigger Is Not Necessarily Better–
Many pot bread recipes circulating around today call for pots that are larger than is optimum. Loaves calling for 1- to 1 1/4-pounds (3 to 4 cups) of flour will dome more and look better if baked in a 3 1/2 to 4 quart pot. (A 3-quart pot with a domed lid will work, too, as the dough can expand up into the top.) The 6-quart pot I've often seen called for results in loaves that flatten out too much, although, of course, they still taste good.
Hot Enough for You?–Some pot bread recipes call for preheating the pot at high heat (450-500 degrees F), so be sure the knob or handle of the pot you choose is heat-tolerant. I've bought several great pots with a knob or handle that could only be heated to 400 F or so degrees. But they worked fine, because I just unscrewed the phenolic knob and replaced it with a brass one purchased at the hardware store. The preheating step means that pots made of glass and ceramic are a risky proposition: They may crack or shatter when the cool dough is dumped in. Skip them unless the manufacturer specifically says it's safe go directly from freezer to oven. For some reason, dough seems to stick to some ceramic surfaces, but usually doesn't in a pre-heated enamel-coated or seasoned cast iron.