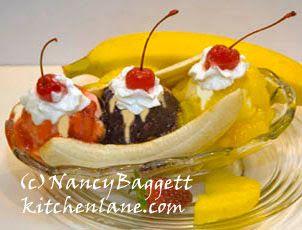 One of the nation's most famous sundaes, the banana split, has been on the American scene since right after the turn of the 20th century. The other ice cream shop star from that era is the hot fudge sundae; my recipe for hot fudge sauce is here.
Several years ago I researched the quirky, interesting (and fairly complex) history of the banana split for a story published in the National Public Radio "Kitchen Windows" column. To check it out, go to www.npr.org and search on Nancy Baggett. Most sundae experts (yes, there are some) think that the banana split was created in 1904, by David Strickler, a Latrobe, Pennsylvania, pharmacy clerk. This is disputed by some, but nobody has come up with proof that the banana sundae existed earlier than that.
Soda fountain history buffs point out that the banana split caught on fast, because by the 1920s there were a whole set of banana sundae variations being served in sweet shops. Plus, along with the hot fudge sundae, the banana split is one of the few soda fountain era treats that is still on menus in ice cream parlors today.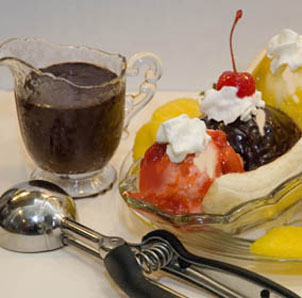 Exactly why the banana split became top banana in a soda fountain era that spanned more than a hundred years (the 1840s to 1950s) and that spawned literally thousands of goodies is open to speculation. Some think it's the razzle-dazzle colors and variety of flavors–the standard toppings that go with the usual hot fudge,  are strawberry and pineapple sauce, both presented below.  All together the three lend pizazz and something taste-wise for everybody. Plus, the sundae is large and impressive enough to fit the modern trend toward super-sizing. Some experts point to the fact that the banana, a very popular fruit, gets the top billing. Remember though, that for a classic banana split, the fruit must be cut "stem to stern;" cut it crosswise and sundae aficionados will insist that you've created a banana royale.
Pineapple Sundae Sauce
Fresh, ripe pineapple makes a spectacular sundae sauce, and if you buy a cored, ready-to-use pineapple or chunks, it can be put together quickly. (If fresh pineapple is unavailable, canned juice-packed tidbits will work, too.) Another secret to the intense fruit flavor is incorporating some undiluted frozen pineapple juice concentrate.
 2 teaspoons cornstarch
3 tablespoons sugar, or more to taste
 2/3 cup frozen (thawed) pineapple juice concentrate (unreconstituted),
 3 tablespoons orange juice or water
2 1/2 cups diced (1/3-inch pieces) fresh pineapple
 or 2 1/2 cups well-drained, juice-packed pineapple tidbits (about 1 20-ounce can)
 Whisk together the cornstarch and 3 tablespoons sugar in a medium, non-reactive saucepan. Slowly whisk in the pineapple juice concentrate, then the orange juice until the mixture is free of lumps. Bring to a simmer over medium heat, whisking. Adjust the heat so the mixture boils gently and cook, whisking constantly, just until the liquid thickens slightly and turns clear. Stir in the chopped pineapple (or tidbits). Continue cooking, stirring, until the mixture returns to a boil. Gently boil, stirring, for 1 1/2 minutes.
Remove from the heat. Taste and thoroughly stir in up to 2 more tablespoons granulated sugar until dissolved. Refrigerate the sauce in a non-reactive storage container until chilled, at least 1 hour, before serving. The sauce keeps, refrigerated, for up to 5 days. Stir before using. Best served lightly chilled.
Makes about 2 cups sundae sauce.
Strawberry Sundae Sauce
This sauce is always colorful and wonderfully fragrant. For very sweet strawberries, use the minimum amount of sugar; for very tart ones, use a little more.
About 2 to 3 tablespoons granulated sugar
2 teaspoons cornstarch
1/4 cup strawberry jam blended with 1/3 cup hot water
Generous 3 cups chopped fresh, ripe strawberries
In a heavy, medium non-reactive saucepan whisk together the sugar and cornstarch until well blended. Whisk in the jam-water mixture until smooth. Bring to a gentle boil over medium-high heat, stirring. Continuing to stir, cook until the mixture just thickens and clears, about 2 minutes. Stir in the strawberries and cook 30 seconds longer. Refrigerate in a non-reactive airtight storage container at least 1 1/2 hours, and up to 5 days. Stir briefly before using.
Makes about 2 1/3 cups sauce.
The hot fudge sauce recipe is posted here.