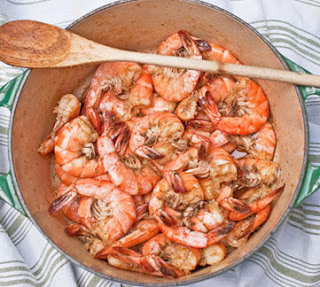 Anybody who lives around the Chesapeake knows that part of the appeal of steamed crabs and shrimp is their distinctive spicy scent and flavor. It comes mostly from a highly aromatic herb-spice mixture that's been popular here for decades. The best known brand is called Old Bay, and it is pungent with celery salt, dry mustard, bay leaves, paprika, and enough pepper to draw your attention but not make you cry. A clever tag line for the product is "Bold Never Gets Old;" locals like myself would definitely agree. (A lot of seafood houses actually use similar blends from other companies, but Old Bay was the original brand.)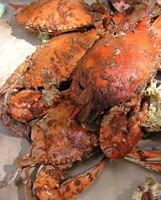 I've already made quite a few trips to my favorite seafood market to stock up and feast on shrimp and crabs this summer. I usually buy my crabs already cooked, but prefer to steam the shrimp myself. Frankly, both steamed crabs and shrimp just seem lacking to me unless they are prepared the Old Bay way.
Should you wish to try some Chesapeake-style shrimp yourself, here is a recipe which I've adapted slightly from one on the Old Bay tin. Though originally available only locally, it's now sold by McCormick's nationwide.
Maryland-Style Steamed Shrimp
1/4 cup apple cider vinegar
2 to 3 tablespoons Old Bay Seasoning
1 1/2 to 2 pounds fresh, headless shrimp (in their shells)
Cocktail sauce and fresh lemon wedges
Set out a deep pot fitted with a raised rack or steamer basket. Add vinegar and enough water to reach just below level of the rack. Layer the shrimp, sprinkling each layer with Old Bay Seasoning as you work. (It's fairly peppery and salty, so don't overdo it!) Cover tightly and steam 3 to 5 minutes; stir once or twice to redistribute the shrimp and continue just until they all turn red. Avoid overcooking or they may toughen. Let stand until cool enough to handle, then serve along with lots of paper towels. After peeling the shrimp diners can dip them in cocktail sauce and/or squeeze over a little lemon juice.
Depending on whether other dishes are served and how heavy and rich they are, the recipe may serve 4 to 6 people.