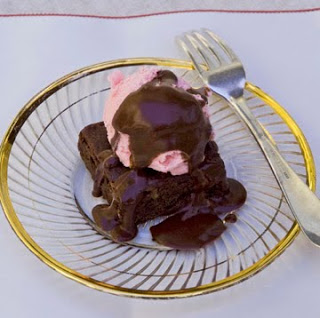 Like lots of folks, my thoughts turn to love–and then immediately to chocolate this time of year. In the past I've given my favorite people homemade Valentine's truffles, heart-shaped chocolate cookies, chocolate-dipped raspberry-flavored marshmallows–and even decadent chocolate pots de creme.
But right now I'm focusing on ways to occasionally indulge in chocolate yet still stick to my New Year's eat better/trim down plan. One good option–my Better for You Brownies. topped with the chocolate sauce below.
The sauce tastes rich enough that it satisfies serious chocolate cravings. Yet it doesn't break my daily calorie bank.
For a special treat, I drizzle the sauce over light ice cream and a reduced-calorie brownie, as shown. When seriously dieting I settle for just the sauce and a single scoop of low-sugar, low-fat ice cream. It keeps me from running off the healthful eating track and into my chocolate bar stash!
Quick "Skinny" Chocolate Sauce
Unsweetened cocoa powder is what's left when most of the natural chocolate fat, called cocoa butter, is removed from pure chocolate. Which is why cocoa tastes quite chocolaty but is much lower in fat (and also calories).
The character of this sauce depends mostly on the flavor and texture of the cocoa powder, so be sure to use a good brand. Two fairly readily available choices I've been happy with are Ghirardelli and Droste. Because some cocoa powders are much more absorbent than others, you may need to thin the sauce with more water, especially if it stands awhile.
For a lower-cal sauce or to accommodate someone who has diabetes, you could substitute an artificial sweetened such as Equal or Splenda for up to half the sugar called for in the recipe. Note that the sauce is also gluten free; I've got some gluten-free brownies to go with it..
1/2 cup good-quality American-style or Dutch-process unsweetened cocoa powder
3 1/2 to 4 tablespoons granulated sugar, or more to taste
1/3 cup hot water, plus more as needed
1/2 tablespoon light or dark corn syrup
1 teaspoon vanilla extract
In a medium bowl stir together the cocoa and sugar until blended and free of lumps. Stir in all remaining ingredients until thoroughly blended. If the sauce is too thick or thickens too much upon standing, thin it with a bit more water. Store, covered and refrigerated, for up to 10 days.
Makes 3/4 cup sauce, about 27 calories per tablespoon.